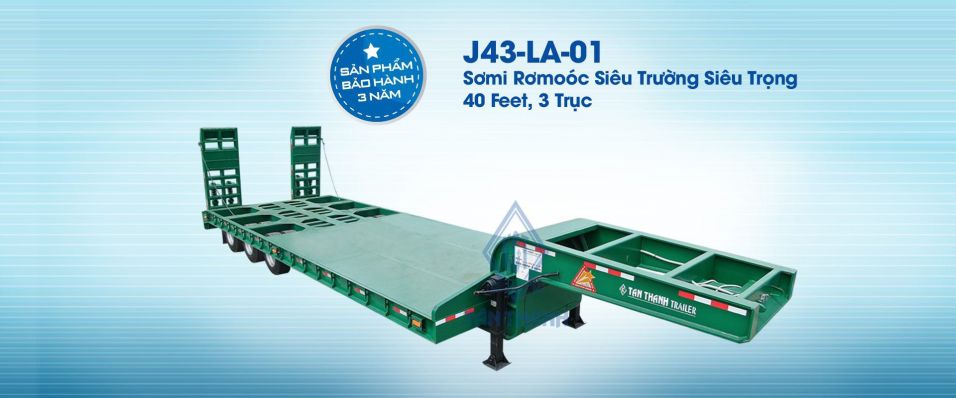 Are you looking for a device to transport large-scale, oversized specialized equipment? You want to transport motor vehicles, construction goods, or over-sized goods without knowing which trailers are suitable? You have found the right place when reading this article. Tan Thanh J43-LA- 1 lowbed semi trailer with the advantages of size and outstanding payload is what you need.


What are the outstanding features of Tan Thanh 40-feet, 3-axis J43-LA- 1 lowbed semi trailers?
Tan Thanh Trading and Mechanic Corporation with 25 years of prestige has provided the Vietnamese market with many top quality products. J43-LA- 1 lowbed semi trailer is one of the best genuine products on the market today. This type of romooc has the following advantages:

Standard size and impressive payload
J43-LA- 1 lowbed semi trailer has many outstanding features that have conquered customers for many years. This product has a total length of 13,010mm, a total width of 3,300mm and a floor height of 2,980mm. The trailer has a wheelbase of 8,570 + 1,310 + 1,310mm. This specification is very impressive because it is very suitable for the transport of goods to meet most of the oversized cargo needs.
While the self-weight of the trailer is 11,400kg, its carrying capacity is 51,600kg. 40-feet, 3-axis J43-LA- 1 lowbed semi trailer with a total large payload up to 63,000kg. That's extremely impressive specs of Tan Thanh semi trailers.
Detailed specifications at the linkhttps://tanthanhcontainer.com/somiromooc/so-mi-ro-mooc-lun-tai-40-feet-03-truc/
Because of the suitable standard size and large load capacity, this trailer is very suitable for the transportation of specialized equipment. Overburdened construction or oversized items should not be a problem when transported by this vehicle.
Good bearing structure, high anti-roll ability.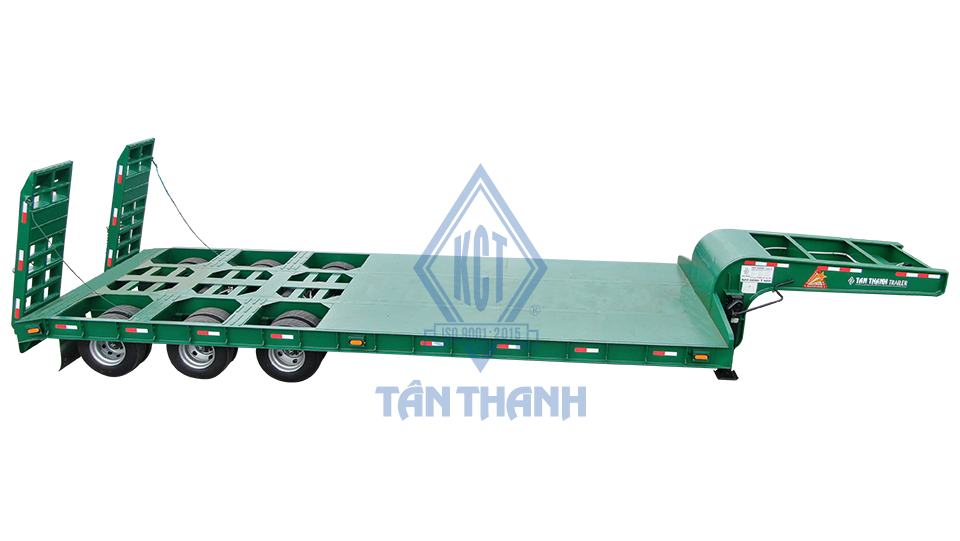 The main girder of Semi trailers is 40 feet, 3 axes, designed from the steel complex SM490YA/Q345B. This is a high-grade high-tensile steel material specially designed for trailers.
Other details such as shaft, suspension, and brake system all meet international standards. In particular, the 2-way split brake system, Selco relay valves, US technology.
This structure helps the tractor and trailer always run smoothly, keep the road, minimize costs due to fuel consumption. On the other hand, carrying heavy and bulky goods still ensures high safety. Even on curved or bad roads.
Genuine accessories, high durability
Tan Thanh's lowbed semi trailer is equipped with Fuwa's genuine Fuwa-type shaft, kickstand, and suspension truss, Fuwa 3.5 towing accumulator, bolt-on type. It is these factors that contribute to increased load capacity and help the trailer run stably, carbon, traction and durable.
In addition, the two-way brake system, Selco relay valves, USA has the advantage of stability. When braking does not cause a jerking phenomenon and limit the heat rise. This helps safety when operating the trailer, increasing the life of the brake pads and shaft assembly because it can limit wear under the impact of friction.
Who needs this J43-LA-01 lowbed semi trailer ?
Certainly that's exactly what you need if you're interested in a professional cargo handling vehicle. Because only this trailer is suitable for transporting large cargo for you. Many customers have used and are very satisfied with the product.
With these advantages, Tan Thanh semi trailer is an optimal choice for your business
A factor that customers are always concerned about is the place to provide good quality products at reasonable prices. Actually on the market there are not many companies that meet both requirements: Good quality and low price. However, please be assured that it's Tan Thanh company. We can fully satisfy your needs.
Tan Thanh owns the best quality products at competitive prices. Especially, Tan Thanh's products are warranted for up to 3 years and are maintained every 3 months. Besides, the company also has an after-sales service that anyone cannot ignore.
Please contact us for further advice and quote on lowbed semi trailers.
CONTACT INFORMATION
Tan Thanh Trading and Mechanic Corporation
Head Office: Quarter 4,Truong Son Street, Linh Trung Ward, Thu Duc District, HCMC
Tell: (84 28) 35 199 977 – Fax: (84 28) 37 222 535. Hotline: 1900 57 57 38.
info@tanthanhcontainer.com