Open Top Container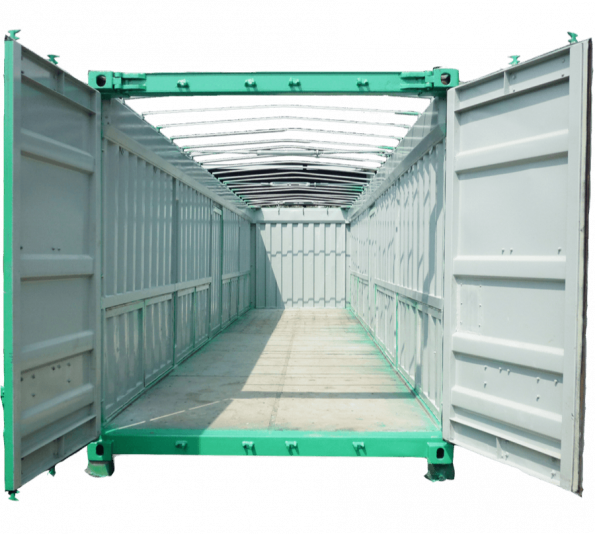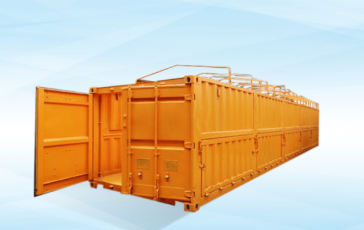 40 feet Container Hafl Hight Open Top
---
Open top containers help businesses easily transport large and bulky goods. Thanks to the outstanding advantages, open top containers are increasingly popular and used.
What is an open top container?
An open top container (also known as an OT container, an open roof container) is a container whose upper part is covered by a canvas instead of a solid roof. This allows oversized goods such as wood and scrap metal to be loaded from the top. (Source: https://www.dsv.com/)
Open top containers are commonly used for transporting oversized cargo, such as machinery, vehicles, or construction materials, that cannot fit inside standard shipping containers due to their height or shape. The open top design allows for easy loading and unloading of such cargo using cranes or other lifting equipment.
Due to their open design, these containers are not suitable for transporting goods that are sensitive to weather conditions, such as electronics, furniture, or textiles, as they are exposed to the elements during transport.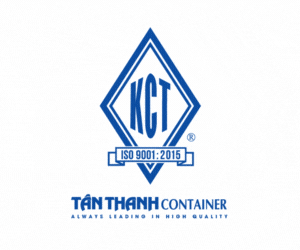 Popular types of open-top containers
20 feet open top container
The 20 feet open top container is designed with the same specifications as the original 20ft empty dry container but opens the top and uses canvas to cover the roof.
40 feet open top container
Like the 20 feet OT Container, the 40 feet open top Cont is also converted from the 40 feet dry container, with an open top design, covered with tarpaulin, used to transport oversized goods.
Advantages of open-top containers
With a convenient design, the open top container makes it easier to load and unload than other models.
Open top container ensures durability and good bearing capacity. As a result, the goods in the container will be safe from the impact of the outside environment.
Goods are covered and protected by a removable canvas on the roof, ensuring that they are not damaged or affected by the weather.
With a removable canvas on the top of the container, users can pack or unload goods through the roof of the container vertically by using a crane easily.
The weight of the open-top container is light, the wall can be made into a sidewall or door for easy access to goods.
Suitable for transporting oversized goods in large quantities.
Where to buy reputable open-top containers
With 25 years of experience in the industry, Tan Thanh is proud to be the leading supplier and rental of open top containers in Vietnam today, trusted by many customers with the following advantages:
The ability to produce open top containers in bulk
Along with a large scale and a team of highly qualified engineers, Tan Thanh annually provides the market with a large number of quality open top containers, meeting the needs of customers.
High quality open top container
Tan Thanh open top container product line has high quality, confirmed in the market for many years, is manufactured on advanced technology lines according to international standards, undergoes strict inspection before exporting. workshop.
Good service - competitive price
With a diverse source of open-top containers, Tan Thanh provides most of the needs of buying/renting a variety of open-top containers depending on the specific requirements of customers. Flexible container rental period (long-term, short-term), rental according to demand with competitive price.
Other attractive accompanying services
In addition to providing and leasing home containers, Tan Thanh containers also receive repair, inspection and supply of container materials according to IICL standards,...
Tan Thanh Container is proud to be a reputable and quality supplier of open-top containers
Tân Thanh Container (Tân Thanh Mechanical Trading Corporation) has been a leading global container manufacturer based in Vietnam since 1994. With over 27 years of experience, we specialize in producing a wide range of container products, including storage containers, refrigerated containers, office containers, sanitary containers, container houses, open side containers, clinic containers, and containers of any custom size and weight.
We pride ourselves on delivering high-quality products that meet the unique needs of our customers. We use the latest technology and equipment to manufacture our containers, ensuring they are durable, reliable, and built to last. Our team of experienced professionals is dedicated to providing exceptional customer service and support, and we strive to exceed your expectations at every turn.
We are proud to serve customers worldwide, with popular markets including the United States, Canada, Australia, Cambodia, and Myanmar. We have an increasing sales presence in America and Asia, and we offer global warranty services, quick support, transportation added services, and global shipping to ensure we can deliver our products to customers anywhere in the world.
If you're looking for a reliable and experienced container manufacturer, look no further than Tân Thanh Container. Contact us today to learn more about our products and services or to request a custom container quotation. You can reach us at info@tanthanhcontainer.com or call our Quick Support team at +84 968 039 939 (GMT +7, 8:00 to 17:30). Visit our website at tanthanhcontainer.com to learn more about our products and services. We look forward to working with you on your container project.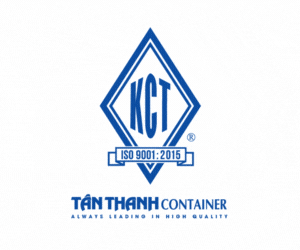 Contact Information
TAN THANH MECHANICAL TRADING JOINT STOCK COMPANY
Address: No. 14, Street No. 15, KP 4, Linh Trung Ward, City. Thu Duc, City. Ho Chi Minh City
Phone number: 0968 039 939
Email: info@tanthanhcontainer.com
Contact Now
Tan Thanh
24/7
support!