Container Sanitary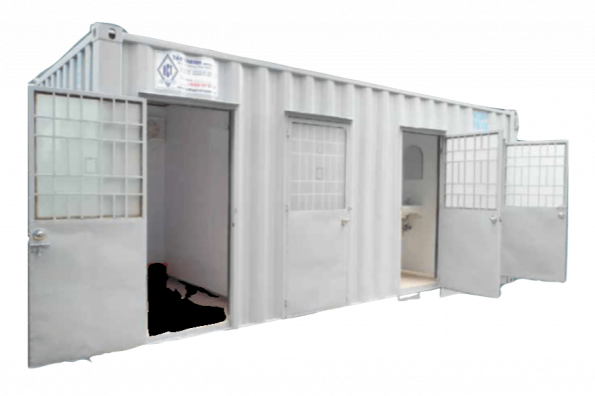 ---
Sanitary containers are commonly used in large factories, construction sites, large entertainment programs and events. With outstanding advantages, simple construction and high aesthetics, sanitary containers are increasingly popular and widely used.
What is a sanitary container?
Sanitary containers are designed to provide an all-in-one solution for all your sanitary needs on mobile camps, field hospitals and rapid deployment accommodation sites.
A sanitary container is a toilet that is renovated from used containers and has a convenient function like a standard toilet. Sanitary containers often serve the daily needs of officials and workers at the construction site. This type of container brings mobility and high efficiency.
Structure of sanitary container
Sanitary containers are often redesigned from dry containers, fully equipped with restrooms, including toilets, showers, sinks and many other amenities.
Popular types of sanitary containers
10 feet Sanitary Container
A 10 feet sanitary container is converted from a 10 feet dry container. This model is equipped with two restrooms that include a full toilet, shower, sink, and other amenities. It is an ideal option for small-scale projects or events that require a limited number of restrooms.
20 feet Sanitary Container
The 20 feet sanitary container is a suitable option. It is rebuilt from a 20 feet cargo container (storage container) and divided into four bathrooms, each with a toilet, sink, shower, and other amenities. This model can accommodate a larger number of users and provides ample space for a comfortable restroom experience.
40 feet Sanitary Container
The largest size of the sanitary container is the 40 feet sanitary container, built from a 40 feet dry container. It is fully equipped with two large bathrooms that have eight toilets, washbasins, showers, and many other amenities. This model is suitable for large-scale events or construction sites that require a high number of restrooms.
Portable Sanitary Container (Separate Tank)
Portable Sanitary Container (septic tank) is small in size, built from a 10 feet dry container. This is a very convenient product because it has a toilet combined with a septic tank, which is convenient to move to many places.
Portable Sanitary Container (septic tank) is fully equipped with a toilet, washbasin, shower and many other amenities.
Advantages of Sanitary Containers
Sanitary Containers have many outstanding advantages:
Sanitary Containers have a variety of sizes for users to choose from
Easy to move, convenient and flexible
The sanitary containers structure is sturdy, durable, and has a long use time
Clean, modern, high aesthetics, no environmental pollution
High reusability, can be liquidated at a good price to recover capital
Quick design and construction time
Good heat and sound insulation, safe to use
Cost saving, cheaper than construction
Application of Sanitary Containers
Sanitary Containers are widely used in construction contractors, company security guards, mobile offices:
Making toilets at construction sites
Making toilets for houses, villas, resorts, mobile kiosks...
Latest toilet container quote
Sanitary Containers selling price depends on different size and type of toilet container. In addition, the selling price of toilet containers will vary depending on customer needs, usually if the customer buys a larger quantity, the price will be more favorable.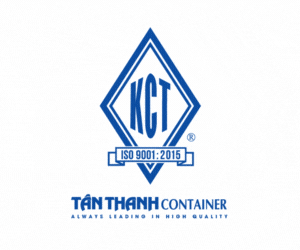 Where to buy reputable sanitary containers?
With 25 years of experience in the industry, Tan Thanh is proud to be the leading supplier and rental of sanitary containers in Vietnam today, trusted by many customers with the following advantages:
The ability to produce sanitary containers in bulk
Along with a large scale and a team of highly qualified engineers, Tan Thanh annually supplies the market with quality sanitary containers to meet the industry's ever-expanding demand and scale.
High quality sanitary containers
Tan Thanh sanitary containers product line has high quality, has been confirmed in the market for many years, is manufactured on advanced technology lines according to international standards, and undergoes rigorous testing before factory.
Good service - competitive price
With a diverse source of sanitary containers, Tan Thanh provides most of the needs of buying/renting a variety of toilet containers depending on the specific requirements of customers. Especially, flexible rental period long-term, short-term, rental by trip with competitive price.
Other attractive accompanying services
In addition to supplying and renting sanitary containers, Tan Thanh containers also receive repair, inspection and supply of container materials according to IICL standards,...
Tân Thanh Container is proud to be a reputable and quality container sanitary supplier
When using toilet container products at Tan Thanh Container, customers can rest assured with perfect product quality and service:
The most competitive price with 100% commitment of good quality toilet containers.
Design and deliver toilet containers in accordance with the contract.
Professional service nationwide.
Supported wholeheartedly from consultation, purchase, service use and after-sale.
In addition to toilet container products, Tan Thanh Container also provides many other container products including: refrigerated containers, office containers, dry containers, open-top containers, open-wall containers, tank containers, clinic containers... management and branches throughout Vietnam.
Tân Thanh Container - a leading global container manufacturer based in Vietnam. With over 27 years of experience, we specialize in producing a variety of container products such as storage containers, refrigerated containers, office containers, sanitary containers, container houses, open side containers, clinic containers, and containers of any custom size and weight.
Our popular markets include the United States, Canada, Australia, Cambodia, and Myanmar, with increasing sales in America and Asia. We offer high-quality, flexible pricing, and a wide range of custom container options. We provide better pricing for large order quantities and offer global shipping services, quick support, transportation added services, and global shipping.
For more information or to request a custom container quotation, please contact us at info@tanthanhcontainer.com or call our Quick Support team at +84 968 039 939 (GMT +7, 8:00 to 17:30). Visit our website at tanthanhcontainer.com to learn more about our products and services. Contact us now to get started on your container project."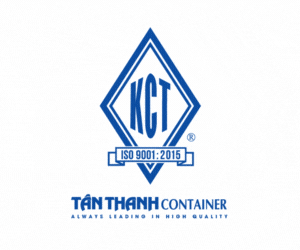 Contact Information
TÂN THANH MECHANICAL TRADING CORPORATION
Address: No. 14, Street No. 15, KP 4, Linh Trung Ward, City. Thu Duc, City. Ho Chi Minh City
Phone number: 0968 039 939
Email: info@tanthanhcontainer.com
Contact Now
Tan Thanh
24/7
support!