Container Chassis
Trang chủ
Semi Trailers
Container Chassis

---
What is a container chassis?
A chassis is a trailer frame with wheels designed to accommodate and transport a variety of container types (both standard and special). These metal structures are intended to transport containers between terminals, warehouses, and ports via trucks. They come in a variety of varieties, allowing you to select the one that best meets your specific needs.
So, what exactly is a container chassis? It is made up of a steel frame with tires and axle systems attached. Container chassis technology has advanced significantly over the years, and many now include weight sensors, LED lights, and GPS tracking.
Axels play an important role in the weight a chassis can manage. An axle is a long shaft that connects the wheels together. A standard chassis, with 2 axles, can carry 20 feet and 40 feet containers. Generally, a tri-axle chassis is needed to carry 20 feet containers above 36,000 lbs, or 40 feet containers above 44,000 lbs.
Why use a container chassis?
A container chassis is a specialized semi-trailer for shipping containers, typically over long distances. Here are some reasons why container chassis are commonly used:
Versatility: Container chassis can carry different types and sizes of containers, including 20 feet, 40 feet, and 45-feet containers. This versatility makes them ideal for shipping a wide range of goods, including dry goods, refrigerated goods, and hazardous materials.
Efficiency: Container chassis are designed to load and unload containers efficiently. Containers can be loaded onto the chassis using cranes or forklifts. Multiple containers can be stacked on top of each other to maximize space on the trailer.
Safety: Container chassis are typically designed with safety in mind, with features like locking mechanisms to secure the container, strong brakes, and sturdy construction to ensure stability during transport.

Common types of container chassis
Flatbed semi-trailer
A flatbed semi-trailer is a type of container chassis used in transportation with a flat, open deck without any sides or roof.
Flatbed semi-trailers are often used to transport a wide range of goods, including construction materials like steel beams, lumber, concrete pipes, heavy equipment and especially containers.
Some of the most common container types transported on flatbed semi-trailers, such as standard cargo containers, are the most common type of shipping containers and come in sizes of 20 feet, 40 feet, and 45 feet.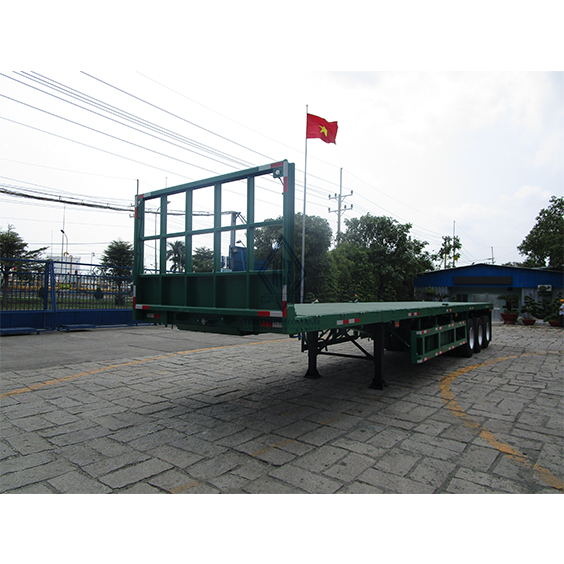 Skeleton semi-trailer
A skeleton semi-trailer is a type of trailer used for transporting intermodal containers, which can be easily transferred between different modes of transportation, such as trucks, trains, and ships.
A skeleton semi-trailer consists of a skeleton frame with a series of locking devices on which a container can be placed and secured. The structure usually has no sides or roof. Instead, it has a series of supporting beams to hold the container securely. Skeleton semi-trailers are typically pulled by a semi-truck or tractor-trailer and used for long-distance transport of containers.
The main advantage of using a skeleton semi-trailer is that it allows for quick and easy loading and unloading of containers, as the container can be quickly lifted off the trailer and onto another mode of transportation. This makes it a popular choice for shipping companies and freight forwarders that need to transport containers over long distances, as it offers greater flexibility and reduces the time and cost of container transfers.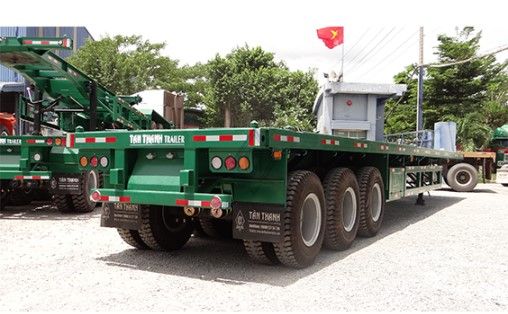 Gooseneck semi-trailers
Gooseneck semi-trailers are container chassis used primarily to transport refrigerate container (reefer containers) or heavy machinery. Their distinct design allows them to haul heavier loads than other types of trailers. Gooseneck semi-trailers are typically made of steel and have a low-profile gooseneck design that extends from the trailer's front. The gooseneck is a curved beam connecting to the tractor unit and supporting the trailer. Gooseneck semi-trailers are available in various sizes ranging from 20 feet to 48 feet. The trailer's height is determined by the height of the gooseneck, which can be adjusted to accommodate different loads.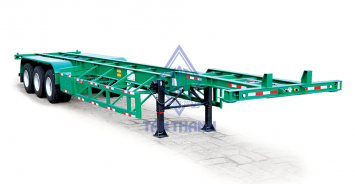 How do container chassis work?
Container Chassis is designed to securely attach to the container so that the container fits snugly onto the chassis, preventing excess movement. Container chassis comes in both 20 feet and 40 feet container sizes to provide an ISO container appropriately.

Why should you select Tân Thanh Container as a renowned semi-trailer manufacturer and designer?
Tân Thanh Container (Tân Thanh Mechanical Trading Corporation) is a premier semi-trailer manufacturer and container chassis manufacturer based in Vietnam. Established in 1994, we have been producing high-quality products for over 27 years. Our product range includes flatbeds, tankers, dumps, goosenecks, reefers, sidelifters, lowbeds, and shipping container trailers in custom sizes and weights.
At Tân Thanh Container, we pride ourselves on offering high-quality products at flexible prices with a wide variety of custom options available. Our large order quantities translate to better pricing for our customers. Additionally, we provide global warranty services, quick Support, transportation-added services, and global shipping.
Our products are popular in the United States, Canada, Australia, Cambodia, Myanmar, and other countries in Asia. We also offer custom-made products for customers in the local Vietnamese market.
Our team of experienced professionals is dedicated to delivering high-quality products and services to our customers. We are committed to meeting and exceeding our customers' expectations and delivering products that meet their specific needs.
If you're looking for a reliable and trusted semi-trailer and container chassis manufacturer, look no further than Tân Thanh Container. Contact us at info@tanthanhcontainer.com or Quick Support (+7GMT - 8:00 to 17:30) : +84 968 039 939 for more information or to request a custom-made product. Visit our website at tanthanhcontainer.com to learn more about our products and services.

Contact Information
TÂN THANH MECHANICAL TRADING CORPORATION
Address: No. 14, Street No. 15, KP 4, Linh Trung Ward, City. Thu Duc, City. Ho Chi Minh City, Viet Nam
Phone number: +84 968 039 939
Email: info@tanthanhcontainer.com
Contact Now
Tan Thanh
24/7
support!