Open Side Container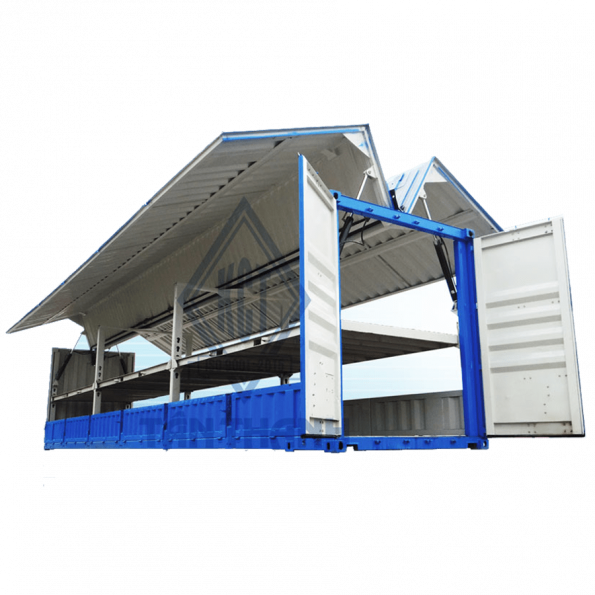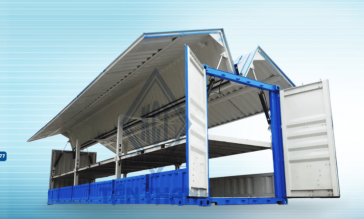 Hydraulics Flying Wings Container
1 side opened container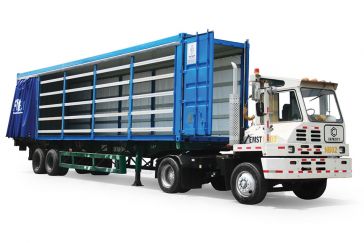 Canvas Container
---
Open side containers are often used in packing and unloading, serving the transportation needs of many businesses. Thanks to the outstanding advantages, open side containers are more popular today.
What is an open side container?
Open side container (open-walled container) is a shipping container, in addition to the usual double doors, there is also a pair of double doors on the side, allowing two sizes to be opened to serve the needs of customers. cargo handling bridge of large size.
Structure of open side container
The open side container is converted from the original dry container with an extremely strong steel frame.
The original sidewall of the container will be modified, adding doors and a hydraulic system that opens and closes for easy loading. The design and layout of the side doors will ensure that the loading and unloading process is done quickly, saving time and optimizing costs.
The number of doors and the capacity of the hydraulic system will be designed according to the type of goods and customer requirements. The side door and hydraulic system are mounted into a homogeneous block to ensure the stability and sustainability of the container.
The inside of the open side container can be installed with an additional layer of tarpaulin with reasonable coverage to enhance the preservation of goods (depending on customer requirements). This tarpaulin helps products and goods inside limit the impact of bad agents.
The open side container is also designed with strong locking layers at the side and end of the container to help customers feel secure in transporting goods without fear of the container being opened during transportation.
Common types of open side containers
Hydraulics Flying Wings Container
Hydraulics Flying Wings Container is designed based on international standards, with high safety. Withstand large loads, suitable for diverse transportation needs, ensuring safety.
1 side opened container
1 side opened container with design based on international standards, high safety, high flexibility, suitable for diverse transportation needs.
Canvas Container
Canvas Container is converted from a dry container by opening the side walls, replacing it with pillars, frames and tarpaulins. The side-wall opening design makes moving goods up and down easily and quickly.
Advantages of open side containers
Thanks to the international standard steel material, the open side container has a very long service life, ensuring the quality of goods and safety during transportation.
Large container load, suitable for diverse transportation needs.
Fast loading and unloading, saving time, optimizing costs.
Covered with tarpaulin to protect and limit damage to goods during transportation.
The iron frame is sturdy, has a protective effect, and prevents the goods from falling.


Applications of open side containers
Open side containers are often used to carry special goods such as motorbikes, cars, drinking water, etc. with a high degree of flexibility and convenience in arranging, loading and transferring goods.
Latest price of open side container
The selling price of open-walled containers depends on the size and type of open-walled containers. In addition, the selling price of open side containers will vary depending on customer needs, usually if the customer buys a larger quantity, the price will be more favorable.
>> See details of Tan Thanh container quote, quickly contact Hotline 0968 039 939 for advice!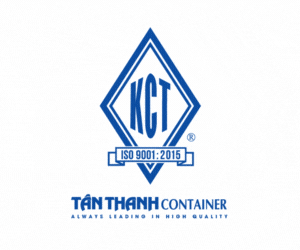 Where to buy reputable open side containers
With 25 years of experience in the industry, Tan Thanh is proud to be the leading supplier and rental of open side containers in Vietnam today, trusted by many customers with the following advantages:
The ability to produce bulk open side containers
Along with a large scale and a team of highly qualified engineers, Tan Thanh annually supplies the market with quality open-wall containers to meet the ever-expanding demand and scale of the industry.
High quality open side container
Tan Thanh open side container product line has high quality, has been confirmed in the market for many years, is manufactured on advanced technology lines according to international standards, undergoes strict inspection before exporting workshop.
Good service - competitive price
With a diverse source of open side containers, Tan Thanh provides most of the needs of buying/renting a variety of open side containers depending on the specific requirements of customers. Especially, flexible rental period long-term, short-term, rental by trip with competitive price.
Other attractive accompanying services
In addition to providing and leasing home containers, Tan Thanh containers also receive repair, inspection and supply of container materials according to IICL standards,...
Tân Thanh Container is proud to be a reputable and quality supplier of open side containers
Tân Thanh Container is a leading container manufacturer with a global reputation for excellence in quality and customer service. Established in Vietnam in 1994, we have been providing our clients with top-notch container products for over 27 years.
We have a diverse range of container products that cater to the needs of various industries. From storage containers, refrigerated containers, office containers, sanitary containers, container houses, open side containers, clinic containers, and custom-built containers, we can manufacture a product that suits your specific requirements. Our containers are made with the latest technology and are built to withstand extreme weather conditions, ensuring that they last for a long time.
At Tân Thanh Container, we believe that each customer is unique and has different requirements. Therefore, we offer a wide range of custom container options that cater to specific size, weight, and material preferences. Our team of experts works closely with clients to ensure that they get a customized product that meets their needs. We offer flexible pricing options to fit any budget and have a large order quantity discount available.
We have established a strong presence in many countries worldwide, including the United States, Canada, Australia, Cambodia, and Myanmar. We have experienced a steady growth of sales in America and Asia transportation added services, and global shipping to ensure that our products can be delivered to customers anywhere in the world.
At Tân Thanh Container, we value our clients and strive to make their experience with us as smooth and hassle-free as possible. Therefore, we offer comprehensive transportation services, including loading, unloading, and delivery. Our team of professionals ensures that your containers are delivered safely and on time.
If you're looking for a reliable container manufacturer, look no further than Tân Thanh Container. Contact us today to learn more about our products and services or to request a custom container quotation. You can reach us at info@tanthanhcontainer.com or call our Quick Support team at +84 968 039 939 (GMT +7, 8:00 to 17:30). Visit our website at tanthanhcontainer.com to learn more about our products and services. Let us help you find the perfect container solution for your business needs.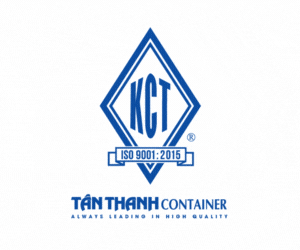 Contact Information
TAN THANH MECHANICAL TRADING CORPORATION
Address: No. 14, Street No. 15, KP 4, Linh Trung Ward, City. Thu Duc, City. Ho Chi Minh City
Phone number: 0968 039 939
Email: info@tanthanhcontainer.com
Contact Now
Tan Thanh
24/7
support!