Container Clinic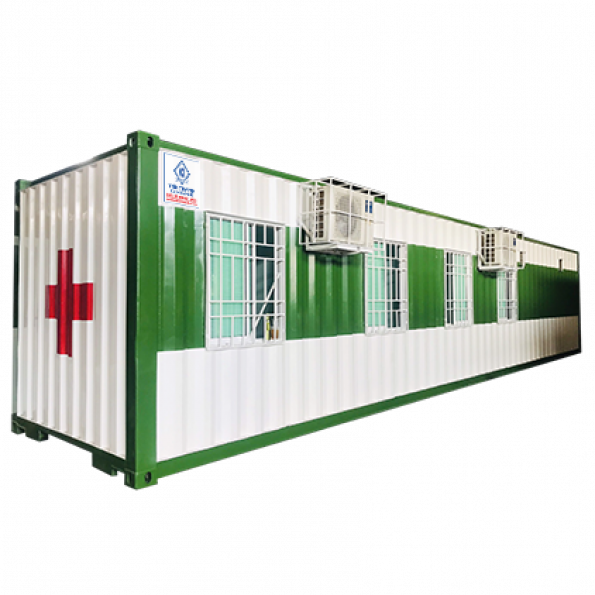 ---
The container clinic is a commonly used material, especially during the Covid pandemic around the world. Thanks to this type of container, container offices and container hospitals in turn appear in many countries thanks to its great applicability.
What is a container clinic?
The shipping container clinic is a shipping container that has been converted into a medical clinic so that it can be easily deployed to remote areas of the world. The relatively low cost, widely available clinic container can be deployed anywhere with the clinic already assembled in the container.
Structure of the container clinic
Containers clinic are usually made of pre-painted galvanized construction. The clinic is fully equipped with doors, windows and a comfortable, safe electrical system, assembled by a container system.
Advantages of clinic containers
The outstanding advantages of Tan Thanh containers have been trusted by customers for many years:
Fast construction, save time
Reasonable and economical price
Moderately sized, comfortable and flexible.
Solid, durable
Easily move to the desired location
Highly reusable, easy to liquidate at a good price
Heat insulation, good sound insulation, safe to use
Outstanding clinic container project
Container project of Covid-19 screening clinic for hospitals/medical stations
The Covid pandemic is still complicated, leading to an increase in demand for care units, unable to quickly build traditional hospitals in many locations due to the completion and installation of equipment. very time consuming and costly.
Using Tan Thanh container as a Covid-19 screening clinic is an effective solution to optimize the prevention of Covid epidemic.
The project of providing container clinics accompanying the Program "Vì một Việt Nam thịnh vượng"
Containers after a period of use will gradually lose their value and become scrap materials at ports and yards. Through production and business activities, Tan Thanh constantly researches new production methods to come up with effective solutions, protect the green living environment by converting used containers to bring value to customers. products, society, and at the same time help the environment develop more sustainably.
Container clinic accompanies the program "Vì một Việt Nam thịnh vượng" was designed by Tan Thanh's engineers from a dry container of 40 feet, 12m long, 2.4m wide, 2.5m high and can be moved conveniently to many places. difference. Inside, there are 3 rooms: general clinic, ultrasound room and obstetric clinic with modern equipment scientifically installed suitable for mobile medical examination.
Latest container clinic quote
The price of container clinic depends on the size and type of different clinic container. In addition, the price of clinic containers will vary depending on customer needs, usually if the customer buys in larger quantities, the price will be more favorable.
Where to buy a reputable container clinic
With a wealth of experience in container conversion and a quality product system, Tan Thanh confidently provides superior and effective container product lines for the present and the future.
The ability to produce bulk clinic containers
Along with a large scale and a team of highly qualified engineers, Tan Thanh annually supplies the market with quality clinic containers to meet the industry's ever-expanding demand and scale.
High quality container clinic
Tan Thanh container clinic product line has high quality, has been confirmed in the market for many years, is manufactured on advanced technology lines according to international standards, undergoes strict inspection before exporting. workshop.
Good service - competitive price
With a team of experienced container clinic design engineers, Tan Thanh provides most of the needs of buying/renting a variety of clinic containers depending on the unique requirements of customers. Especially, flexible rental period long-term, short-term, rental by trip with competitive price.
Other attractive accompanying services
In addition to providing and leasing clinic containers, Tan Thanh containers also receive repair, inspection and supply of container materials according to IICL standards,...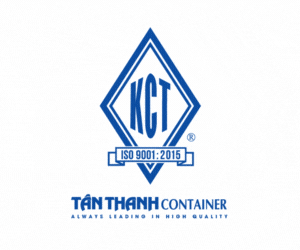 Tân Thanh Container is proud to be a reputable and quality clinic container supplier
Tân Thanh Container has many years of experience in buying and selling, leasing clinic containers with a series of large and small projects confidently to meet all the needs of customers. Tan Thanh is always a pioneer in the field of providing services for container products, along with a team of experienced, professional and enthusiastic staff, we are always looking for diverse solutions to ensure products quality at the best cost.
When using clinic container products at Tan Thanh Container, customers can rest assured with perfect product quality and service:
The most competitive price with 100% - Good quality clinic containers.
Design and deliver the clinic container in accordance with the contract.
Professional service nationwide.
Supported: consultation, purchase, service use and after-sale.
We offer a wide range of custom container options to suit specific requirements, such as size, weight, and materials. We offer flexible pricing options that cater to varying budgets and a large order quantity discount. Our products have been sold in many countries worldwide, including the United States, Canada, Australia, Cambodia, and Myanmar, with a growing presence in America and Asia.
We offer quick support, transportation added services, and global shipping to ensure that our products are delivered to clients anywhere in the world. We understand that transportation can be a challenge, so we provide comprehensive transportation services, including loading, unloading, and delivery, to make the experience as seamless and hassle-free as possible.
At Tân Thanh Container, we are committed to providing exceptional container products and services that meet and exceed our clients' expectations. If you're looking for a reliable container manufacturer, we invite you to contact us today to learn more about our products and services. You can reach us at info@tanthanhcontainer.com or call our Quick Support team at +84 968 039 939 (GMT +7, 8:00 to 17:30). Visit our website at tanthanhcontainer.com to learn more about our products and services. We look forward to working with you on your container project.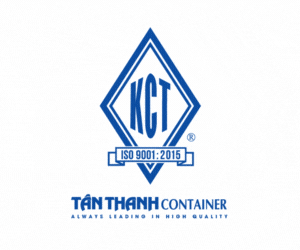 Contact Information
TAN THANH MECHANICAL TRADING CORPORATION
Address: No. 14, Street No. 15, KP 4, Linh Trung Ward, City. Thu Duc, City. Ho Chi Minh City
Phone number: 0968 039 939
Email: info@tanthanhcontainer.com
Contact Now
Tan Thanh
24/7
support!