Semi Trailers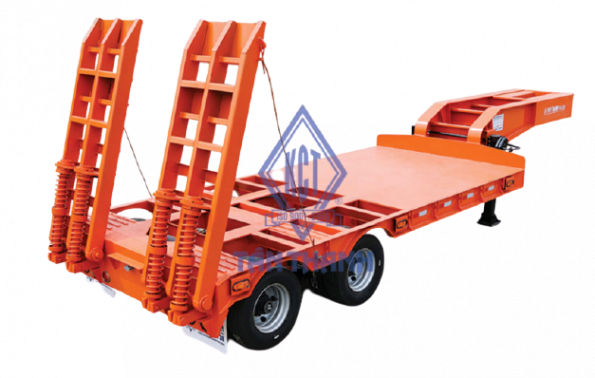 Trang chủ
Semi Trailers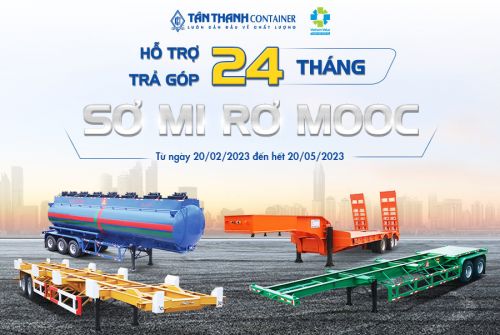 ---
What is a semi-trailer?
A semi-trailer is a type of trailer used in transportation, typically pulled by a semi-truck or tractor-trailer. It is a large, unpowered vehicle designed to be attached to a truck or tractor by a hitch, also known as a fifth-wheel coupling.
Semi-trailers are commonly used to transport goods over long distances on highways. They can carry a variety of cargo, including dry goods, refrigerated goods, construction equipment, and more. They are typically around 10 to 40 feet long and have a maximum weight capacity of 80,000 pounds in the United States. Semi-trailers are often equipped with multiple axles to distribute the weight of the cargo evenly and ensure safe and stable transport.
Why use semi-trailer?
Semi-trailers are built to transport shipping containers safely and efficiently. They are strong and sturdy, and they protect containers in transit from sharp and sudden movements. Let's take a quick look at why you might need a semi-trailer in your shipping process.
Smooth and safe

: Containers are firmly fastened to the chassis. This eliminates the need for unnecessary container movements, resulting in safer transportation.

Quick and cost-effective

: You can load multiple containers at once, making the process quick and efficient.

Durability and portability

: They are typically made of lightweight materials but are strong enough to move heavy loads.

Meets a variety of needs

: There are various types of chassis. Companies can select from a variety of options based on their specific requirements.
Now that we've established how important these structures are in keeping your boxes safe, let's look at the various types of semi-trailers.

Structure of semi-trailer parts
There are different types of semi-trailers for different transportation needs. However, they have the following common structural features:

Semi-trailer size: 40 ft, 45ft or 48 ft depending on type.
Design of semi-trailer with chassis: Usually consists of 2 main girders and many horizontal beams.
Traction battery (also known as load-bearing battery)
Pull pin (or drawbar pin)
Support legs: Raised when the trailer is attached to the trailer, lowered to support the trailer when removed from the vehicle by handwheel.
Power system
The steam line connects to the tractor truck to synchronize brake control
Kingpin
Axle (bridge): Can be 3 axis or 2 axis depending on the type.
Twist lock: Lock the upper container with the bottom trailer
Suspension system
Wheels / Tires: Usually double tires
Brake system: Air brake, air tube, steam bulb, lotus bud
Globally common semi-trailers types
Flatbed semi-trailers
Flatbed semi-trailers, also known as "flatbeds" are designed to transport cargo that cannot be transported inside enclosed trailers due to its size or shape. They have a flat, open platform with no walls or roof, making them ideal for hauling large, heavy, and oversized loads. Flatbed semi-trailers are typically built with a steel frame and a wooden or metal floor. The structure is made up of two main beams that run the length of the trailer, with cross-members connecting the two beams to support the cargo. Flatbed semi-trailers are available in a variety of lengths, including 20 feet, 40 feet, and 45 feet. They are commonly used to transport construction equipment, steel products, lumber, machinery,...
Skeletal semi-trailers
Skeletal semi-trailers are trailers designed to transport shipping containers. They are also known as chassis trailers. The skeletal structure is made up of vertical and horizontal beams arranged in a grid, with locking mechanisms on the corners to keep the contents secure.
Skeletal semi-trailers are available in a variety of sizes, depending on the size of the container they are designed to transport. The 40-foot trailer is the most common size, and it can carry a standard 40 feet shipping container; other sizes include 20 feet trailers.
Skeletal semi-trailers are purpose-built to transport shipping containers. They are commonly used in intermodal transportation, which involves moving containers between different modes of transportation such as ships, trains, and trucks.
Gooseneck semi-trailers
Gooseneck semi-trailers are trailers used primarily to transport reefer containers or heavy machinery. They have a distinct design that allows them to haul heavier loads than other types of trailers. Gooseneck semi-trailers are typically made of steel and have a low-profile gooseneck design that extends from the trailer's front. The gooseneck is a curved beam that connects to the tractor unit and adds support to the trailer. Gooseneck semi-trailers are available in various sizes ranging from 20 to 48 feet. The trailer's height is determined by the height of the gooseneck, which can be adjusted to accommodate various loads.
Dump semi-trailers
Dump semi-trailers are semi-trailer that can transport and dump sand, gravel, and construction debris. They have a hydraulic lifting system that allows cargo to be discharged from the trailer's back while it is elevated. A dump semi-trailer is typically designed with a steel frame and a box-shaped body that can be rotated to eject the load. The steel box-shaped body is intended to hold loose materials. Dump semi-trailers have several advantages over other types including the ability to transport and dump flexible materials quickly, increased stability when hauling heavy loads, and versatility in the types of cargo they can carry.of trailers, including the ability to transport and dump flexible materials quickly, increased stability when hauling heavy loads, and versatility in the types of cargo they can carry.
Tanker semi-trailer
Tanker semi-trailers are used to transport liquids or gasses such as gasoline, petroleum, and chemicals. This semi-trailers is typically made of stainless steel and built to withstand the pressure and weight of the cargo they transport. They are usually cylindrical, with a series of baffles inside to keep the liquid from sloshing around.

Lowboy semi-trailers
Large machinery, heavy equipment, and building materials exceed the legal height and weight restrictions for ordinary trailers. Lowboy semi-trailers (also known as lowbed semi-trailers) are specifically designed to transport these oversized and overweight goods. They are built with a lower deck height than conventional trailers, allowing them to transport taller cargo.
Drop deck semi-trailer
Drop deck semi-trailers, also known as step deck trailers, are open trailers similar to flatbed trailers but differ in a few ways. Step deck trailers feature two deck levels, the upper and lower decks, whereas flatbed trailers only have one class.
The upper deck is between 10 and 13 feet long and above the tractor unit. The bottom tier is approximately 38 to 40 feet long and three feet and three inches above the ground. Because of their lower deck, step deck trailers can tow taller loads.
Curtainsider semi-trailer (Sidelifter/Side-load semi-trailer)
Using a curtainsider semi-trailer (side-load semi-trailer) can effectively address the issue of no loading and unloading machinery. The container lift trailer can load containers by itself as a convenient and efficient container loading and unloading vehicle. It can also load and unload containers for other container carriers (such as flatbed trailers and skeletal trailers). The sidelifter (side-load semi-trailer) is popularly used and ideal for areas lacking container loading and unloading equipment.
Loading ramp
A loading ramp is an inclined plane used to load and unload cargo from a car or container. Loading ramps facilitate the transfer of large items from the ground to the truck bed or trailer, or vice versa. Ramps can be used both outside and inside warehouses during shipping. Although steel ramps are the strongest and most durable, a loading ramp can be made of any material and in any size.
Heavy-duty loading ramps are built to last a long time and carry a lot of weight. These heavy-duty ramps require less maintenance and have a wide range of applications due to their high level of safety.
How to choose the right semi-trailers for your needs
Choosing the best chassis is entirely dependent on your needs. Consider the following factors when deciding which type you require:
Usage and specifications (Industry-specific)
A semi-trailers modeled specifically for transport containers is ideal if you only need to transport containers. However, if you need to transport other types of cargo in addition to containers, choose a flatbed chassis trailer, which serves a dual purpose. A side-load semi-trailer is an excellent choice if you need to load and unload cargo in specific locations. This eliminates the need to hire a crane or other lifting equipment.
Number of axles / weight limit
The number of axles in the semi-trailer can be adjusted to accommodate the weight of the cargo or container. Remember that the more axles there are, the more weight the container chassis can support. As previously stated, when transporting standard containers, a two or three-axle chassis is your best bet.
Before selecting a semi-trailers, consider your container specifications and requirements. A specialized chassis is usually much more expensive than a standard one. So, before you start to buy your semi-trailers, make sure you know exactly what you need.
Why should you choose Tân Thanh Container as a prestigious design and manufacture of semi-trailers in the world?
Tân Thanh Container is the premier semi-trailer manufacturer in Vietnam since 1994. We are dedicated to providing high-quality, custom semi-trailers to meet your specific transportation needs. Our range of products includes flatbed, tanker, dump, gooseneck, reefer, sidelifer, lowbed, and shipping container trailers of any custom size and weight.
We offer competitive pricing for large order quantities, as well as global shipping service and transportation-added services. Our quick support team is available to assist you with any questions or requests. We proudly serve customers in the United States, Canada, Australia, Cambodia, Myanmar, and throughout Asia and America. Contact us now for more information or a custom semi-trailer quotation at info@tanthanhcontainer.com or Quick Support (+7 GMT - 8:00 to 17:30) : +84 968 039 939. Visit our website at tanthanhcontainer.com for additional details.`
FAQ
What is an intermodal chassis?
→ An intermodal container chassis, also known as a container chassis, is a wheeled metal frame used to transport shipping containers of various shapes and sizes. There are several types of container chassis, including tilt, extendable, and tank chassis.
How do you secure a container to a container chassis?
→ A container is placed on a container chassis using a crane or sidelifter. This must be done with care, as the container's corner castings must be aligned with the chassis' twist locks (pins). These pins are then used to secure the container to the chassis.
How much does a container chassis cost?
→ Depending on the type, condition, location, and current supply and demand, a standard container chassis can cost anywhere between US $ 5000 and US $ 12,000 USD.
What is the size of a standard ISO semi-trailers?
→ A standard ISO semi-trailers is available in 20ft, 40ft, or 45 ft lengths. It is important to note, however, that different types of semi-trailers are available, depending on your needs. Some chassis are fixed in length, while others can be extended or shortened to fit the container.

Contact Infomation
TÂN THANH MECHANICAL TRADING CORPORATION
Address: No. 14, Street No. 15, KP 4, Linh Trung Ward, City. Thu Duc, City. Ho Chi Minh City
Phone number: 0968 039 939
Email: info@tanthanhcontainer.com
Contact Now
Tan Thanh
24/7
support!