Loading Ramp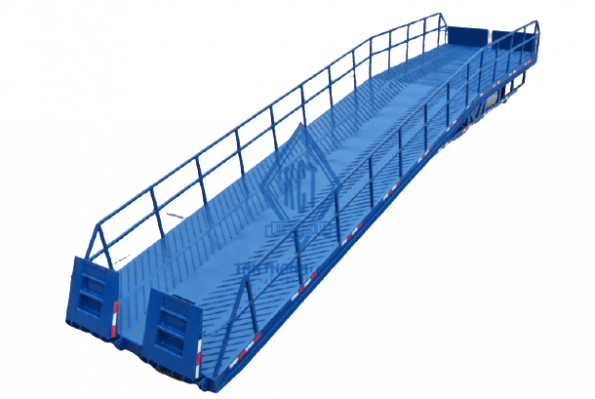 Trang chủ
Semi Trailers
Loading Ramp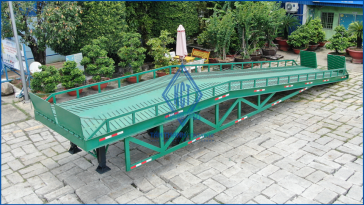 Mobile Ramp K51-CD-01
---
What exactly is a loading ramp?
The loading ramp is a semi-trailer that compensates for differences in level between the delivery point and the transport vehicle. It is primarily used to load and unload goods from a truck or container. Typically, the ramp can be found inside warehouses or outside in shipping or train yards.
The loading ramp, which is also referred to as a mobile ramp or container ramp, is a vital piece of equipment used to bridge the gap between the delivery point and the transport vehicle level. The main function of this device is to facilitate the efficient loading and unloading of goods from trucks or containers in warehouse environments.
By using a loading ramp, businesses can optimize their logistics processes. This device enables workers to move heavy items with ease, as it eliminates the need for manual lifting and reduces the physical strain on employees.
In addition, loading ramps come in various designs, including fixed, adjustable, and mobile versions, making them suitable for a wide range of applications. They are also constructed from high-quality materials, ensuring their durability and resistance to wear and tear.
How to choose the right loading ramp
Choosing the right loading ramp for your container is an essential step in optimizing your logistics operations. There are several factors to consider when selecting a ramp, including the weight capacity, size, and material construction. Here are some tips to help you choose the right loading ramp for your container:
Determine the weight capacity: The weight capacity of the ramp is the most critical factor to consider when choosing a loading ramp. Make sure you select a ramp with a weight capacity suitable for your heaviest load.
Consider the length and width: The ramp size is another crucial factor to consider. You must ensure that the ramp's length and width are appropriate for your container size and the type of vehicles you are using for loading and unloading.
Check the slope angle: The slope angle of the ramp is also an essential consideration. The slope angle determines how steep the ramp is, and a more vertical angle can make loading and unloading more challenging. Select a ramp with a suitable slope angle to make the loading process more comfortable and efficient.
Choose the right material: Loading ramps are constructed from various materials, including steel, and wood. Consider the durability, strength, and weight of the material when making your selection. Aluminum ramps are lightweight and rust-resistant, while steel ramps are durable and suitable for heavy loads.
Considering these factors, you can select the right loading ramp for your container and ensure efficient and safe loading and unloading operations.
How to secure a loading ramp
It is critical to secure your loading ramp for your vehicle for safety reasons. If the rear tires of a loading ramp start spinning while the front tires are already in the pickup bed, loose ramps may shoot out from underneath, flipping the loading ramp backwards and landing on the driver. When using a loading ramp, always use ramp safety straps.
Feed hook end
Locate the point of the ramp where the second rung closest to the tailgate and the center rail meet after positioning the ramps on the lip of the tailgate or semi-trailer. Feed the hook end of the safety strap through the looped end of the strap, wrapping the strap around the center rail below the second rung.
Pull hook end
Fold the ramps and place the finger or plate ends on the tailgate's edge. The ramps should then be secured to the truck using tie-down straps through the bumper (steel bumpers only) or trailer hitch safety chain loops. This is a critical step! If the tie-down straps are not securely fastened to the truck, they may come undone while you and the tractor are on the loading ramp.
Attach hook end of strap
Attach the hook end of the strap to a secure location beneath the semi-trailer, such as the inside of the bumper or the receiver hitch. Attaching the strap to any plastic construction, such as the bumpers on some vehicles, will not hold it securely and may cause damage to the semi-trailer.
Pull loose end of strap
Pull the strap's loose end until it's tight and the loading ramp feels stable and secure. Check that the loading ramp cannot be moved backwards, and retighten the safety strap if necessary.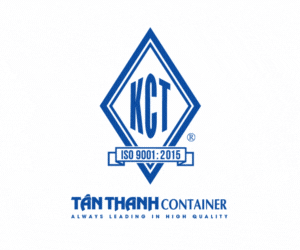 Why should you choose Tân Thanh Container as a global prestigious designer and supplier of loading ramps?
Excellent design

: Cargo drawbridge K51-CD-01 owns a composite I-beam, Q345B steel, designed with reasonable weight distribution to create strength and durability, increasing the load capacity up to 24 tons, and ensuring safe operation.

Genuine FUWA kickstand:

Helps create stability, and withstand high loads.

Equipped with large wheels

: Easy to adjust flexibly and can move many places in the warehouse to pack goods by wheel system with the help of a forklift.

Paint:

Using the best three-layer coating process of blasting, primer, topcoat and autoclave available today. Helps create a durable paint layer over time under all weather conditions.

Design and global shipping

: Get custom designs and global shipping on time.
Tân Thanh Container is an excellent choice if you need a dependable global loading ramp provider. Customers who purchase loading ramps from Tân Thanh Container can be assured of receiving high-quality products and services, such as:
Competitive pricing combined with a total commitment to providing high-quality products

Delivery in accordance with the contract

Conversion and installation are examples of professional global services.

Consultation, purchase, and use of services provide assistance.
Not only loading ramps, with over 28 years of experience but Tân Thanh Container (Tân Thanh Mechanical Trading Corporation) is also a globally recognized semi-trailer and container chassis manufacturer based in Vietnam. Flatbed semi-trailers, Tanker Semi-Trailers, Dump Semi Trailers, Gooseneck Semi Trailers, Side-Loader Semi Trailers, Lowboy Semi-Trailers, and shipping container trailers in custom sizes and weights are among our high-quality products. Our products are in high demand not only in Viet Nam but also in Asia and America.
We are the go-to choice for customers looking for custom semi-trailers because of our commitment to providing exceptional customer service and flexible pricing options. To ensure our customers have the best experience possible, we offer global warranty service, quick support, transportation-added services, and global shipping.
For more information about our products and services, or to request a custom semi-trailer quotation, please contact us at info@tanthanhcontainer.com or Quick Support (+7 GMT - 8:00 to 17:30): +84 968 039 939. To learn more about us, please visit tanthanhcontainer.com.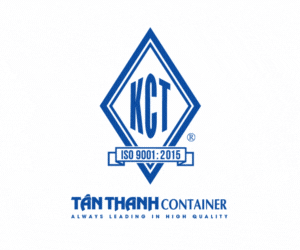 Contact Information
TAN THANH MECHANICAL TRADING CORPORATION
Address: No. 14, Street No. 15, KP 4, Linh Trung Ward, City. Thu Duc, City. Ho Chi Minh City
Phone number: 0968 039 939
Email: info@tanthanhcontainer.com
Contact Now
Tan Thanh
24/7
support!