News
27/11/2020
G43-SD- 1 Flatbed Semi Trailers of Tan Thanh Score with shaft retraction and total payload up to 39 tons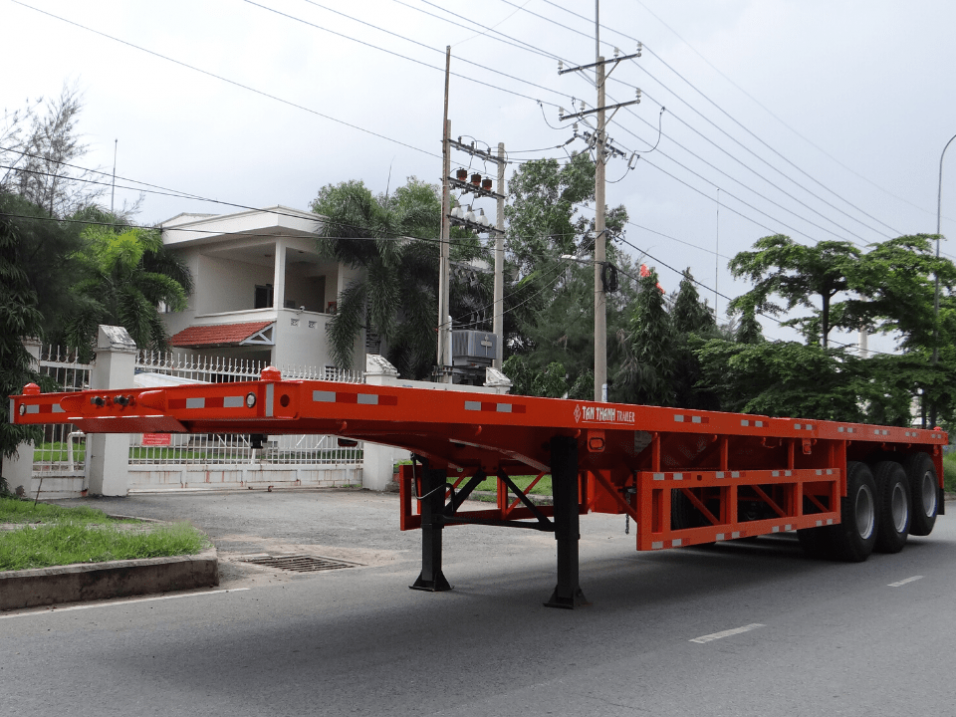 A G43-SD- 1 Flatbed Semi Trailer has a length of 40 feet with 3 axles, 8 hunches, produced by Tan Thanh Trading and Mechanic Corporation. The G43-SD-01 Flatbed Semi Trailers are specially designed for carrying 20, 40 feet containers, carrying iron and steel, and heavy goods. Through the article, we introduce the advantages that differentiate G43-SD- 1 Flatbed Semi Trailer to  transportation enterprises. 

Retraction system is equipped with the FIRESTONE 3-cylinder 
As the freight industry is increasingly developing, reducing equipment wear and increasing shipping efficiency is always a problem that any transport company must calculate. Foreseeing that, Tan Thanh has researched and launched a 3-axis trailer with 1 axis that can be withdrawn from the ground and this system has been applied on G43-SD- 1 Flatbed Semi Trailers.
G43-SD- 1 Flatbed Semi Trailers have 3 axes, one with 4 wheels (Dual wheel), when the semi trailer is in the idle state or light load, the last axis will be drawn up instead of always using up 12 wheels as conventional trailers. Thus, the 4 wheels on the last axis, if used little, can be used to change the rotation (turn the shell) with the wheels on the other 2 axes. This will help reduce wear and prolong the lifespan of the trailers' tires, to avoid wasting wheel shells and fuel for tractors e.g. Average per tire (shell) in the market cost VND6 million each. An axle with 4 wheels saves a total of VND 24 million.
G43-SD- 1 Flatbed Semi Trailers are equipped with the FIRESTONE 3-cylinder system, which is imported from the United States, one of the most prestigious brands in the world. G43-SD- 1 Flatbed Semi Trailers are capable of retracting the last axis up to 15cm, which is a great advantage to help optimize profitability for transport enterprises.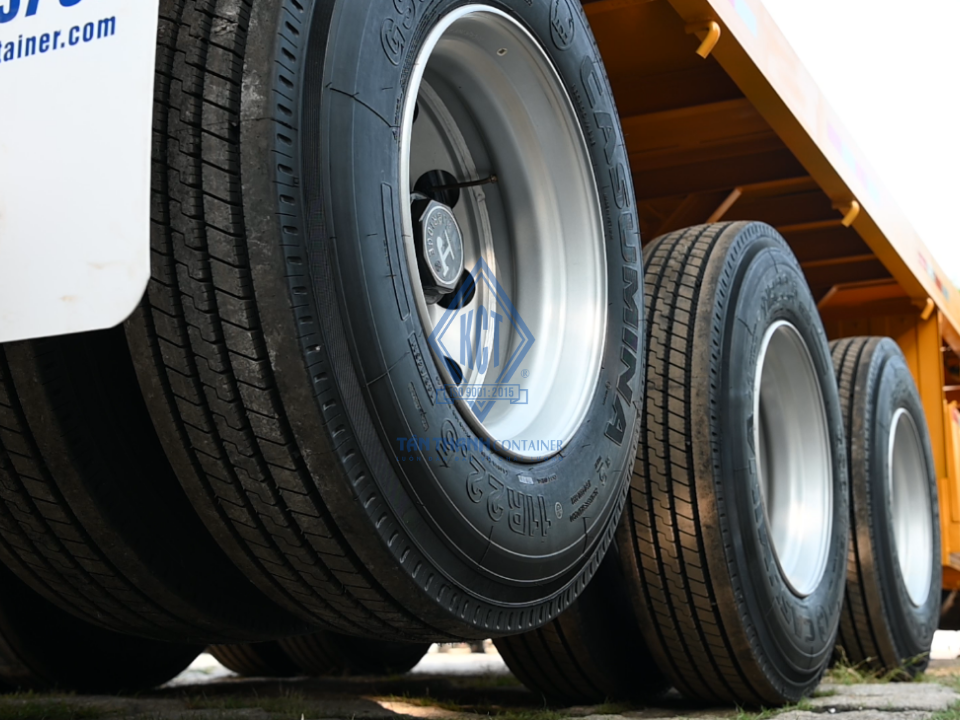 Video showing the working process of the axial retraction system.
Total payload is up to 39 tons
This is a specially trailer for 20, 40 feet container, steel pipe, bar and heavy cargo with a total payload up to 39 tons. To have such high load capacity, Tan Thanh G43-SD- 1 Flatbed Semi Trailers has the main beam as assembled I-beam, and Q345B steel which is machined by modern machinery and a team of seasoned technicians experienced many years in the profession. High-quality standard main beam also contributes to extremely good bending and torsion resistance, from which the tractor and semi-trailers move on bad, long-distance roads and high cargo load more guarantee of safety and stability.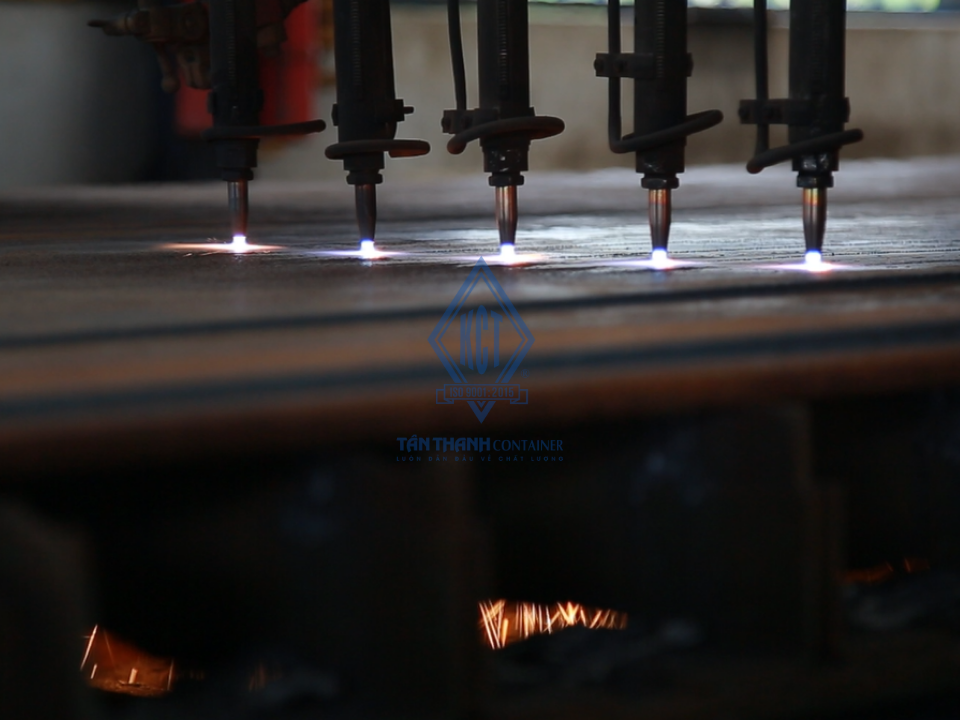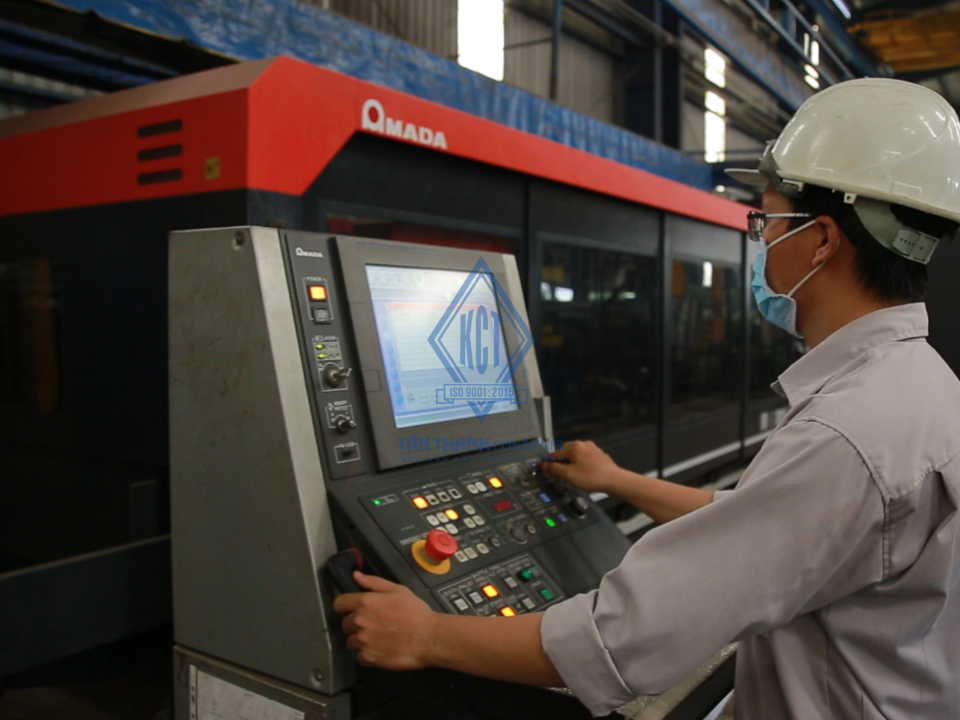 Furthermore, to ensure the quality of Tan Thanh G43-SD- 1 Flatbed Semi Trailers as well as all other trailers, before being released from the factory, it is necessary to pass stringent tests on size, dynamics, and load capacity, brake, electric, cover, commissioning, etc. by IICL International method and modern and advanced machines such as Hunter axis alignment machine (USA). Also for that reason, Tan Thanh was honored to receive the Vietnam Gold Star Award for many consecutive years, high quality products with top reputable brands in Vietnam.


Some pictures of the product




Clip introducing the product
A team of professional design engineers and technical specialists, with many years of experience, with modern and state-of-the-art machinery systems and their spare parts, carefully selected from world-class brands such as Sealco. , Fuwa, HJ, Jost, Firestone, ... All have made a clear difference between Tan Thanh's G43-SD- 1 Flatbed Semi Trailers compared to other trailer models on the market. And that is also the reason why G43-SD- 1 Flatbed Semi Trailer becomes an extremely wise choice and is the perfect solution for cost saving and increasing profitability of transportation enterprises.
Not only that, all trailers made by Tan Thanh are warranted for 3 years, with branches spreading all over the country. This makes it easy for enterprises to take the trailer to the service stations to repair and replace genuine parts. This is also one of the things that makes the Tan Thanh brand different.
*Especially, we often have very attractive promotions when buying trailers at Tan Thanh. Please contact us at the addresses below for more details:
Head Office in Ho Chi Minh City
Address: Quarter 4,Truong Son Street, Linh Trung Ward, Thu Duc District, HCMC
Phone: (84 28) 3722 2545
Email: info@tanthanhcontainer.com
Fax: (84 28) 3722 2535
Branch in Da Nang
Address: Road No. 8, Hoa Cam Industrial Park, Hoa Tho Tay Ward, Cam Le District, Da Nang City
Phone: (84 236) 3632 688
Email: danang@tanthanhcontainer.com
Fax: (84 511) 363 2988
Branch in Hai Phong
Address: Lot CN2.9, MP Dinh Vu Industrial Park, Dinh Vu Industrial Zone, Dong Hai 2, Hai An, Hai Phong
Phone: (84 225) 8832 139
Email: haiphong@tanthanhcontainer.com
You can see more branches: »» HERE ««
#TanThanhcontainer, #FlatbedSemiTrailers #TanThanhsomiromooc #TanThanhTrailer #TanThanh #G43_SD_01, container store, container tracking, containerbooths