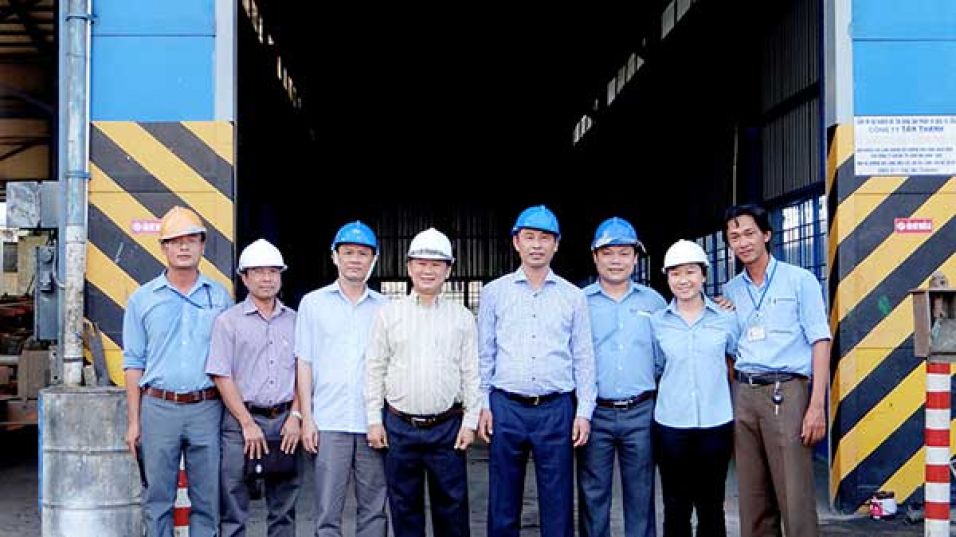 In the afternoon of August 8, 2014, the delegation of the Ministry of Transport led by Deputy Minister Le Dinh Tho visited and worked at the Tan Thanh Trailer Repair Center. Accompanying the delegation, there were Mr. Tran Ky Hinh - Director of Vietnam Register; Mr. Nguyen Sy Tung - Team Leader of Inspection Team of Motor Vehicle Quality Control Department, Registry Department. The trip of the delegation is aimed at visiting and surveying Tan Thanh's ability to renovate trailers.
At the meeting, Mr. Kieu Cong Thanh - Chairman of the Board of Directors briefly introduced the history of formation and development of the company. From a small mechanical factory established in 1994, over 20 years of development, Tan Thanh has become a leading reputable enterprise in Vietnam in the field of container and trailer. Every year, Tan Thanh produces more than 1,200 new trailers of all kinds, the company's products are trusted by many domestic and foreign customers.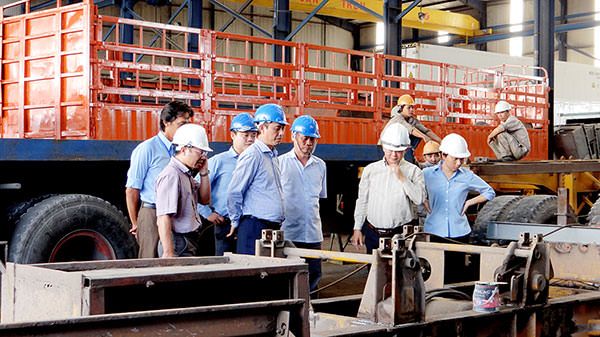 Tan Thanh's development orientation is to build a sustainable enterprise, actively contribute to the development of Vietnam's logistics industry, contribute to promoting commodity circulation, improving people's lives, enriching society for the country. Tan Thanh Company commits to produce the best quality Vietnamese-branded trailers.
The Deputy Minister highly appreciated the achievements that Tan Thanh has achieved over the past 20 years. At the same time, he also acknowledged the outstanding efforts of Tan Thanh in training human resources, upgrading and expanding the workshop, investing in modern and synchronous equipment for warranty, repair and semi-trailer renovation.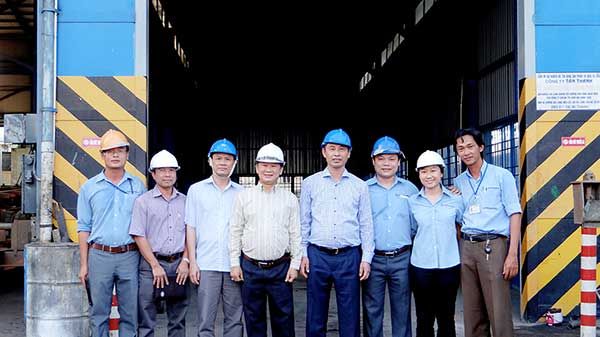 Previously, the Ministry of Transport issued the letter No. 8359/BGTVT-VT allowing the adjustment to increase the total allowable load in traffic to 33 tons for 3,465 2-axle trailers carrying containers and to 38 tons for 3,640 three-axle container trailers provided that the total design load of the vehicle is not exceeded.
In order to make this adjustment, the Ministry of Transport agrees with the Vietnam Register to allow the adjustment of the drag pin position and shaft assembly position or simultaneously adjust both the towing pin and the shaft assembly position of the semi-trailer to ensure that a semi-trailer no longer violates axle load when circulating, after adjusting the total allowable load in traffic. This adjustment will be done until December 31, 2014.
Tan Thanh is one of the first enterprises who convert and successfully register for conversion under the guidance of the Registry Department. Tan Thanh warranty and service center stretches from North to South with branches of Hai Phong, Da Nang, Vung Tau, and Ho Chi Minh City ready to receive and renovate trailers for customers according to the standards of the authorities. The customer's trailer will be inspected by Tan Thanh and has a preliminary assessment on the current status. A team of technicians will advise on the best option to improve the trailer for best cost saving.