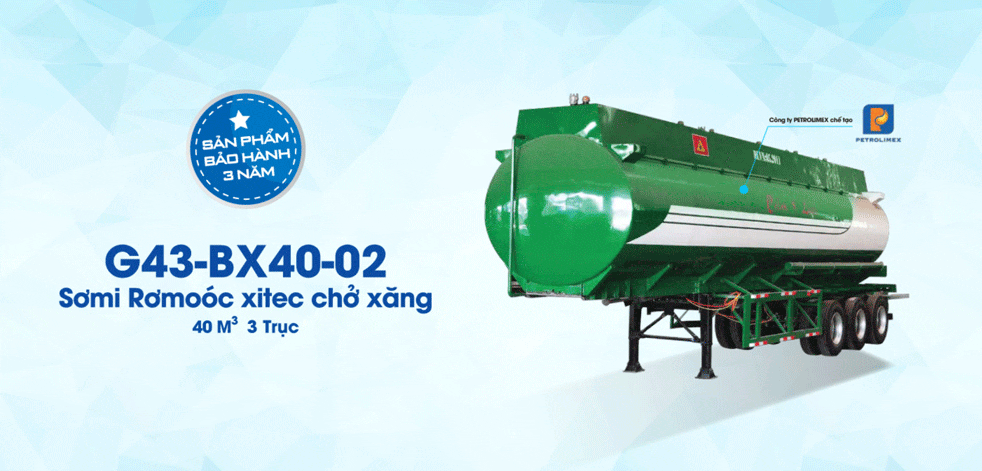 Gasoline tank semi trailers (or gasoline tanks) are a very important means of transport in today's petroleum business. The following shares will help bring many useful experiences when choosing Gasoline tanks for petroleum enterprises.

What is Gasoline tank?
The Gasoline tank is a part mounted on Semi trailers with a design that easily holds a certain amount of gasoline. Gasoline is a very flammable substance, so the Gasoline tank must ensure design standards according to the State regulations. Gasoline tanks, after calculating and designing the production, will be installed on the tank truck, serving the transportation of petroleum nationwide.
What need to pay attention to about the structure of Gasoline tank Semi trailers?
Gasoline tank truck consists of two main parts, that is the chassis and the tank. Chassis is used to supply gasoline tankers such as: Hyundai, Hino, Dongfeng, Isuzu, Faw,…. These are very popular brands in the market that are used to supply - assemble specialized vehicles for current use. Gasoline tanks often have an elliptical appearance. The material of the tank tank is usually steel or aluminum. People often divide the compartment for Gasoline tank to match the amount of fuel needed for each store, while ensuring the safety of the truck while in motion. Not only that, the structure of the Gasoline tank also has other special accessories such as: Pumps, hot pot caps, hot pot neck, valves, ... Petroleum enterprises that want to choose a vehicle with a suitable structure must have careful calculation and research.

Standards on Gasoline tank Semi trailers.
The materials used for Gasoline tanks need to meet the conditions and characteristics of gasoline. The materials used to make Gasoline tanks today are commonly used are high-quality aluminum alloys and carbon steels. Gasoline tanks must be designed in the form of an elliptical cylinder, standard thickness, tight, no distortion.

Gasoline tanks need to be divided to ensure safety. For tanks with a capacity of 5 blocks or more, it is necessary to split. The ratio of dividing drug subdivision mainly into the requirements of vehicle users.

Gasoline tanks need to be equipped with the following components such as: ground wire, ladder, warning text.
Where to buy Gasoline tank at a good price?
Price is always a concern of every customer when buying any product on the market. With products priced up to hundreds of millions dong, such as Gasoline tank semi trailers, you should learn more carefully. The price of a Gasoline tank Truck depends on many factors such as vehicle brand, origin, tank capacity, and other relevant parameters. For more information about Gasoline tanks, please contact: Tan Thanh Trading and Mechanic Corporation - hotline 1900 5757 38.