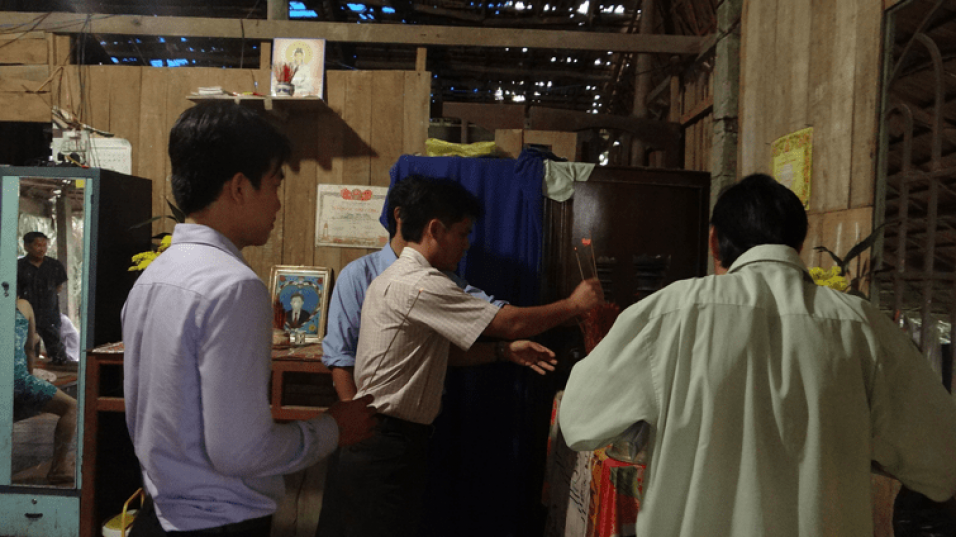 In the afternoon of November 2nd, 2013, Mr. Mai Duc Thinh, the Chief of the General Director's office visited and encouraged the family of Dang Huynh Thien Phuoc. Previously, newspapers simultaneously wrote about the difficult situation of the newborn Phuoc who was buried alive by his mother. At the meeting, Mr. Mai Duc Thinh immediately awarded the family an amount of VND 3,000,000 and transferred the commitment of the Board of Directors of Tan Thanh company that it would support Phuoc VND 1,000,000 per month until his maturity. Tan Thanh Company hopes to share some of the pain, loss and difficulties with the baby's family.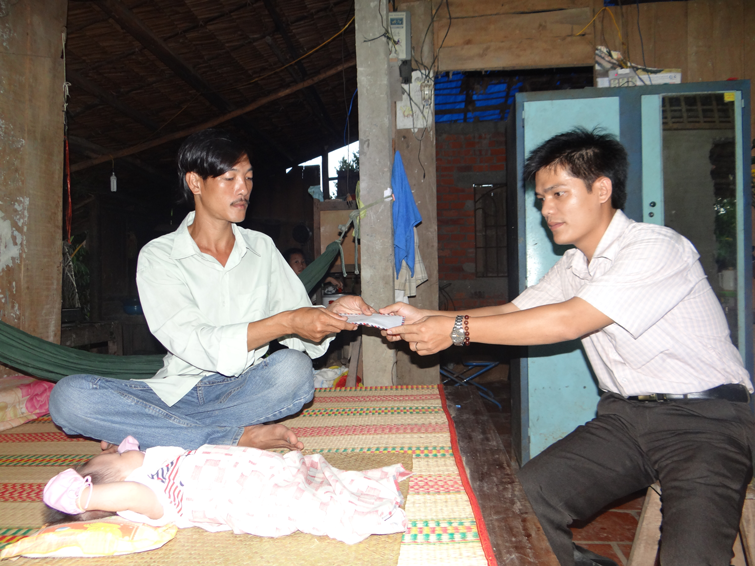 Starting from Ho Chi Minh City, after more than 2 hours crossing the road of more than 100 km, crossing Trung Luong highway and Ngu Hiep ferry, we arrived at Ngu Hiep Commune at the People's Committee Headquarters, located next to the river. Ms. Nguyen Thi Phuong, the Chairwoman of Ngu Hiep Commune Women's Union welcomed us. Through the information of Ms. Phuong, we knew that because the family was in a very difficult circumstance, her sister's mother, Ms. Huynh Thi Ngoc Hue hid her family members about the pregnancy. On September 25th, she tried to quietly run to the garden and give birth under a durian tree. After that, she placed the child who had not yet cut the placenta into a hole about 0.5m deep, covered it with grass and fresh banana leaves, and went to the house to rest. Until 4 p.m. on the same day, her family's members were panic when finding that she was dead after giving birth.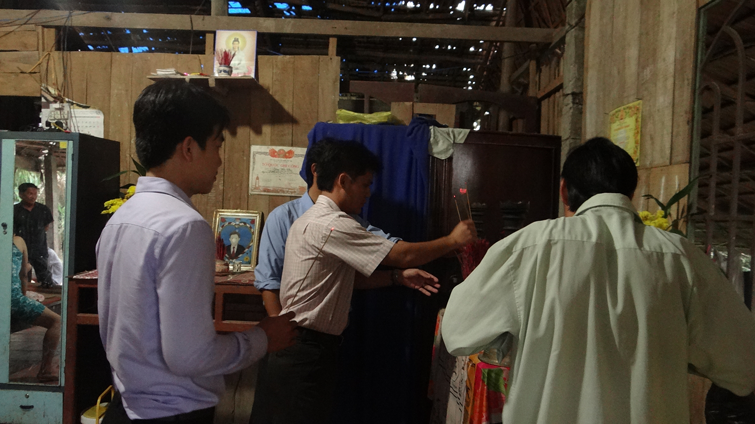 People around the area kept hearing children crying so they started searching but they couldn't find it. They thought that that sound was from a cat so they stopped finding it. When they heard that Hue was dead due to giving birth, everyone immediately followed the blood stains and panicked to see the naked, gray child lying in the dirt trench, the ants filled with people, burning eyes and limbs. The baby was immediately moved to the hospital.
The baby was born with a weight of 3.3 kg, at full term and completely healthy. After 8 days in the hospital, noticing that the wounds were no longer serious and healed, the doctor allowed the baby to be discharged. The baby was named Dang Huynh Thien Phuoc by doctors, a name that implies "blessings from heaven", but when the baby boy was born, his mother was gone.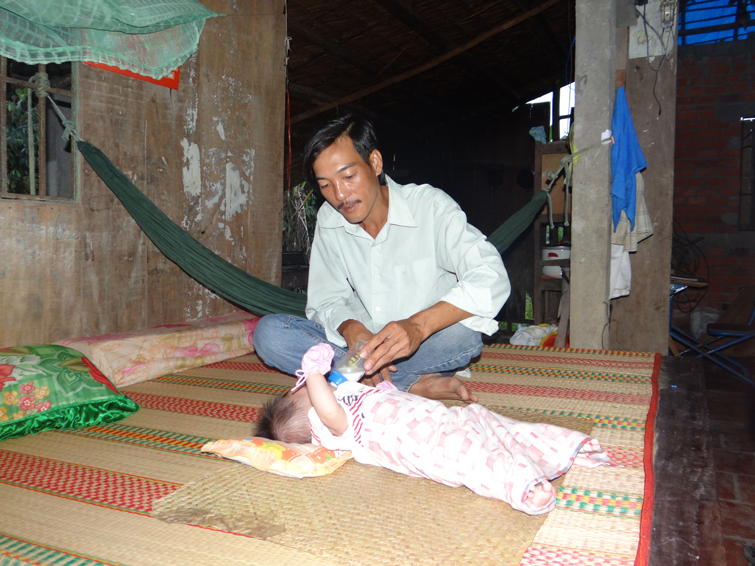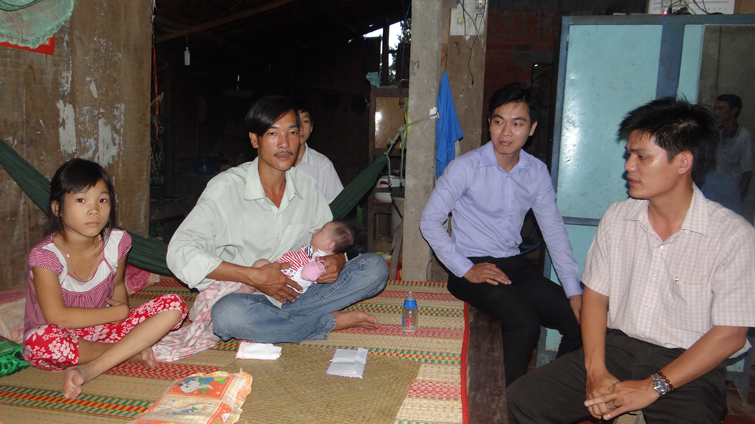 After a long sad story, Ms. Phuong called a motorbike taxi to take us to meet her family and the baby. We had to pass more than 3km on small, deserted, smoking and zigzag concrete roads to reach the baby's house on the canal. In front of our eyes, there was a collapsed house, dilapidated with an area of only 20 square meters, the wall had more holes. We could see the sun through the roof and there was not any door that was blocking. In the empty house, there was only an old bed where Phuoc was lying and was cared for by neighbors and relatives.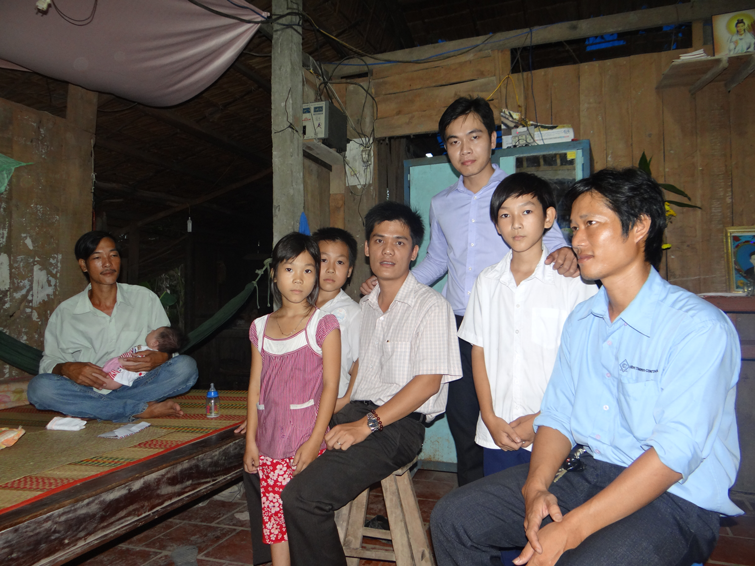 After we burned incense for Hue, we talked a lot with Dang Van A, Phuoc's father. More than 20 minutes of talking, we felt more deeply of the difficulties and struggles of the baby family. Mr. A and his wife previously had 3 grandchildren, their income was very low, they funded for their children to go to school, there was not enough food for the poor family struggling to borrow everywhere, all year round. He had to work as a gardener for others to make a living. Hue was gone so now, the financial burden of raising children would be on Mr. A's thin shoulders.
At the end of the visit, Mr. Mai Duc Thinh transferred VND 3,000,000 to the family so that they can take care of Phuoc. Also at the meeting in front of local authorities, Mr. Mai Duc Thinh also transferred Tan Thanh company's commitment to support Dang Huynh Thien Phuoc VND 1 million per month until he becomes an adult. Family representatives and local authorities had received and thanked for Tan Thanh's generosity.
Our car left Ngu Hiep commune around 5:00 pm on a rainy afternoon. No one said anything but all had an indescribable sadness and secretly hoped for peace for Phuoc's family.