News
27/11/2020
Xitec Tank semi Trailer L43-BX- 3 of Tan Thanh with loading volume up to 41,000 Liters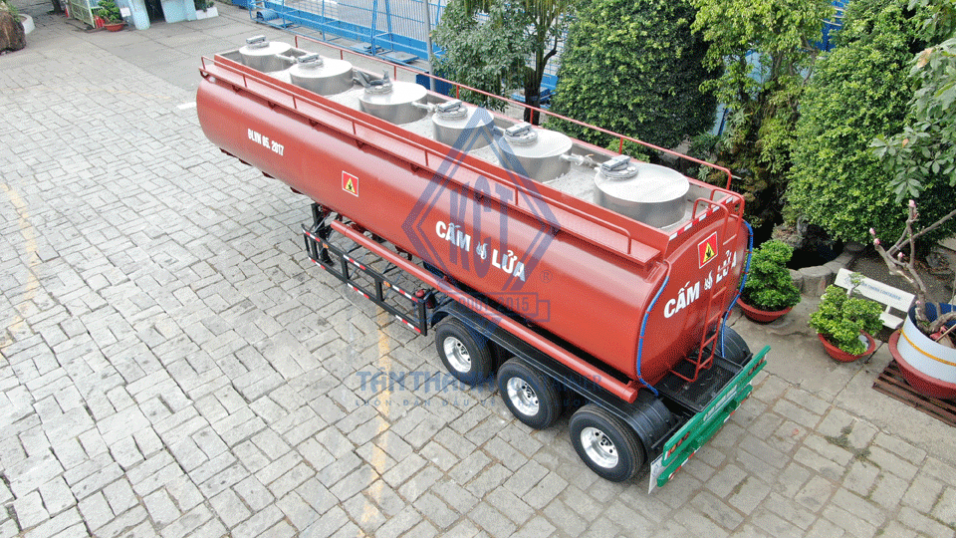 Launched in 2020, Xitec Tank semi Trailer L43-BX- 3 of Tan Thanh with the loading volume of 41,000 Liters. L43-BX-03 possesses many improvements in design as well as technology such as aluminum tank, anti-lock braking system, ABS suspension, pneumatic suspension, exhaust control valve by compressed air, ... The product L43-BX-03 is specialized in carrying petroleum, and has been issued a Quality Certificate by Vietnam Registry Department to ensure technical safety and environmental protection.
Xitec Tank semi Trailer L43-BX- 3 of Tan Thanh and new improvements
Aluminum tank
Xitec Tank semi Trailer L43-BX- 3 of Tan Thanh has a tank made of aluminum material, with a volume up to 41 m³. For the purpose of transporting petroleum specifically, the tank is divided into 6 separate compartments, with extremely good insulation, anti-leakage to minimize the risk of fire and explosion.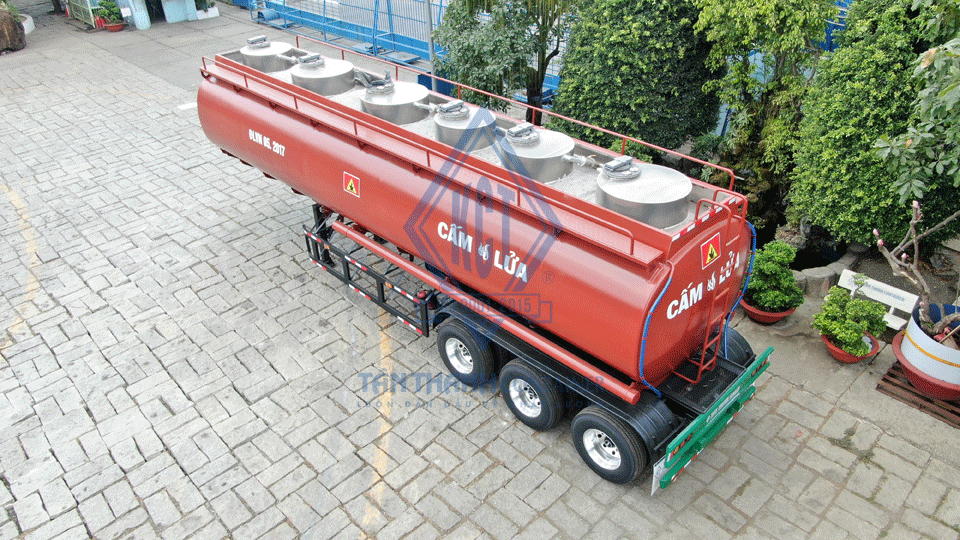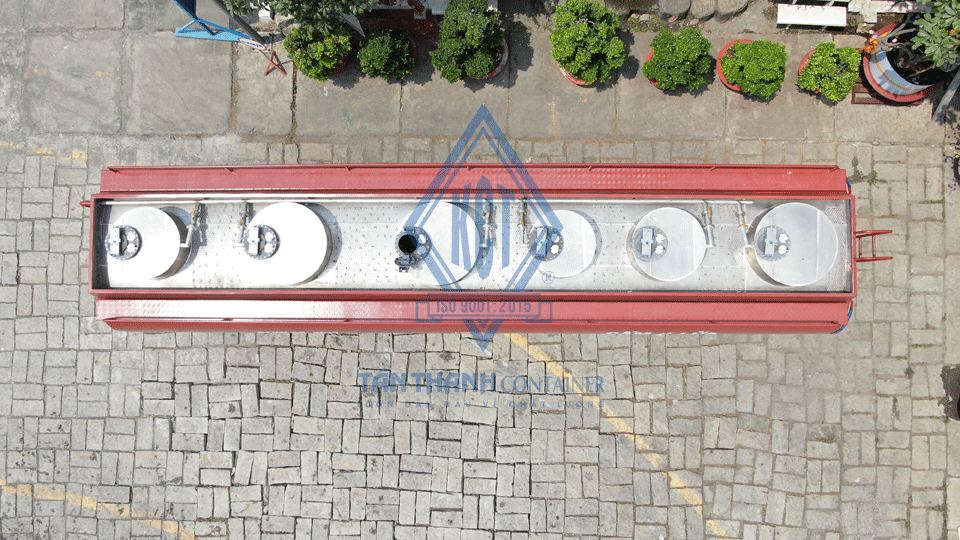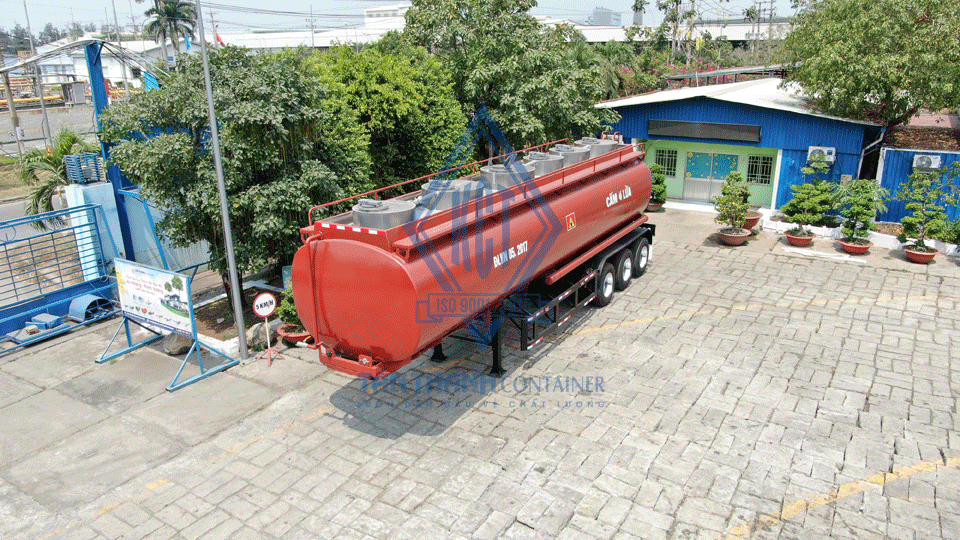 Aluminum Xitec tank
Valve controls open and close by compressed air.
All 6 valves on this product can control the exhaust pipe by compressed air. This contributes to better adjustment of discharge flow, helping customers to save time and be more convenient during use.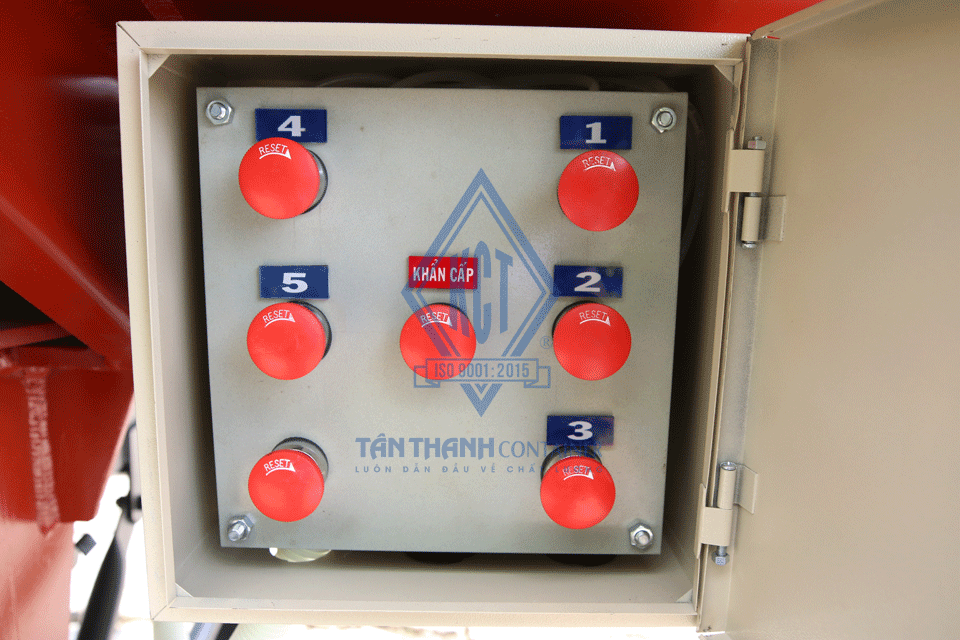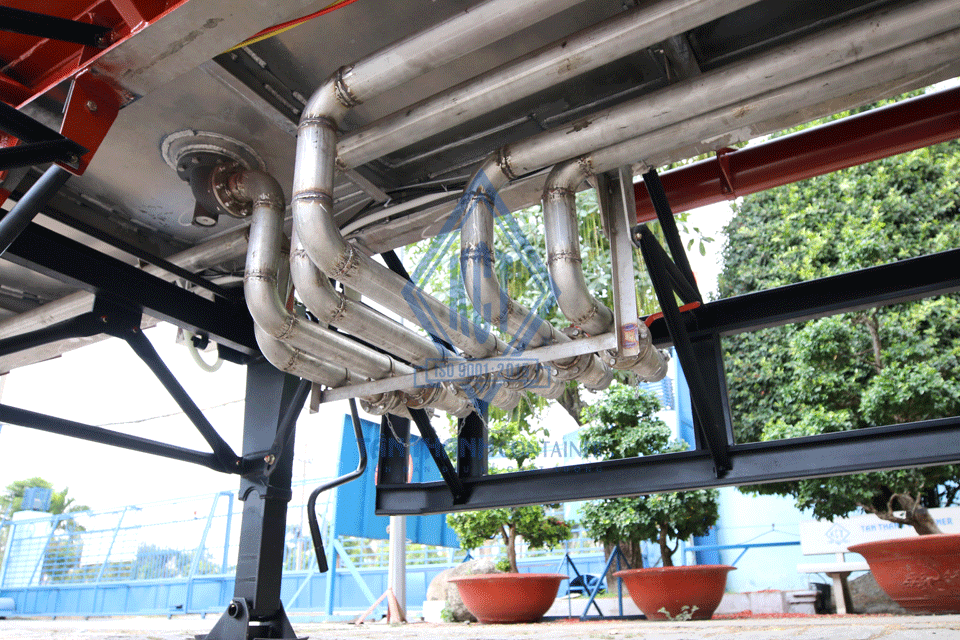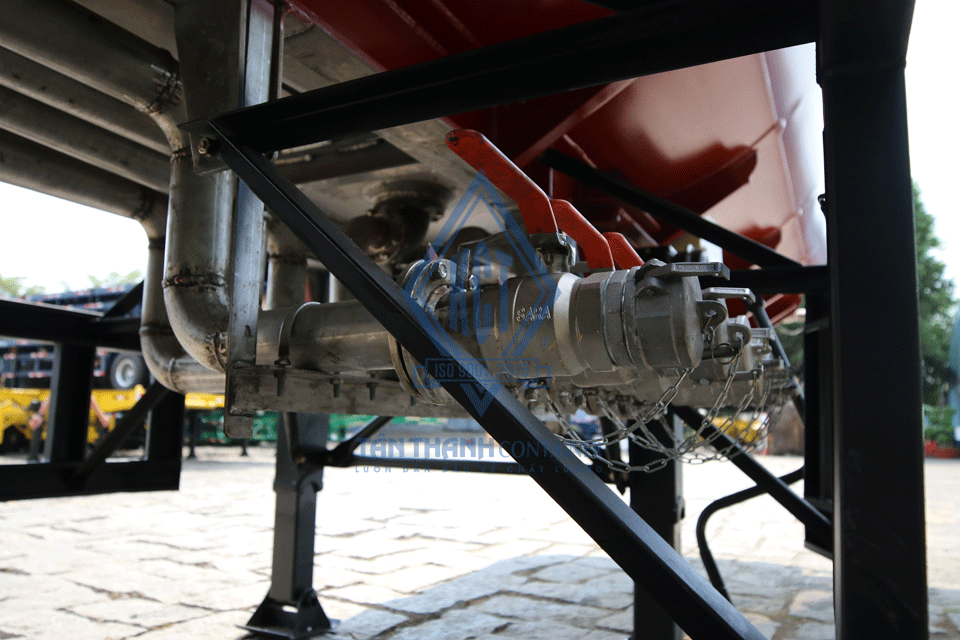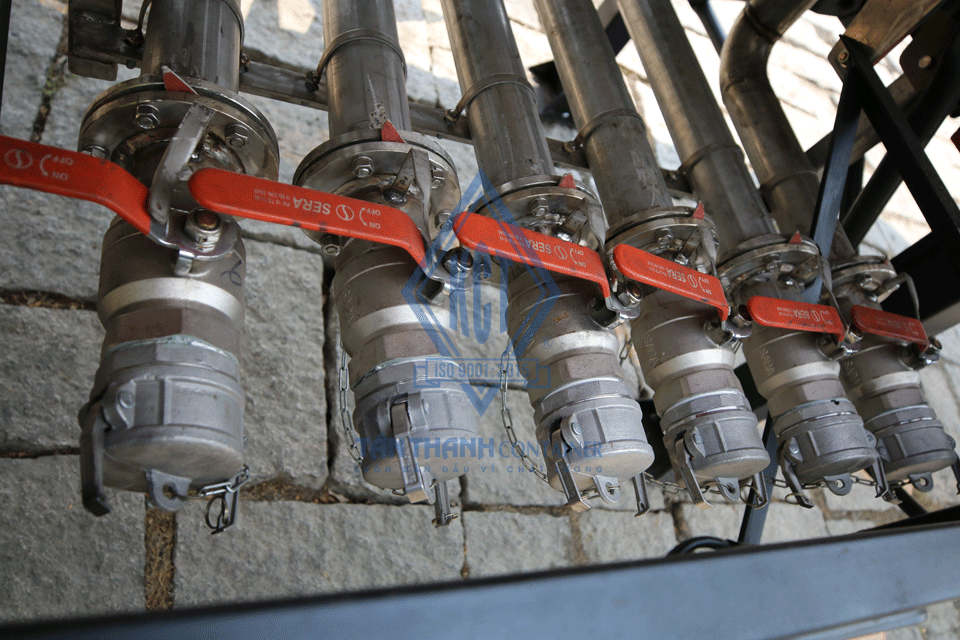 Anti-lock braking system ABS
The Xitec Tank semi Trailer L43-BX- 3 of Tan Thanh is equipped with an ABS locking brake system (short for Anti-lock Brake System). This system helps to prevent the brakes from locking, prevent the wheels from slipping on the road and losing control when braking. Combined with genuine Sealco relay valves, imported from the US. Sealco is considered as the leading prestigious American brand in the Vietnamese and international market. This combination enhances the vehicle's braking efficiency, making it easier for the driver to handle emergency situations.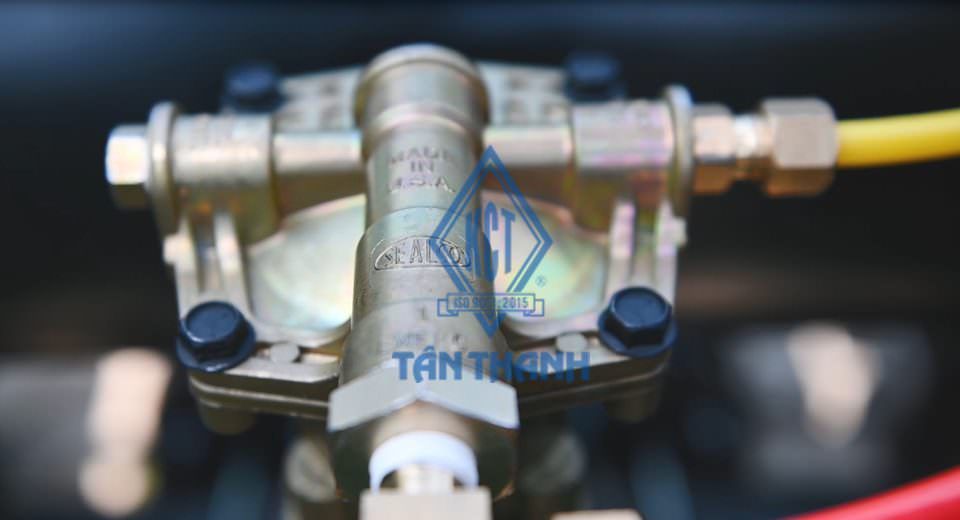 FIRESTONE air suspension system
The Xitec Tank semi Trailer L43-BX- 3 of Tan Thanh has FIRESTONE pneumatic suspension system, imported from the US. This is one of the leading manufacturers of pneumatic suspension systems in the world. It is trusted and used by many big manufacturers, including Tan Thanh Company. FIRESTONE air suspension system has brought more smoothness and stability for L43-BX-03 when going through bad roads with many potholes.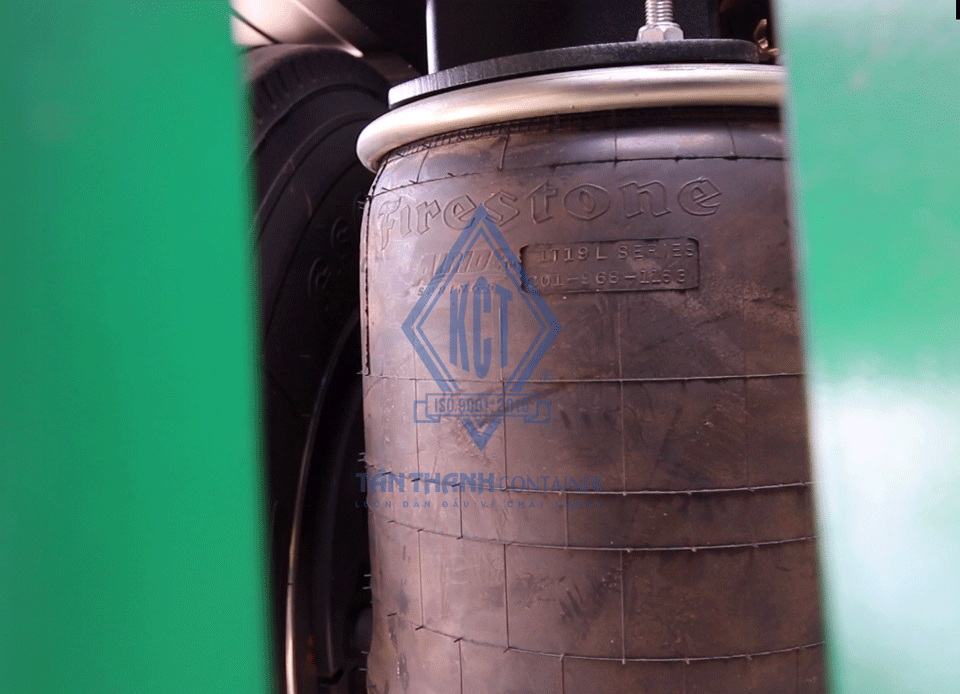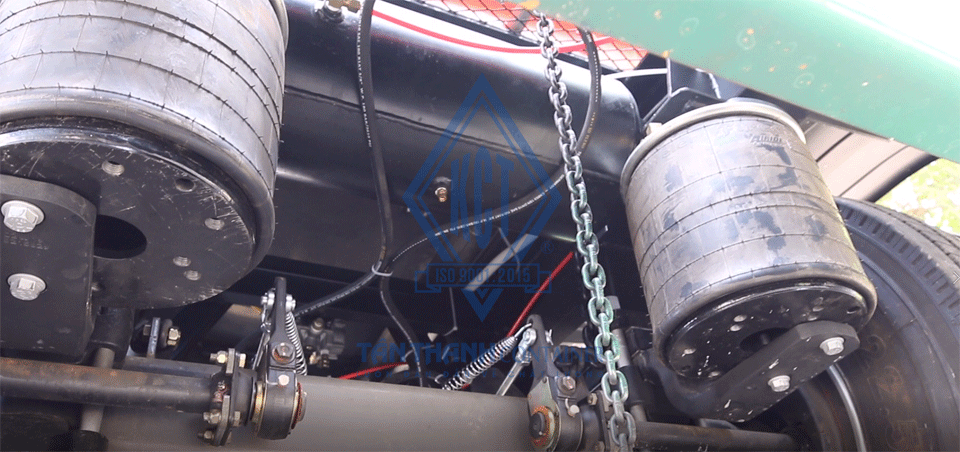 Solid structure, durable spare parts
Solid main beam design and material
The Xitec Tank semi Trailer L43-BX- 3 of Tan Thanh has a reasonable load distribution design on the bearing details of the trailer to create a solid structure. At the same time, combining with the main girder frame using the combination I-beam, Japanese standard steel SM490YA / Q345B contributes to increasing the total load to more than 38 tons. High quality standard main beam also contributes to extremely good bending and twisting resistance. From there, it ensures more safety and stability during the movement of the tractors and trailers on bad roads with high load capacity.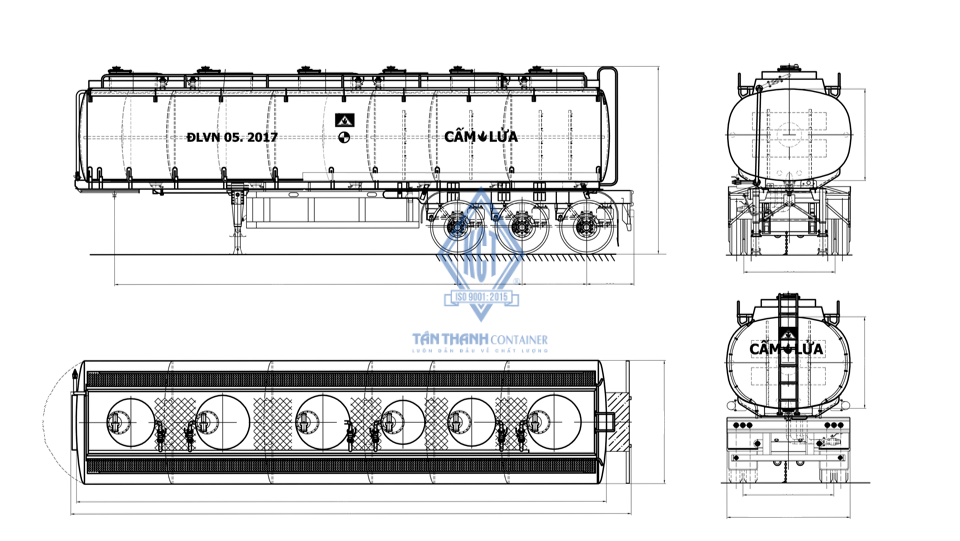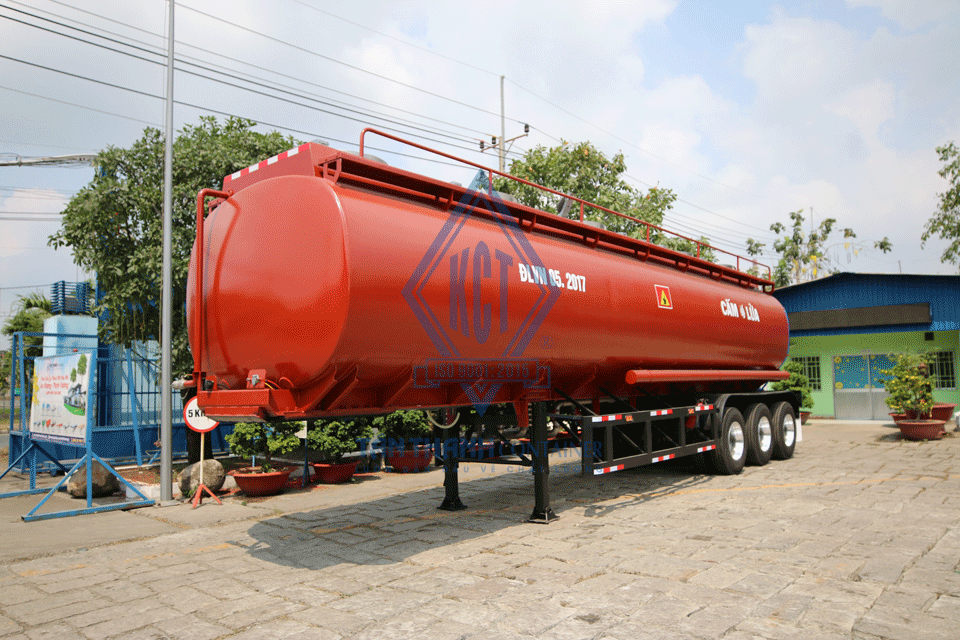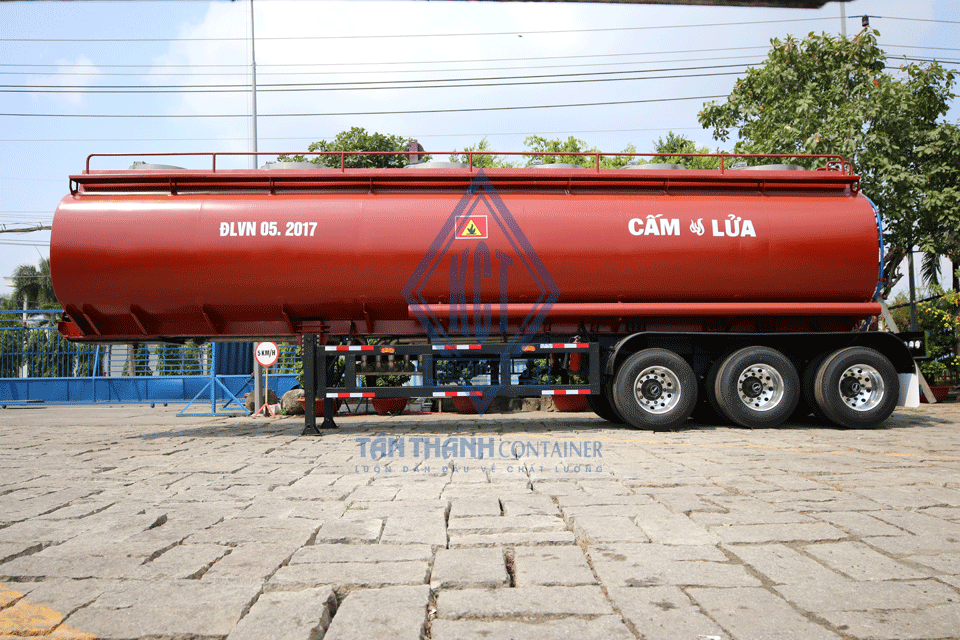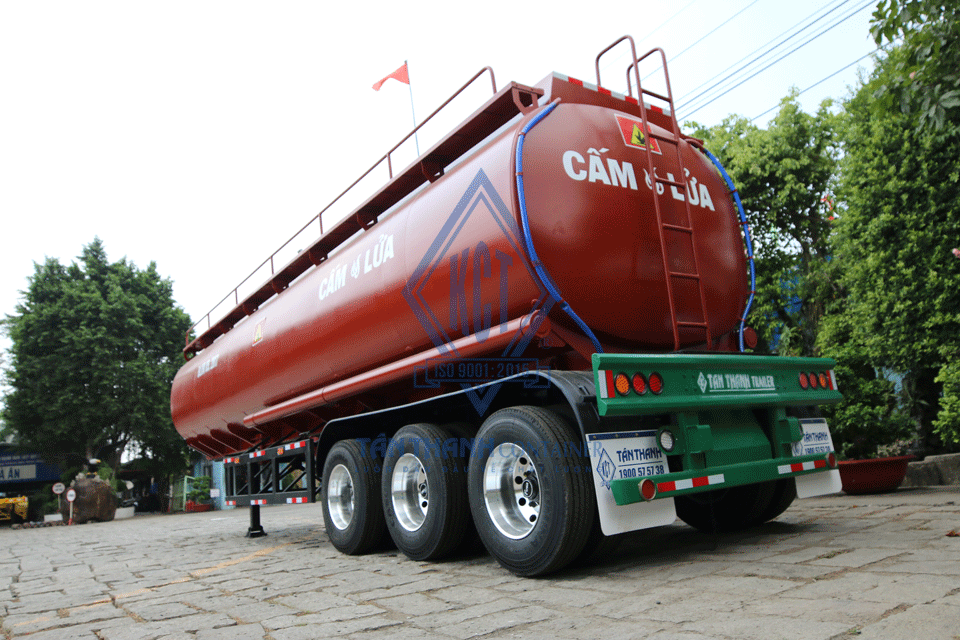 Genuine imported spare parts with high durability.
With the business philosophy of "Always leading in quality", Tan Thanh trailers are always equipped with genuine imported spare parts from world-class brands such as Sealco, Fuwa, HJ, Jost. , Firestone,… with high durability. This is to help transport enterprises to extend the time of use, less need to repair and replace, and save costs compared to trailers using counterfeit and poor quality products on the market today.
FUWA axle and footing system: Propeller, axle system and suspension rig of the Tank Trailer L43-BX-03 carry genuine FUWA brand. The FUWA axle and leg system meets international standards, contributing to increased safety, stability and durability for the L43-BX-03 Tank Tank Trailer.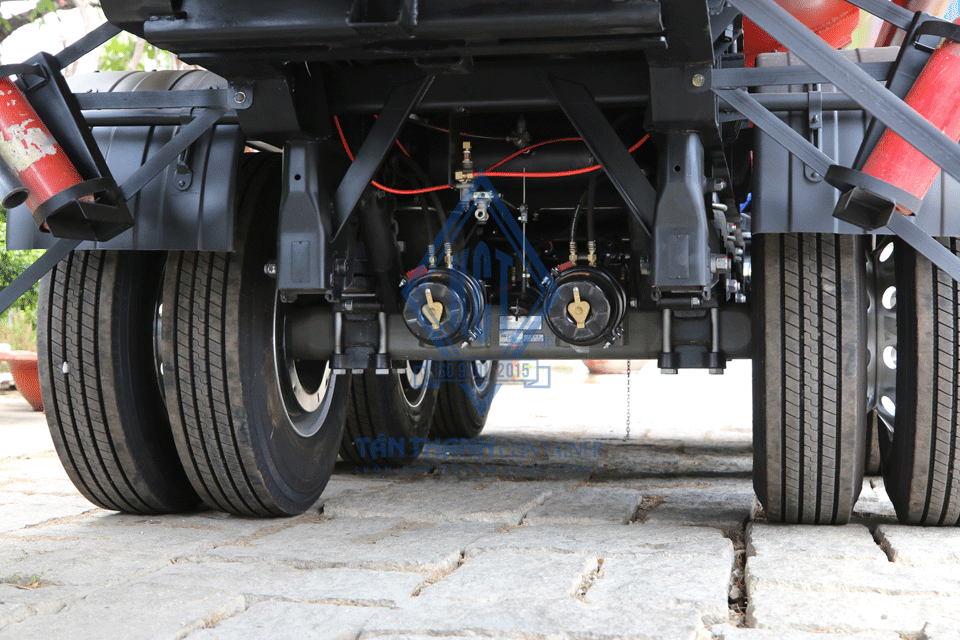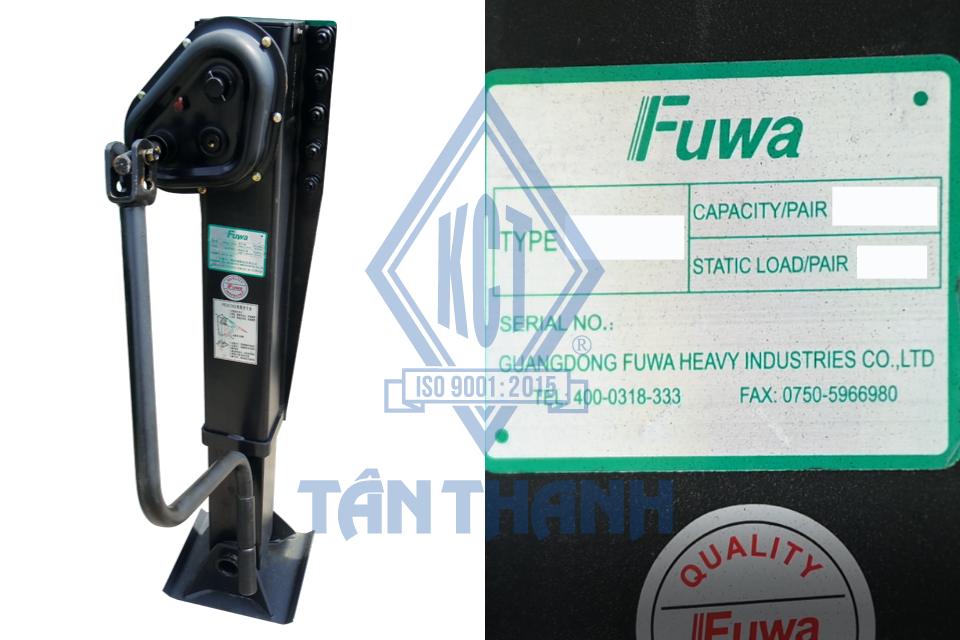 JOST towing accumulator: The Xitec Tank semi Trailer L43-BX- 3 of Tan Thanh uses a towing accumulator from JOST brand with bolt type When connected to a car, the JOST towing accumulator creates certainty and safety in the process of joining traffic, avoiding the case of splitting or breaking, causing danger to nearby vehicles. In addition, the JOST bolt-on bolt makes the replacement easier and more convenient than the welding tow.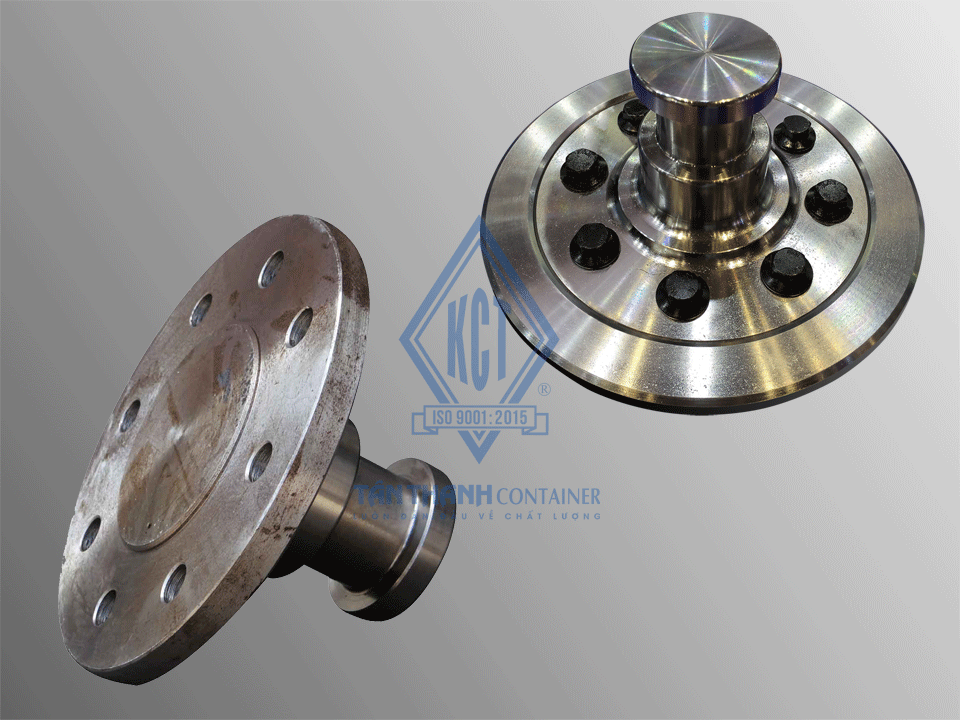 In addition, the The Xitec Tank semi Trailer L43-BX- 3 of Tan Thanh as well as all Tan Thanh products, before being shipped, must undergo a rigorous inspection process for size quality, dynamics, load, shaft, brake, electrical, cover, operation, .. This important stage is done by IICL International method, under the supervision of a team of technicians, highly skilled engineers, and many years of experience in the profession. Combining modern and advanced machines such as Hunter axis alignment machine (USA).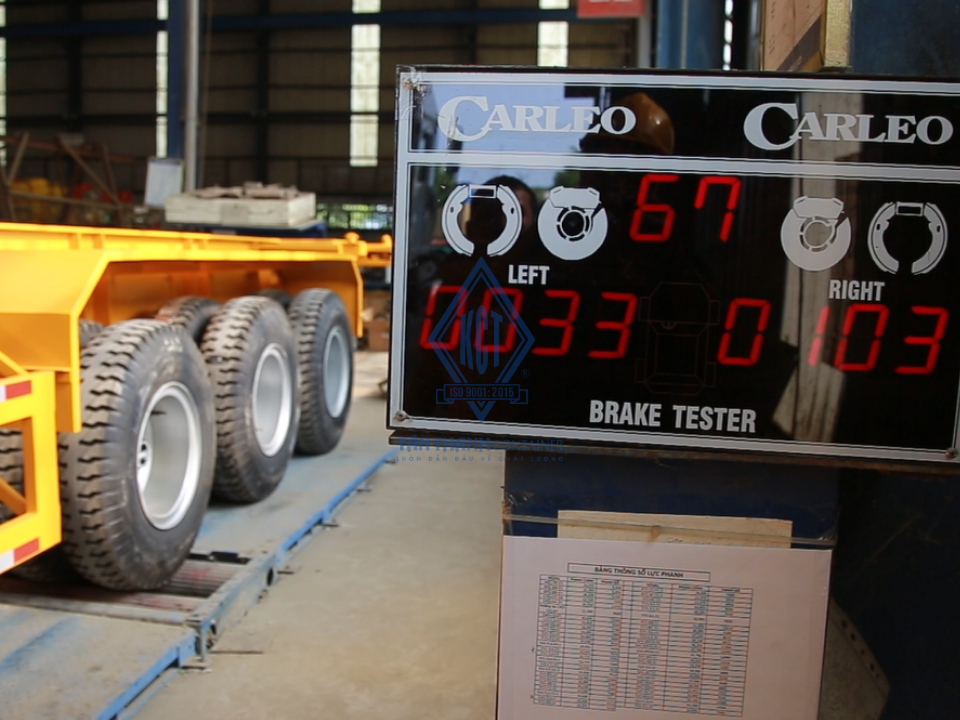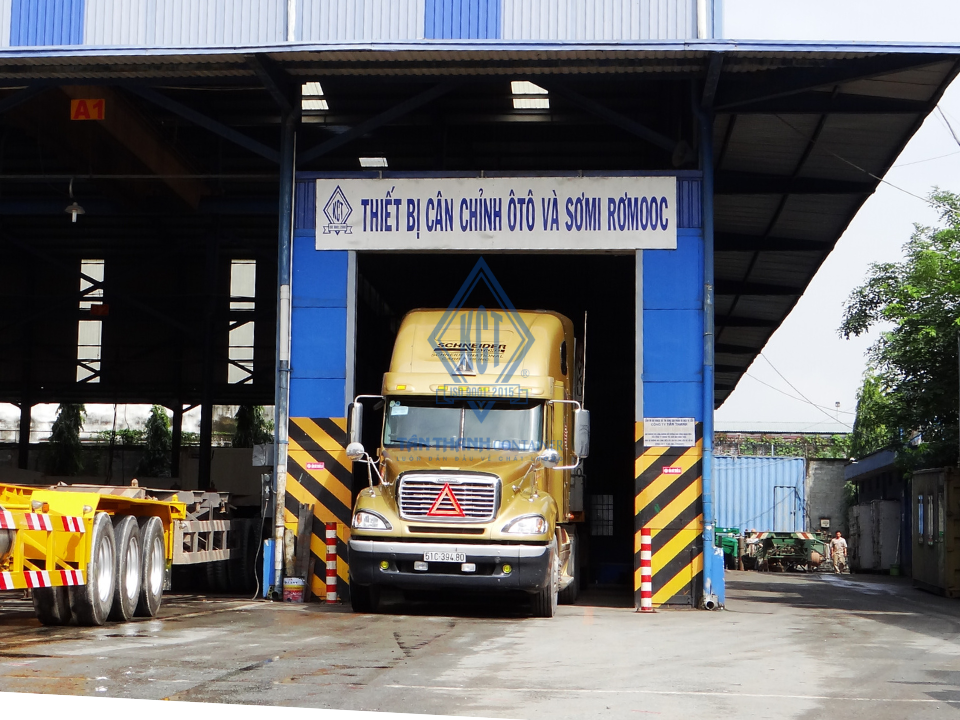 Not only that, all trailers made by Tan Thanh are warranted for 3 years, with branches spreading all over the country. This makes it easy for enterprises to take the trailers to the service station to repair and replace genuine parts. This is also one of the things that makes the Tan Thanh brand different.
Tan Thanh is one of the largest enterprises in Vietnam in the field of trailer production and supply. We continuously improve the quality of our products and services, as well as the variety of models to better suit the transport needs of each different business, in order to create a brand name "Tan Thanh Container" which is reputable in the market, known and trusted by many domestic and foreign customers.
Please contact us immediately for more details on this product.
Tan Thanh Trading and Mechanic Corporation
Head Office in Ho Chi Minh City
Address: Quarter 4,Truong Son Street, Linh Trung Ward, Thu Duc District, HCMC
Phone: (84 28) 3722 2545
Email: info@tanthanhcontainer.com
Fax: (84 28) 3722 2535