News
07/01/2021
What are the advantages of semi trailers having 1 shrinkable axle for goods transportation companies?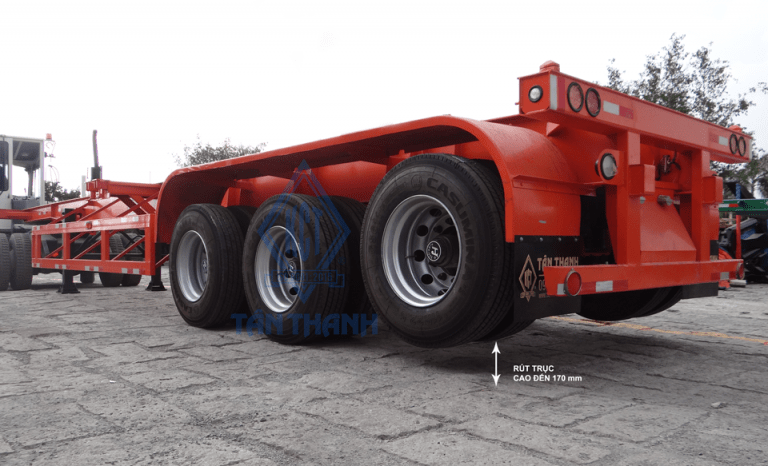 Semi trailers having 1 shrinkable axle là gì?
Semi trailers having 1 shrinkable axle are standard 3 axles and 8 twistlocks Semi trailers and having the last axle to be shrinkable for 15 cm from the ground.
Why need a Semi trailer with 3 axles including 1 shinkalle axle?
Transport service companies when transporting goods, when using Semi trailers for transportation, always have 2 conditions: full and empty.
When transported in an empty container, 3 axles Semi trailers still have to use up to 12 wheels to carry. This is wasteful of payload, because when carrying on empty, it is not necessary to use up 3 axles.
But when it is impossible to transport goods, the other Semi trailers can be removed, and the other Semi trailers cannot be exchanged when they run back. That is the reason for the birth of 3 axles Semi trailers with 1 shrinkable axle for 15 cm from the ground that Tan Thanh has researched and produced in the Vietnam market.
The benefits that shrinkable axle semi trailers bring to the transportation companies
The most obvious major benefit transportation companies could not ignore was the reduction in the wear and tear of tires of Semi trailers.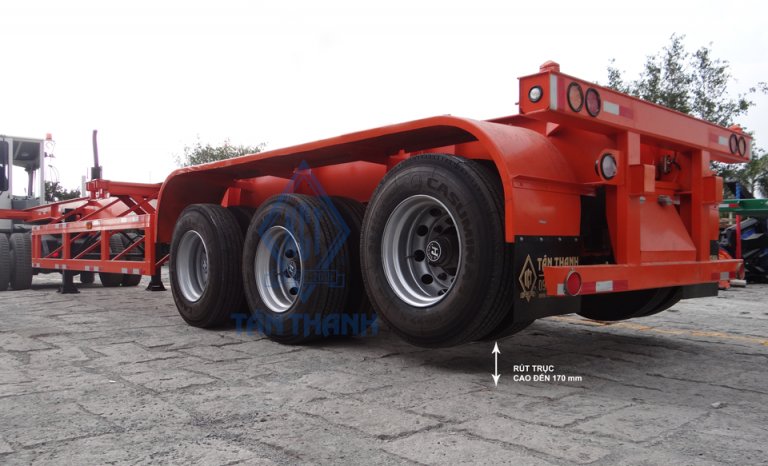 Example: On average, each wheel on the market is priced at VND 6 million / piece. Each axle with 4 wheels saves a total of VND 24 million.
With the increasing freight intensity as the economy develops, minimizing equipment wear and increasing shipping efficiency is always a problem that any transport company or transport service must calculate.
Semi trailers 3 axles including 1 shrinkable axle are designed and manufactured to meet ISO and IICL standards with equipment such as high quality steam air, Japanese steel cast beam for stable movement, pressure regulators for air bag and air bag suspension. ..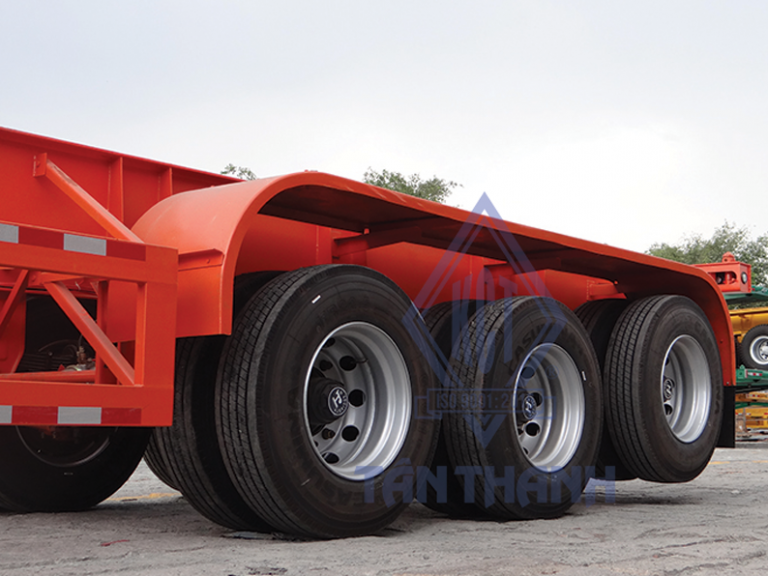 Being trusted by the market and customers and recognized as a leading reputable company in producing Semi trailers. Tan Thanh's business philosophy is "Always leading in quality", always improving production, sales and service systems to best meet customers' requirements. Bold investment and thorough access to advanced technologies in the world is far away from Tan Thanh, further on the path of integration into the global economy, reaching international level.
Come to Tan Thanh and you will be best served!
Head Office in Ho Chi Minh City
Address: Quarter 4,Truong Son Street, Linh Trung Ward, Thu Duc District, HCMC
Tell: (84 28) 3722 2545
Email: info@tanthanhcontainer.com
Fax: (84 28) 3722 2535
Hanoi Branch
Address:
Address: Office: House No. 6 N6 Area TT5 Bac Linh Dam, Hoang Mai, Hanoi.
Warehouse: Yen Vien Nam Railway Station, Yen Vien, Gia Lam, Hanoi.
Tell: 0932 003 387 – Hotline: 1900 5757 38
Email: hanoi@tanthanhcontainer.com
Danang Branch
Address: No. 35 Truong Chi Cuong, Hoa Cuong Nam Ward, Hai Chau District, Danang City
Tell: (84 236) 3632 688
Email: danang@tanthanhcontainer.com
Fax: (84 511) 363 2988
Hai Phong Branch
Address: Lot CN2.9, MP Dinh Vu Industrial Park, Dinh Vu Industrial Zone, Dong Hai 2, Hai An, Hai Phong
Tell: (84 225) 8832 139
Email: haiphong@tanthanhcontainer.com
Vung Tau Branch
Address: Group 8, Tan Loc Hamlet, Phuoc Hoa Commune, Tan Thanh District., Ba Ria - Vung Tau
Tell: (84 254) 3890 379
Email: vungtau@tanthanhcontainer.com
Fax: (84 254) 3890 378
Can Tho Branch
Address: No. 2 Phu Thang area, Tan Phu ward, Cai Rang district, Can Tho City
Tell: (84 292) 3512 305
Email: cantho@tanthanhcontainer.com
Phu Quoc Branch
Address: Vinh Dam Port, Group 11 Suoi Lon Hamlet, Duong To Commune, Phu Quoc District, Kien Giang Province
Tell: (84 297) 3703 028
Email: phuquoc@tanthanhcontainer.com
Fax: (84 28) 3722 2535