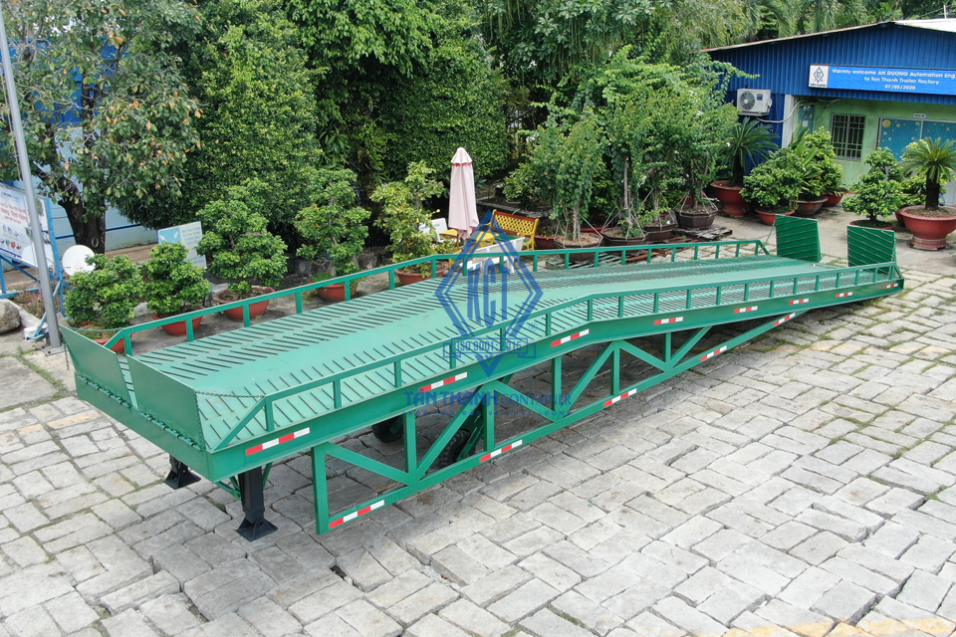 Container bridge (also known as Mobile Ramp) is now one of the essential equipment for all enterprises operating in the logistics sector. Foreseeing that, Tan Thanh Trading and Mechanic Corporation has researched and launched a product named container bridges (Mobile Ramp) No. K51-CD-01. This article will help us understand more deeply about the benefits of Tan Thanh container bridge in the process of loading and unloading goods.

The benefits of Tan Thanh container bridge during loading and unloading goods
Concept of Tan Thanh container bridge:
Container bridge, or Mobile Ramp, manufactured by Tan Thanh Company, is manufactured to meet the cargo handling needs of logistics enterprises. Using traditional time-consuming methods is the first thing that enterprises encounter, in addition, the daily loading and unloading process is inefficient but also costs more for the workforce. Especially frozen items such as food, need more modern and time-saving options. For that reason, the container bridge was born, to solve the problem of loading and unloading goods causing "headache" for today's logistics enterprises.




The benefits of Tan Thanh container bridge brings:
The main benefit of the container bridge is the shorter work hours in transporting, loading and unloading goods, helping forklifts easily go deep into the container to load and unload goods quickly. Replace traditional methods, reduce labor costs, bring high efficiency for businesses. Tan Thanh Container Bridge has the complex beam I, Q345B steel, which is designed with reasonable weight distribution to create firmness and durability, increasing load capacity up to 24 tons, ensuring safety when transporting.
The product is equipped with an easy-to-adjust, flexible wheel that can move many places in the warehouse for packing by a wheel system with the help of a forklift. Helping the work supported loading and unloading goods to be extremely convenient and fast. The container walker foot system is FUWA brand, one of the leading manufacturers of trailer parts in the world.
Tan Thanh container bridge has a length and width that are superior to many types of bridges on the market today, helping to increase cargo handling productivity. Products up to 13,836 mm in length, 2,500 mm in width, 1,850 mm in height.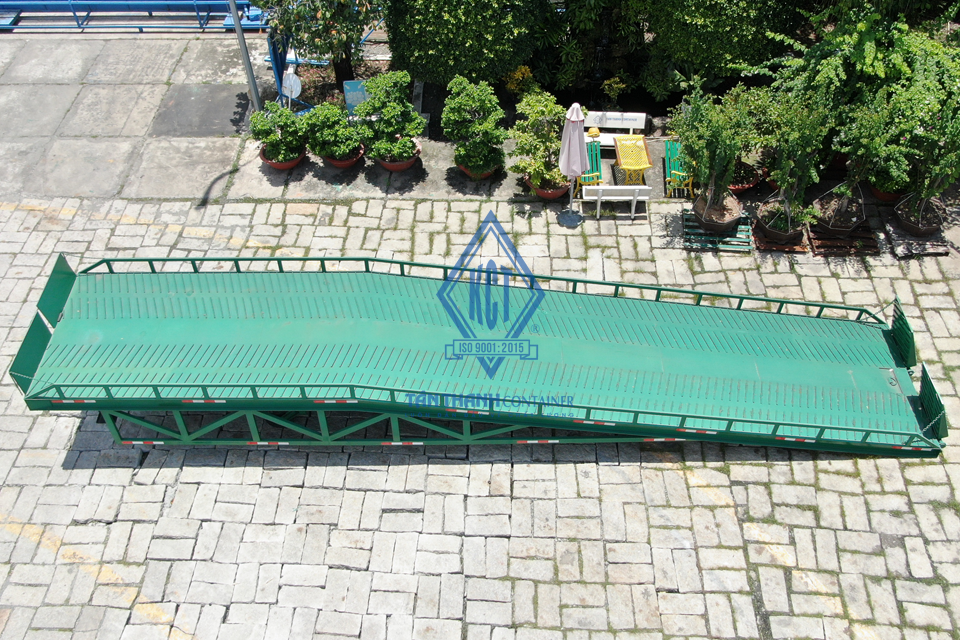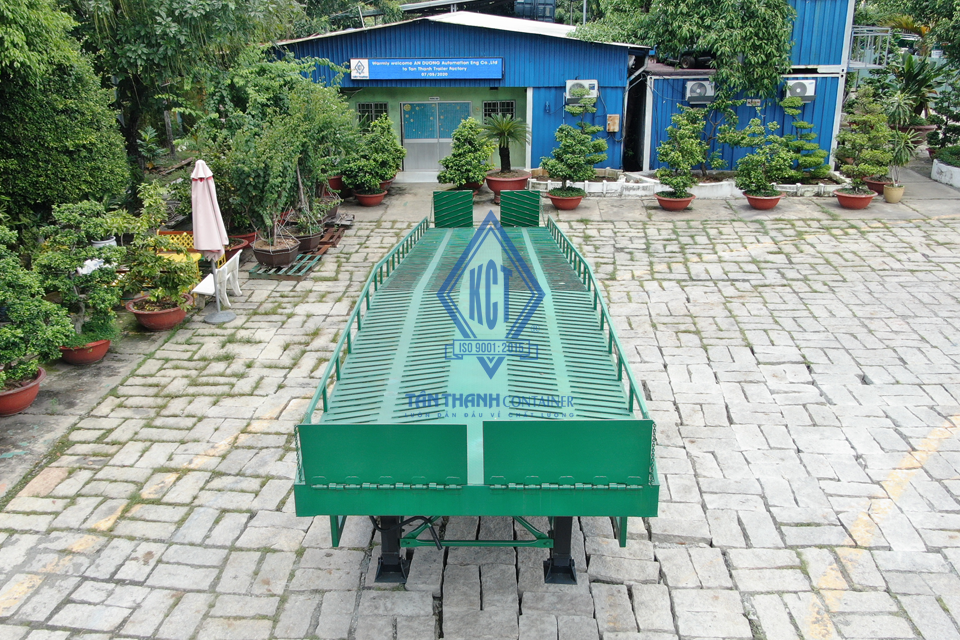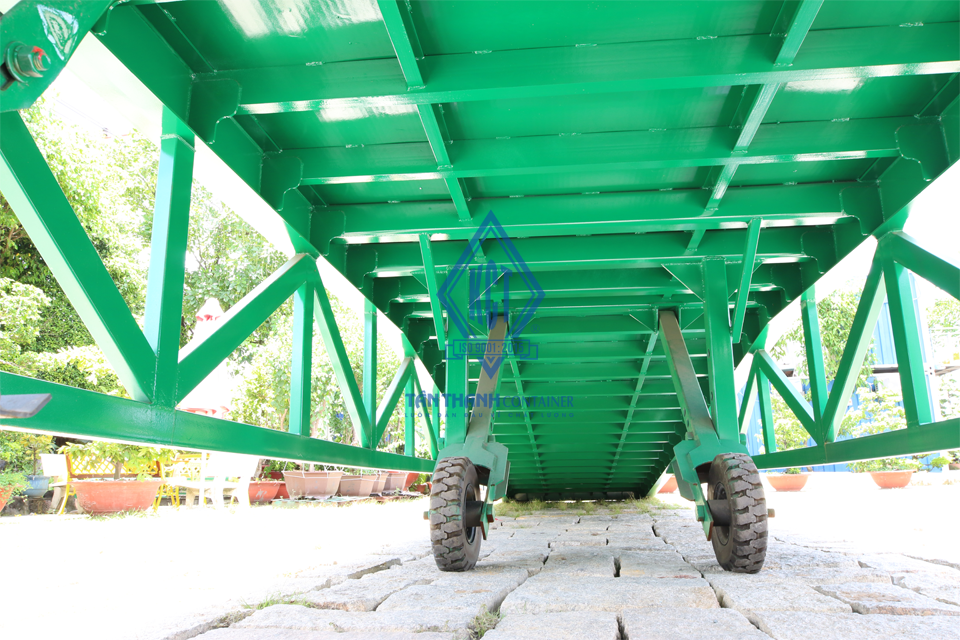 With the increasing demand for container bridges of logistic enterprises today, Tan Thanh is proud to be one of the largest enterprises in Vietnam in the field of manufacturing and supplying containers and trailers in Vietnam. We are continuously improving product quality, as well as the variety of models to better suit the transport needs of each different business. In addition, all products of Tan Thanh before being shipped must undergo strict quality inspection and are in charge of a team of technicians, highly skilled engineers, with many years of experience in the profession and service. We also take care of customers enthusiastically and thoughtfully.
Please contact us for more details about Tan Thanh container bridge through the information:
Tan Thanh Trading and Mechanic Corporation
Head Office in Ho Chi Minh City
Address: Quarter 4,Truong Son Street, Linh Trung Ward, Thu Duc District, HCMC
Phone: (84 28) 3722 2545
Email: info@tanthanhcontainer.com
Fax: (84 28) 3722 2535
Branch in Da Nang
Address: Road No. 8, Hoa Cam Industrial Park, Hoa Tho Tay Ward, Cam Le District, Da Nang City
Phone: (84 236) 3632 688
Email: danang@tanthanhcontainer.com
Fax: (84 511) 363 2988
Branch in Hai Phong
Address: Lot CN2.9, MP Dinh Vu Industrial Park, Dinh Vu Industrial Zone, Dong Hai 2, Hai An, Hai Phong
Phone: (84 225) 8832 139
Email: haiphong@tanthanhcontainer.com
You can see more branches: »» HERE ««
#TânThanhContainer #TânThanhTrailer  #SơmiRơmoócTânThanh #Container #SơmiRơmoóc #containerbridge
ơmoócTânThanh #Container #SơmiRơmoóc #Cầudẫncontainer