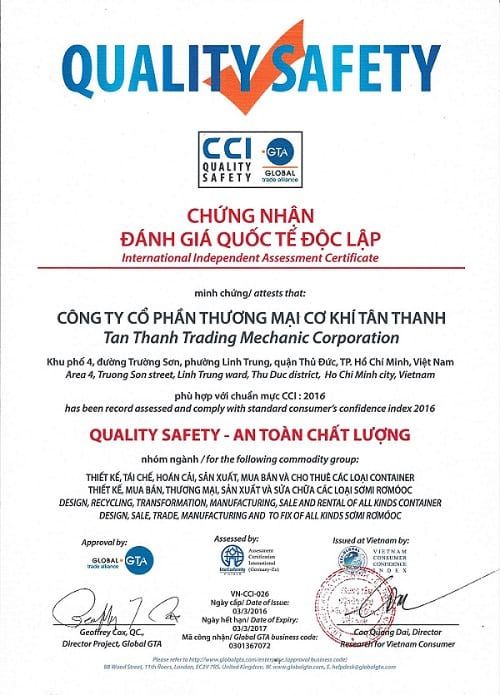 Recently, Tan Thanh Trading and Mechanic Corporation obtained the certificate of SAFETY, QUALITY meeting CCI: 2016 standards by the Institute of Economic Research of Vietnam Consumers Research Center, the Global Trade Association - Global GTA.
InterConformity (Germany - Europe) evaluated and awarded the international group of heavy industrial engineering manufacturing and trading. This is an independent certificate of international assessment of safety and quality for the company's products.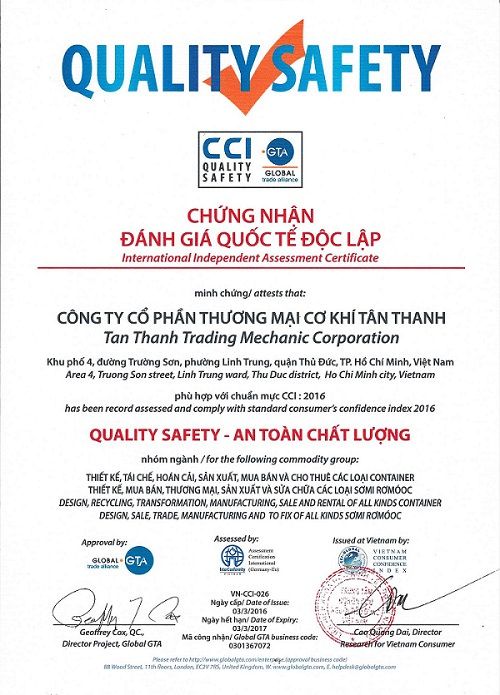 This result is based on surveys, assessing the level of trust and confidence in consumers from the Institute of Economic Research in coordination with the Vietnam Consumer Research Center. Certificates are periodically issued in Vietnam, based on a strategic cooperation between the Institute of Economic Research and Global GTA to recognize enterprise's efforts in management activities and appreciate SAFETY - QUALITY, meeting the needs of the market, ensuring its reputation in global competitive conditions, deserving of being one of the brands that partners and consumers can trust and choose.
Established in 1994, up to now, with more than 20 years of operation, Tan Thanh Trading Co., Ltd. has always affirmed its position as a leading enterprise in Vietnam in the field of manufacturing and assembling Semi trailers, Container and products converted from container. The more you go through ups and downs, the more brave you are; the more challenges Tan Thanh Container is facing, the more aspirations we get. Tan Thanh Container has become a strong brand name, and is one of the leading companies in the manufacturing of trailers and containers in Vietnam. Bold investment and thorough access to the world's advanced technology is a way for Tan Thanh Container to move faster on the path of integrating into the global economy and gradually reaching the international level.
Truong Giang-.Marketing Dept