News
27/11/2020
K66-SR- 1 Flatbed Semi Trailers of Tan Thanh impresses with its ability to stretch up to 32 meters
K66-SR- 1 Flatbed Semi Trailers is a six-axis retractable trailer (retraction axis) produced by Tan Thanh Trading and Mechanic Corporation. This product has the ability to stretch up to 32 meters, suitable for the purpose of transporting iron, steel pipes, and bars with a total load up to nearly 57 tons. K66-SR- 1 Flatbed Semi Trailers is manufactured by modern machinery and a team of professional design engineers and many years of experience.

Advantages K66-SR- 1 Flatbed Semi Trailers
The first advantage can be mentioned is that the K66-SR- 1 Flatbed Semi Trailers has the ability to extend up to 32 meters while the length in the normal state is 20 meters, this is considered one of the the longest semi-trailer in Vietnam.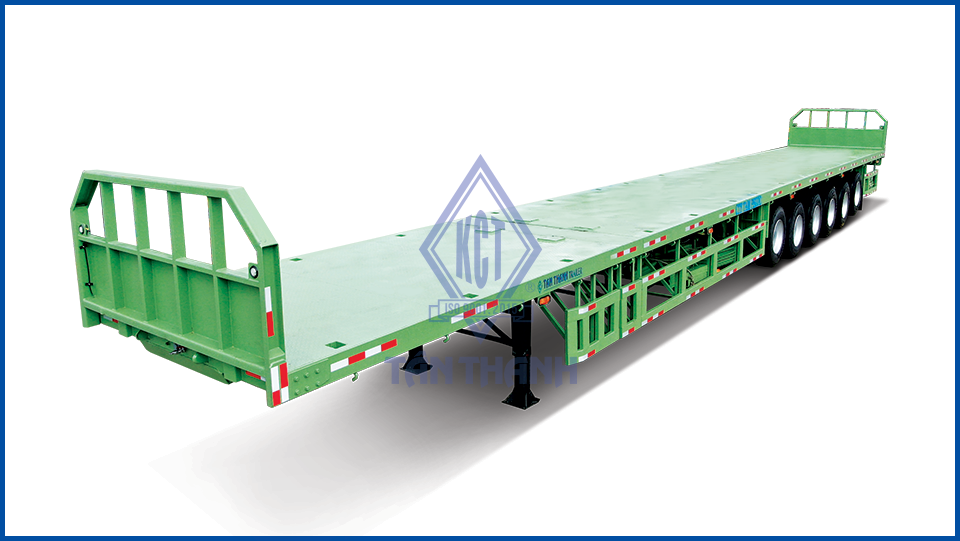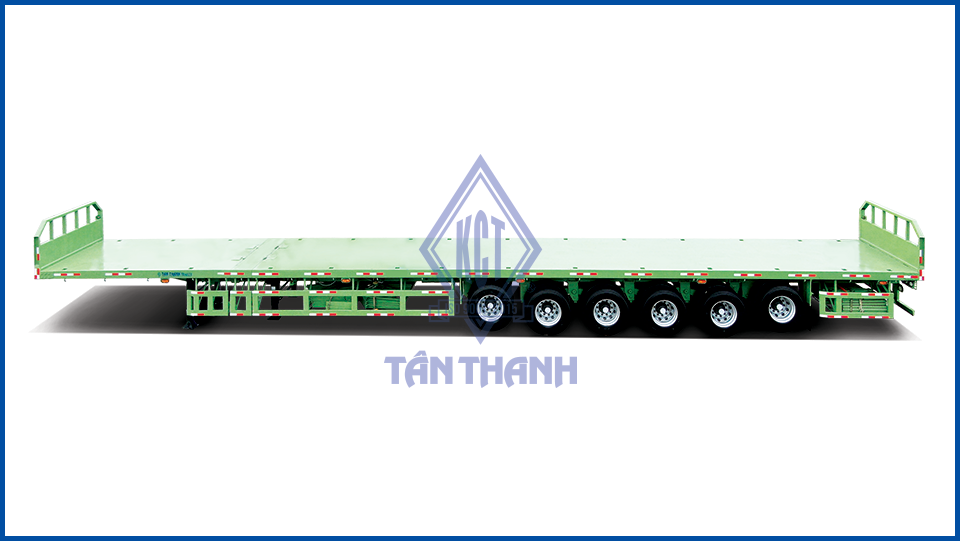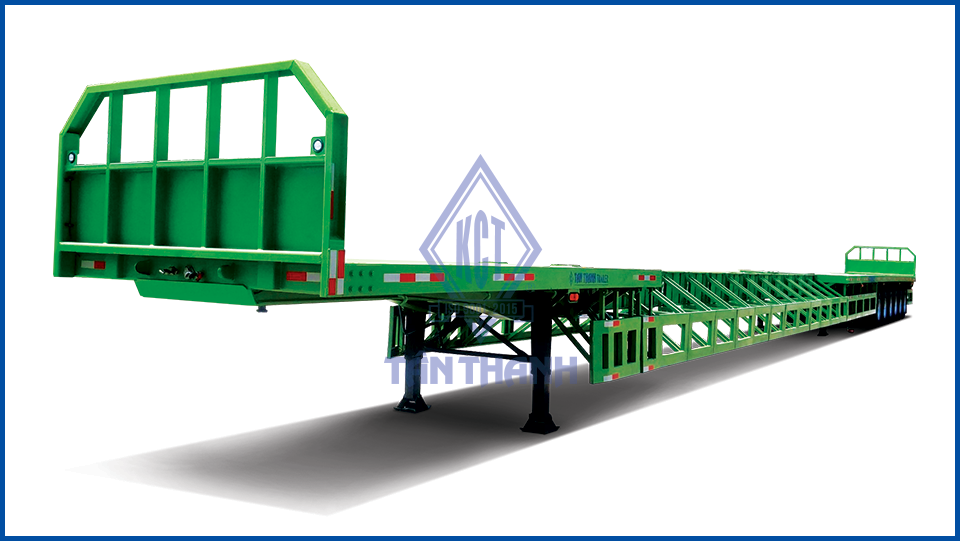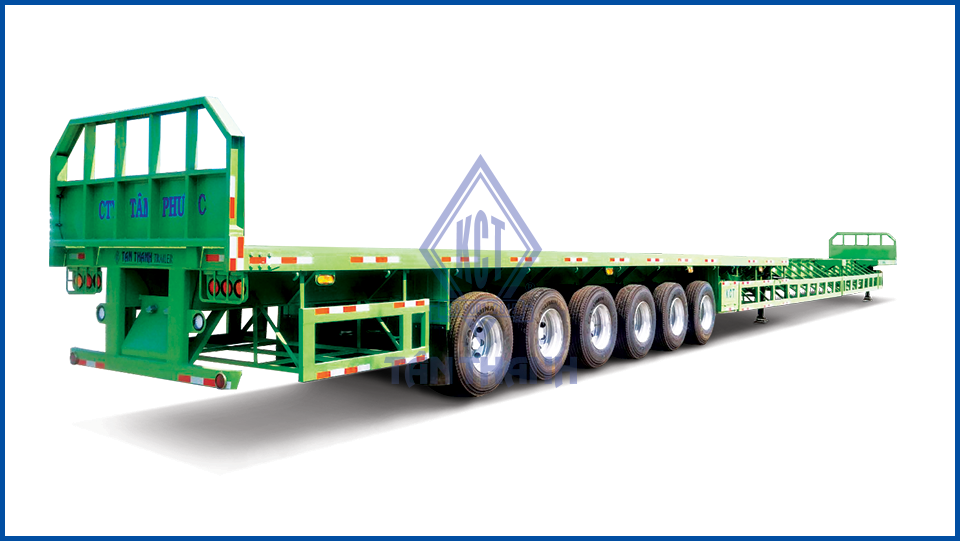 The main beam of the Q345B/SM490YA steel complex creates a solid and durable to increase the load capacity, that's why K66-SR- 1 Flatbed Semi Trailers has a total playload of nearly 57 tons. The steel used to create the semi-trailer is carefully selected and processed by Tan Thanh with the most advanced machines such as AMADA's FOMKII3015NT Laser cutting machine.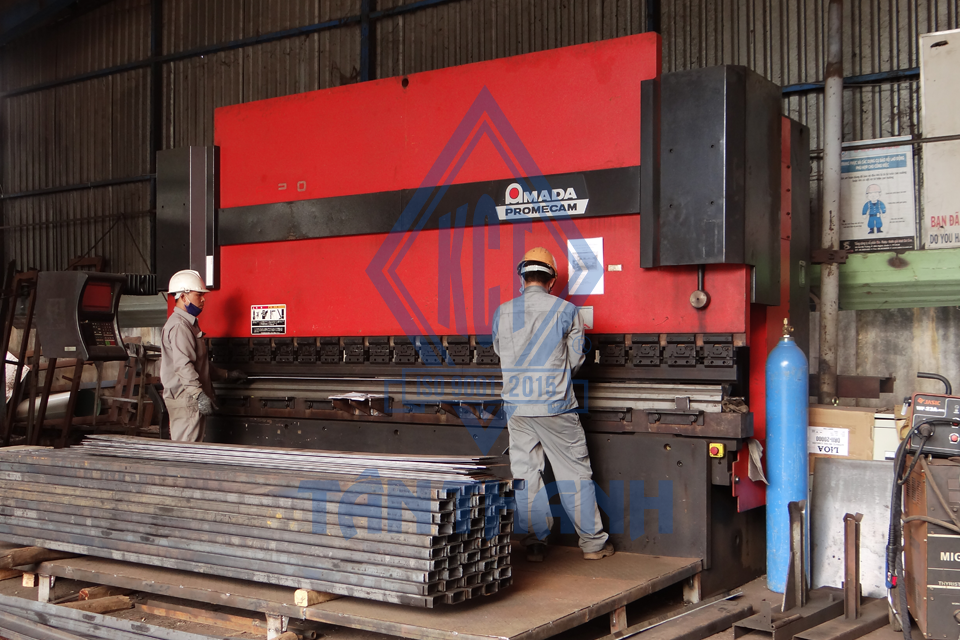 Products meet international quality standards: Tan Thanh is honored to receive the Vietnam Gold Star Award for many years in a row, a product with high quality and a leading prestigious brand in Vietnam. With the business philosophy of "Always leading in quality", Tan Thanh's 66-SR- 1 Flatbed Semi Trailers, before being shipped, must pass stringent tests on size, dynamics, load, shaft, brake, power, cover, commissioning, etc. by IICL International method and modern and advanced machines such as Hunter axis alignment machine (USA).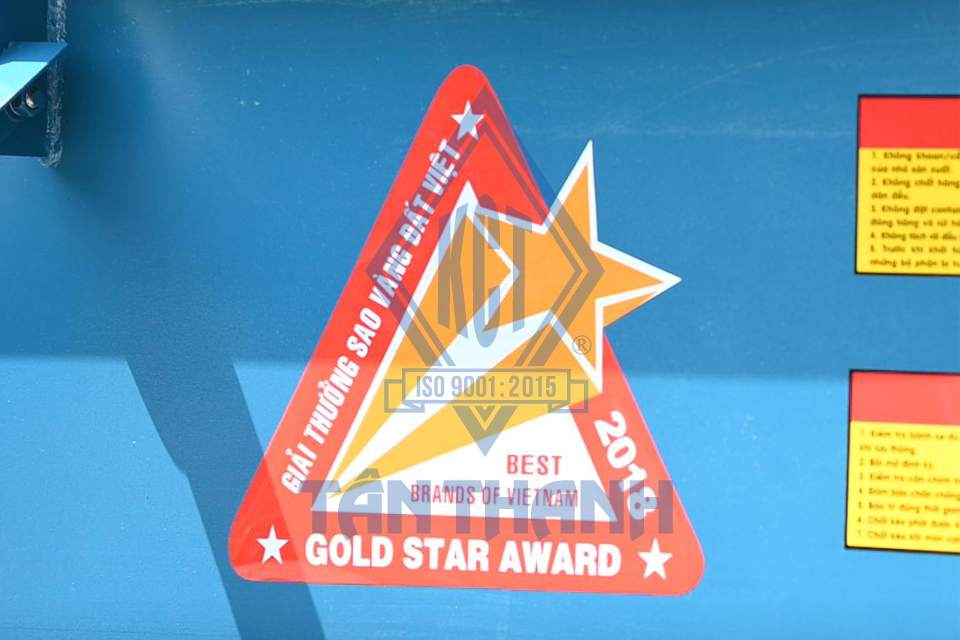 66-SR- 1 Flatbed Semi Trailers are equipped with a kickstand, Fuwa-branded axle and suspension system, imported with international standards, contributing to increased safety, high loads, smoothness and durability. What is more special is that 66-SR- 1 Flatbed Semi Trailers use two FUWA legs to increase the load capacity while in the state of separation from the tractor automobile. Tan Thanh Company always believes in and chooses FUWA because it is one of the reputable brands in the field of trailing shirt equipment in the world.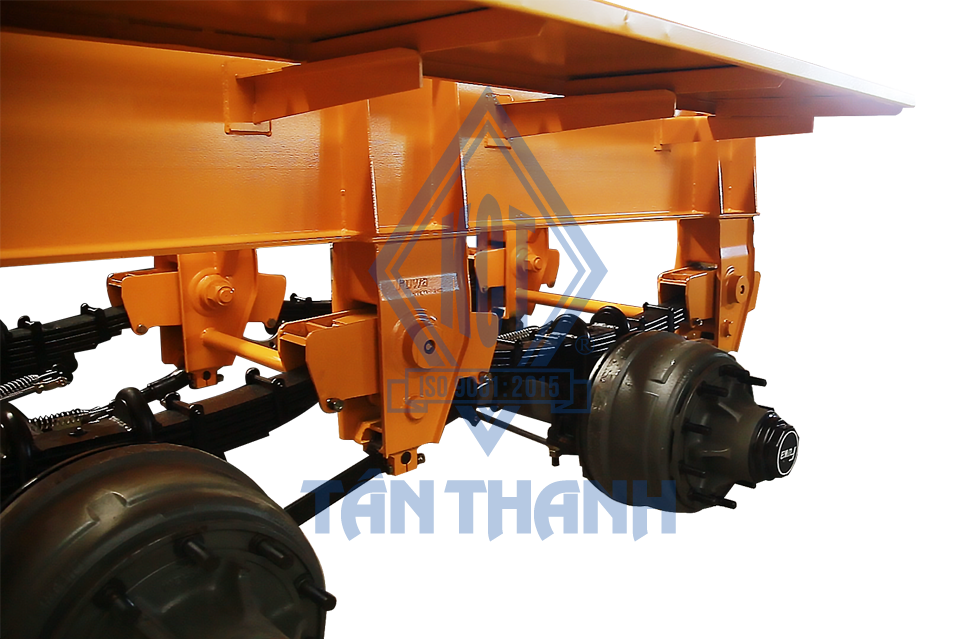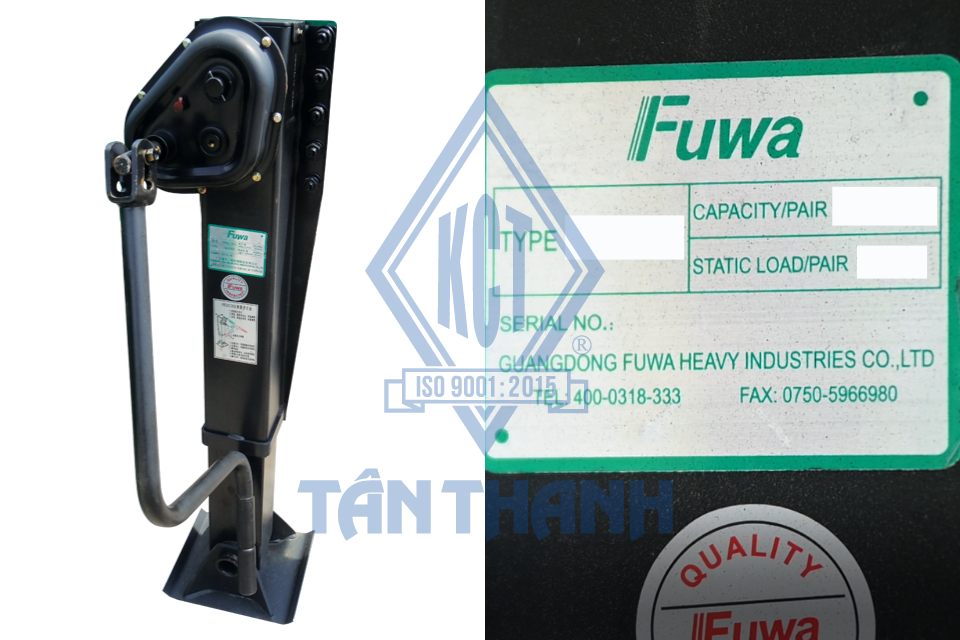 The brake system uses relay valves from the Sealco brand, made in the US. Ability to split steam and break is very well and increased safety, so that drivers can handle emergency situations in bad roads easily.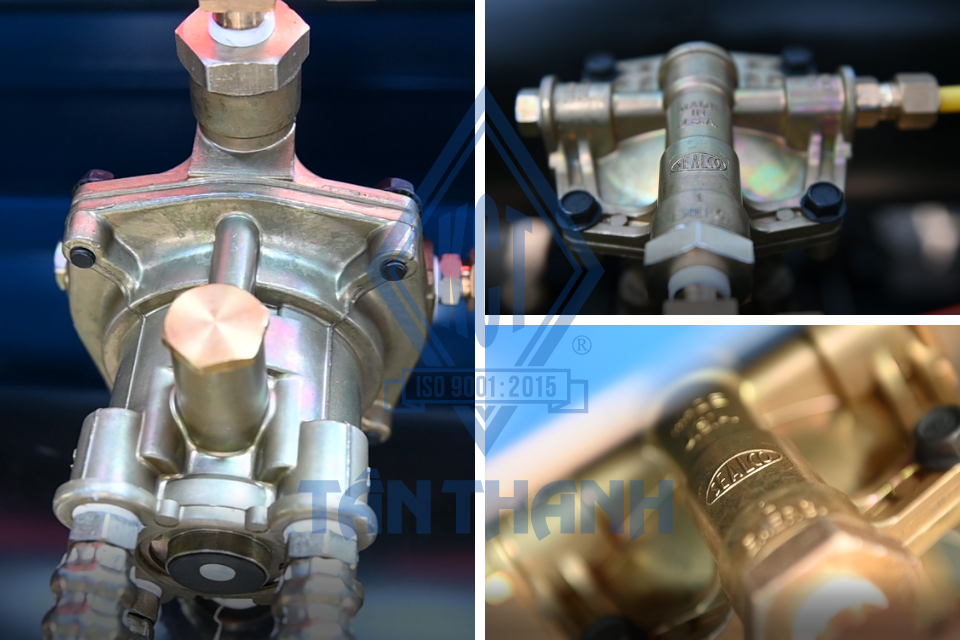 66-SR- 1 Flatbed Semi Trailers can draw 2 axes (1 front and 1 last) up to 15cm to meet the transport needs of the market, while helping transport units to exploit multi load trailer load, reduce tire wear cost, reduce tractor fuel consumption. In addition, for a transport company that has many trailers, the cost savings will be a huge number. From there, optimize the profits for enterprises in logistics activities in Vietnam.
Watch the video on how to pull out axes of Tan Thanh trailer products here: >> Click to view <<
Paint: Applying the best 3-layer coating, spraying, priming, powder coating, color fastness, current best absorption. Before painting, the semi-trailer surface is cleaned with a modern ball spraying system, which helps to increase the adhesion of the paint. After priming and coating, trailers are steamed and dried at 75 degrees Celsius, increasing the durability of the paint, helping to protect the semi trailers during road operation under inclement weather.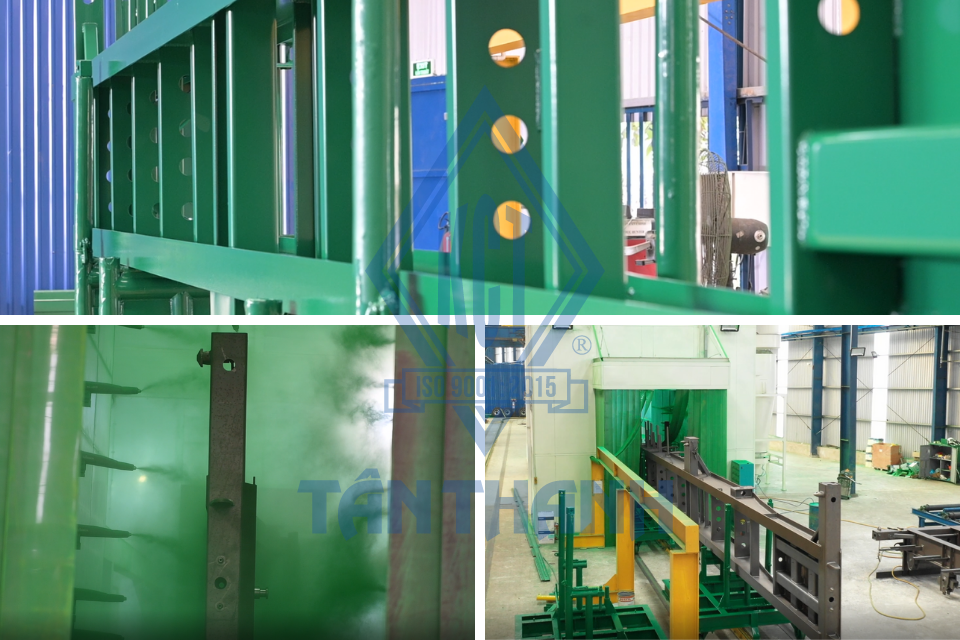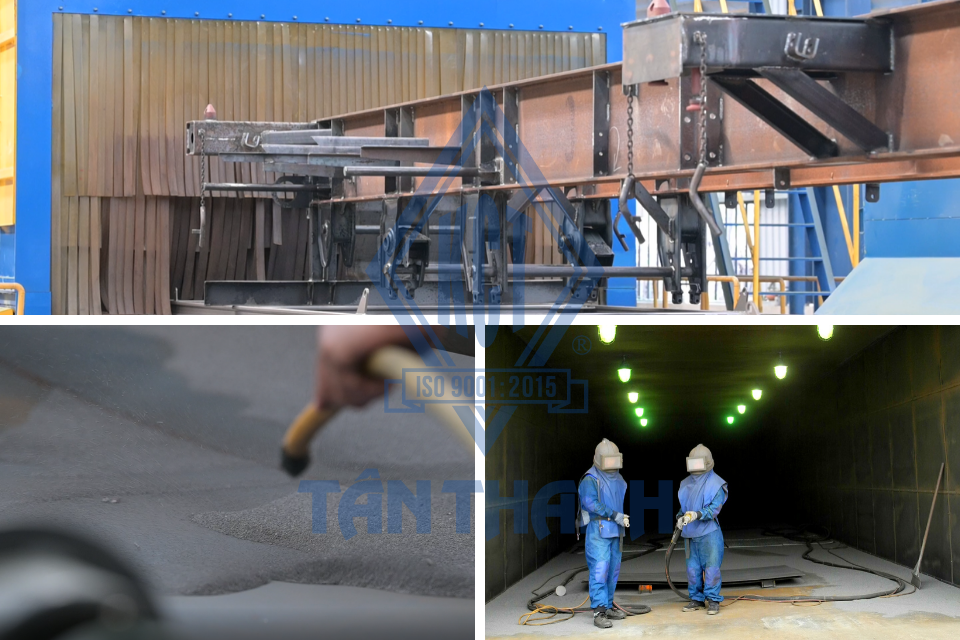 3-year warranty nationwide: The trailers manufactured by Tan Thanh are warranted for 3 years, with branches spreading all over the country. This makes it easy for enterprises to take the trailer to the service station to repair and replace genuine parts. This is also one of the things that makes the Tan Thanh brand different.
Tan Thanh is one of the leading enterprises in Vietnam in the field of trailer production and supply. We continuously improve product quality, as well as the variety of models to better suit the transport needs of each different business. In addition, all products of Tan Thanh before being shipped must undergo strict quality inspection and are in charge of a team of technicians, highly skilled engineers, with many years of experience in the profession and take care of customers enthusiastically and thoughtfully.
Please contact us for more details on 66-SR- 1 Flatbed Semi Trailers.
Tan Thanh Trading and Mechanic Corporation
Head Office in Ho Chi Minh City
Address: Quarter 4,Truong Son Street, Linh Trung Ward, Thu Duc District, HCMC
Phone: (84 28) 3722 2545
Email: info@tanthanhcontainer.com
Fax: (84 28) 3722 2535
Branch in Da Nang
Address: Road No. 8, Hoa Cam Industrial Park, Hoa Tho Tay Ward, Cam Le District, Da Nang City
Phone: (84 236) 3632 688
Email: danang@tanthanhcontainer.com
Fax: (84 511) 363 2988
Branch in Hai Phong
Address: Lot CN2.9, MP Dinh Vu Industrial Park, Dinh Vu Industrial Zone, Dong Hai 2, Hai An, Hai Phong
Phone: (84 225) 8832 139
Email: haiphong@tanthanhcontainer.com
You can see more branches: »» HERE ««
#TanThanhcontainer, #somiromoocsanrut #somiromooctanthanh #TanThanhTrailer #TanThanh #K66-SR-01