Auto ElectroStatic Powder Coating spray makes products more durable, saves materials, saves production time, and they are highly rated for the environment.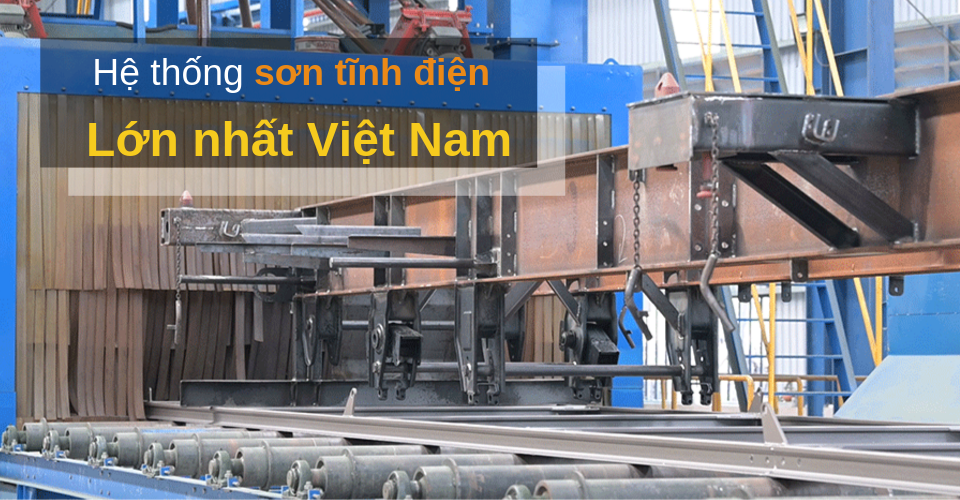 Thanks to many outstanding advantages, ElectroStatic Powder Coating is widely popular in the production of many industrial products, daily-life products. They are present almost everywhere around where we live, from tables, chairs, doors, gates, kitchen cabinets, bridges, tractors, trucks, machinery systems at factories…. Currently, Vietnam has many enterprises equipped with automatic ElectroStatic Powder Coating systems. In particular, Tan Thanh - a company specialized in manufacturing containers and trailers, has installed the largest automatic ElectroStatic Powder Coating spraying system in Vietnam. With imported machinery, this system has created many beautiful products with very high durability, saving a lot of costs for the market and especially friendly with the environment. Let's learn more detail regarding this special electrostatic coating system through the useful information below.
1.The system has modern technology
Tan Thanh Automatic ElectroStatic Powder Coating systems possess an automatic chain conveyor used to move products easily during the painting process from the ball spraying system, through the automatic spraying machine, through the drying room. In addition, they are equipped with an engine control system and automatic sensors.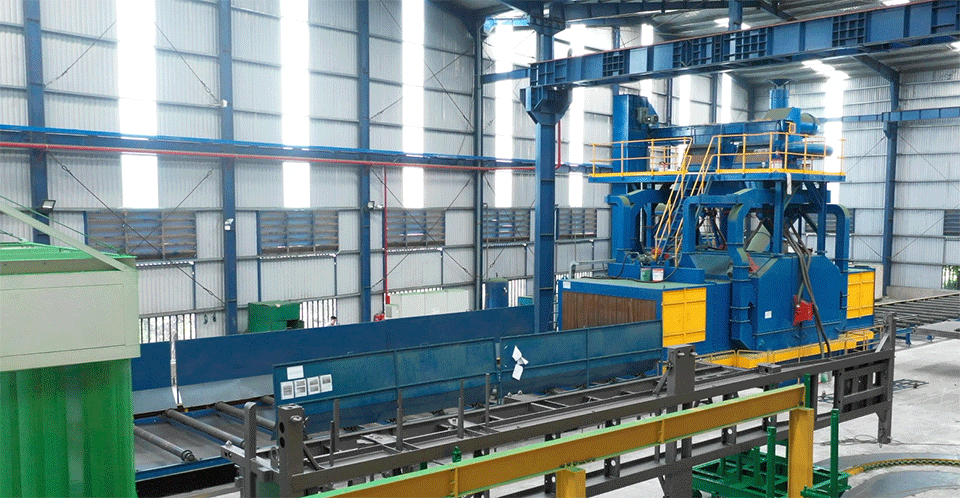 b

all-blasting machine system
The ball-blasting machine system cleans the product surface before being put into paint, the product after spraying the ball will reach the cleanliness according to international standards up to SA2 / SA2.5.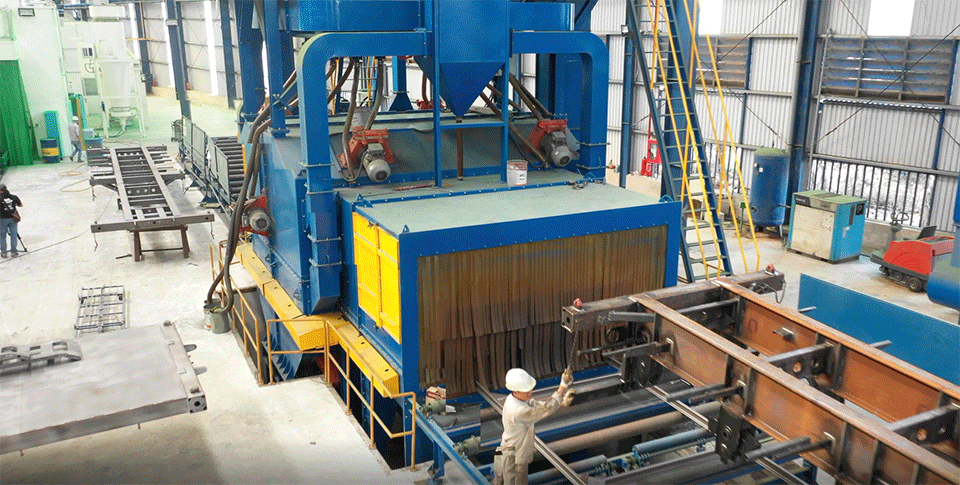 3.Automatic electrostatic painting room, 16 gun paint booth.
The cleaning product after being sprayed will be moved through the automatic electrostatic paint system with 16 paint spray guns. With a semi-trailer about 12m long, the process will only take about 16 minutes to automatically paint. Tan Thanh's powder coating room is capable of sealing almost the entire surface area of the product. With coverage, up to 99% of the product surface is painted. Sites that cannot be automatically powder coated will be hand-painted using premium 2-component paint for maximum protection.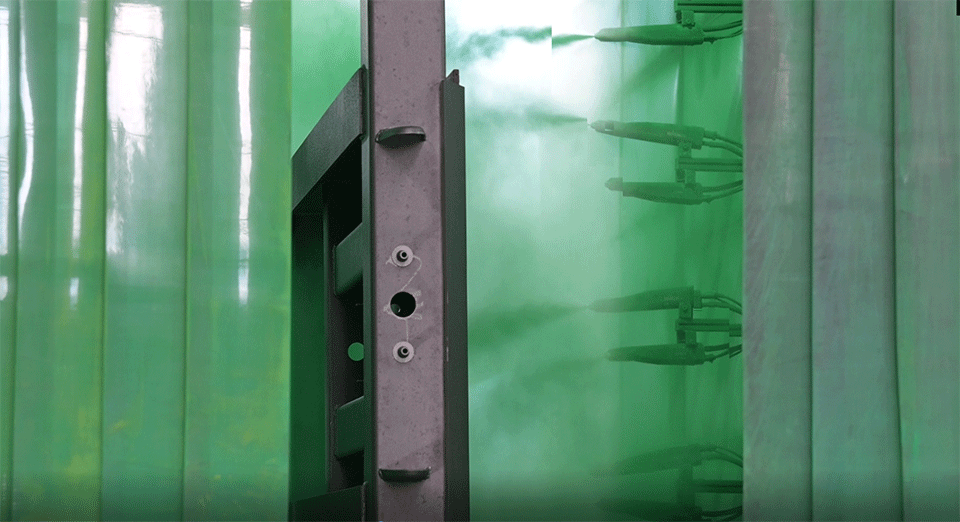 The drying room saves time
The system owns a drying room at the Tan Thanh semi-trailer factory with a large capacity, helping to dry quickly within 45 minutes, saving significant time for the painting process instead of having to wait for 1 to 2 days like types ordinary water paints, oil paints.
5.The quality of paint film is outstanding in color, gloss, durability, and hardness.
Powder coating has absolute color uniformity and absolute gloss across the entire product. For water and oil paints, the painted surface will give different color and gloss if there is a change in film thickness. Meanwhile, powder coatings are completely unaffected by this.
In addition, products painted by the Tan Thanh automatic electrostatic coating system have a very high durability that can be up to 10 years, due to very strict technical standards for powder coating materials.
Thanks to the consultation of leading experts in the world, Tan Thanh electrostatic powder coating system can be used for many different products, especially trailers.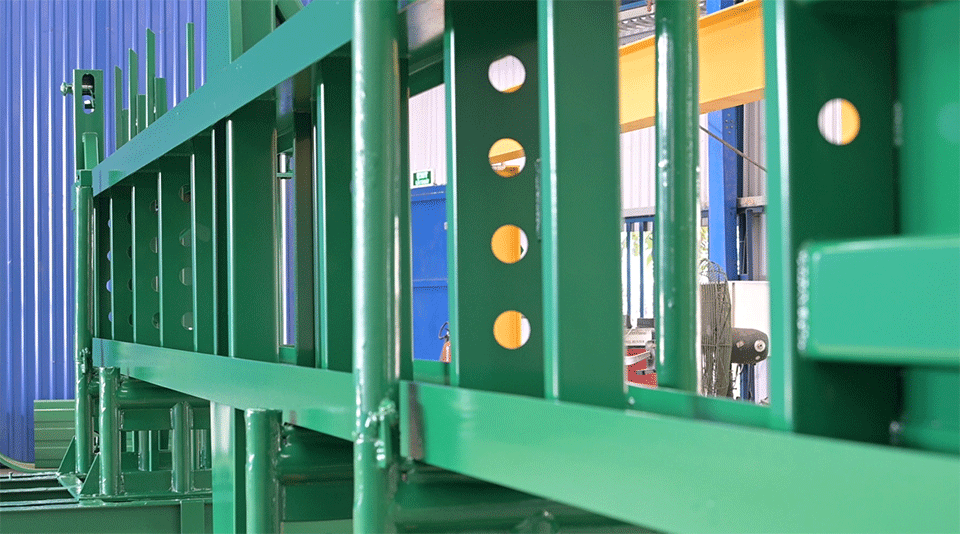 Paint spray with very large-size products
Tan Thanh Automatic ElectroStatic Powder Coating system is the largest electrostatic powder coating line in Vietnam. The electrostatic spray system can be used with a variety of product sizes from small to large. However, most of the Vietnamese enterprises have small and medium scale electrostatic spraying systems. With Tan Thanh, this system is invested heavily, and can be used with products up to 15m in length.
7.Highly reclaimed painting system, very little amount of waste, friendly with environment
Tan Thanh Automatic ElectroStatic Powder Coating system with a reclaimed Xyclon closed paint system leading to the amount of powder coating dropped during the painting process is completely recovered and cleaned again, before being put back into the powder coating tank. As a result, the amount of paint emitted is very little, environmentally friendly, bringing high economic results. Meanwhile, the current technologies of water and oil painting are completely unable to recover this amount of paint waste, causing great harm to the environment because the paint waste is toxic and difficult to handle.
Learn more about ElectroStatic Powder Coating systems:
What is ElectroStatic Powder Coating?
ElectroStatic Powder Coating is the process of coating a plastic layer on the surface of the details/products that need to be covered. There are two popular types of plastics: thermoplastics and thermosets. Thermoplastic resins are substances that form a coating without having to undergo molecular structural changes (such as polyethylene, polypropylene, nylon, polyvinyl chloride and thermoplastics polyester). The thermosetting resins cross each other to create a heat-resistant permanent film that will not melt again (epoxy, hybrite, polyester urethane, acrylic, triglycidyl isocyanurate polyester (TGIC)).
Powder coating is also known as dry paint because of its coating properties in powder form and when used it will accumulate a charge (+) when passing through a device called a powder coating gun, and at the same time the paint object is also used a charge (-) will be charged to create the effect between the paint powder and the paint object.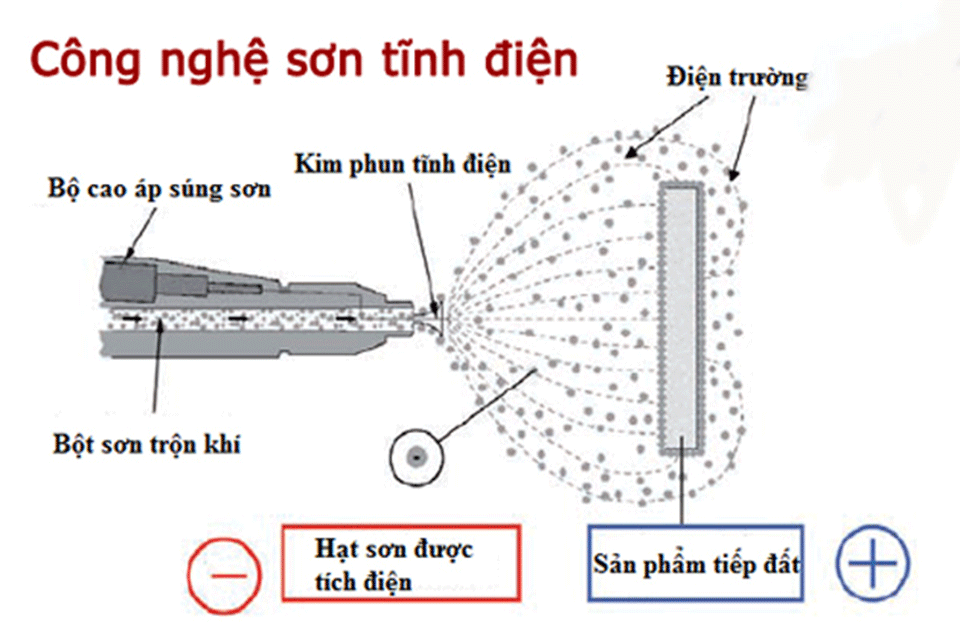 ElectroStatic Powder Coating technology is a modern technology invented by TS. Erwin Gemmer in the early 1950s. Through many improvements by scientists, manufacturers of powder coatings and equipment have made the electrostatic paint technology more and more complete in terms of quality and design.
Main structure of Tan Thanh ElectroStatic Powder Coating system
Tan Thanh's automatic ElectroStatic Powder Coating spraying system includes: 1 automatic ball injection machine, a manual ball spraying booth, powder coating spraying booth with 2 paint spraying translator robots (each robot is fitted with 8 paint spray guns) and 2 paint spray guns, 1 oven, lower chain conveyor system, control system (sensors, control cabinet and signal light system, indicator lights).
The process of ElectroStatic Powder Coating spraying:
Step 01:
Ball spray to clean the chassis surface by automatic ball injection system.
Step 2: Spraying the ball to remove the surface oxidation layer, grease, or dirt, or foreign objects ... clinging to the product surface. After spraying the ball, the product should be blasted with clean compressed air before being put into the spray booth.
Step 3: After the product is cleaned, it is moved to a spray paint booth where the translator spraying robot will paint the paint on the surface of the product. Product is then inspected, and manually painted in the missing locations.
Step 4: Paint drying room has the ability to reach 180 degrees C in 10 minutes. This is the condition for the entire surface of the product to fully ripen. After that, the product is taken out to wait for the cold and complete assembly process.
With the above highlights, the automatic ElectroStatic Powder Coating spraying system is the best technology available today. Tan Thanh is currently the largest, methodical, and elaborately invested automatic powder coating system owner in Vietnam. Tan Thanh is confident to bring to customers high-quality spray products.
Your enterprise has a large volume of products that need to be sprayed with electrostatic coating, or large-sized products, you can contact Tan Thanh for immediate advice on automatic powder coating service to quickly quickly own many products with high aesthetics, in the shortest time.
Contact to receive more advice from Tan Thanh:
Tan Thanh Trading and Mechanic Corporation
Address: Quarter 4,Truong Son Street, Linh Trung Ward, Thu Duc District, HCMC
Tell: (84 28) 35 199 977 – Fax: (84 28) 37 222 535 – Hotline: 1900 57 57 38 (3000đ/phút)
info@tanthanhcontainer.com
Do not hesitate to pick up the phone right away to get the fastest advice and support from Tan Thanh!
container store, container tracking, container booths
#phunsontinhdien, #thethongsontinhdien, #tanthanhcontainer
#containerstore, #containertracking, #containergianhang