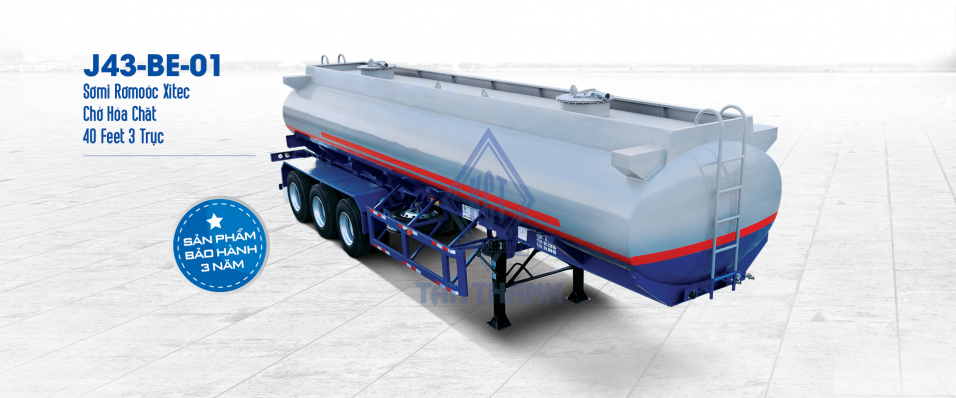 Transporting chemicals:
The chemical transport industry has made many progress in recent years, especially the transport of industrial chemicals needed to ensure strict safety and comply with many regulatory requirements in the transport process. Transporting chemicals must comply with the law provisions on road traffic safety and safety and the provisions of relevant law. Do not transport chemicals capable of reacting with each other on the same vehicle.
In fact, there are still some difficulties such as: tank trucks with old design no longer conform to transport standards in the chemical industry. The transportation route consumes more fuel than current standards, affecting the economic benefits of customers.
Tanks closed in the old way are now outdated by years, and only the cost of repairing tanks accounts for most of the repair costs of enterprises transporting chemicals.
Semi trailers bồn hóa chất Tan Thanh, volume up to 40m3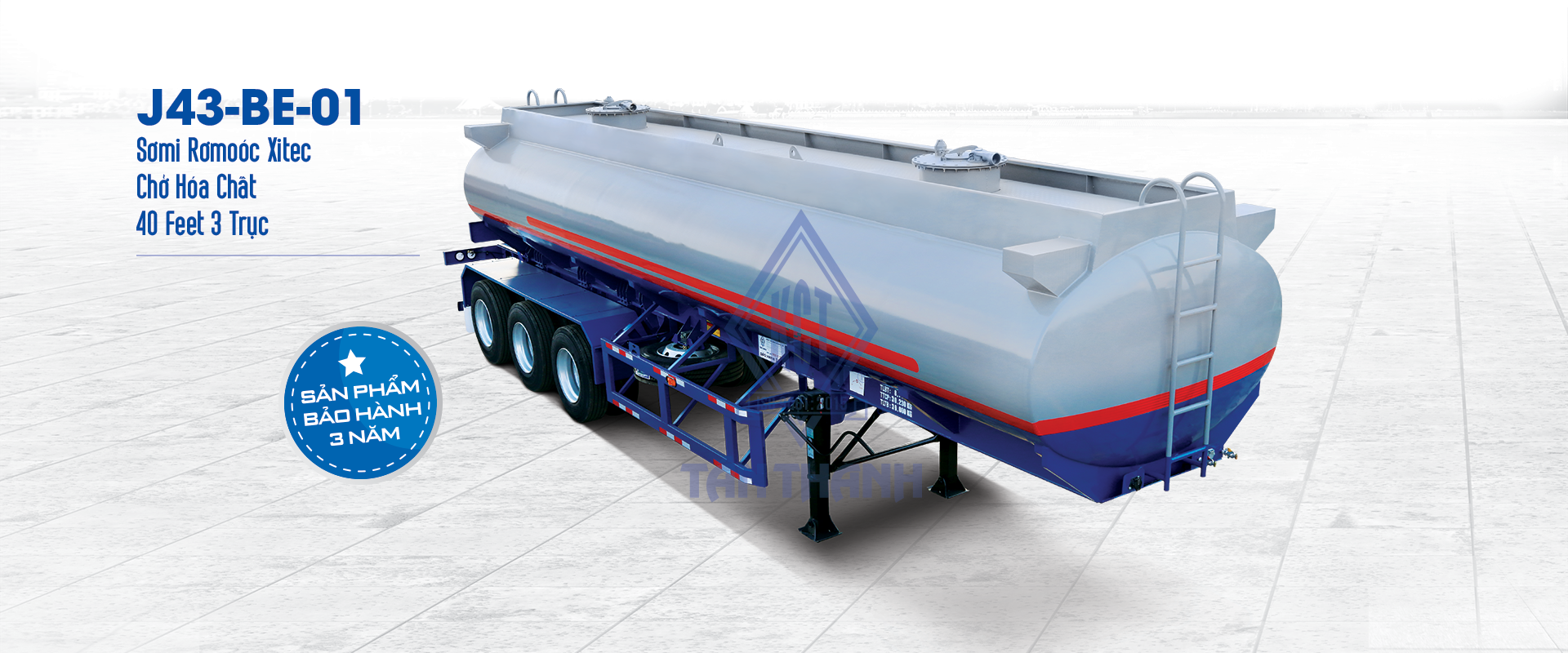 Semi trailers Chemical tank co-produced by Tan Thanh and Petro will help customers feel more secure about quality and chemical volume during the transportation process.
Capacity up to 40m3, compared to conventional tank trucks that circulate only from 18-26m3.
The number of compartments and volume of each compartment are packed by PETRO according to customer requirements to suit the transport needs.
Japan standard steel, durable and safe. Genuine spare parts, product warranty up to 3 years.
Tan Thanh is a leading reputable unit in producing Semi trailers: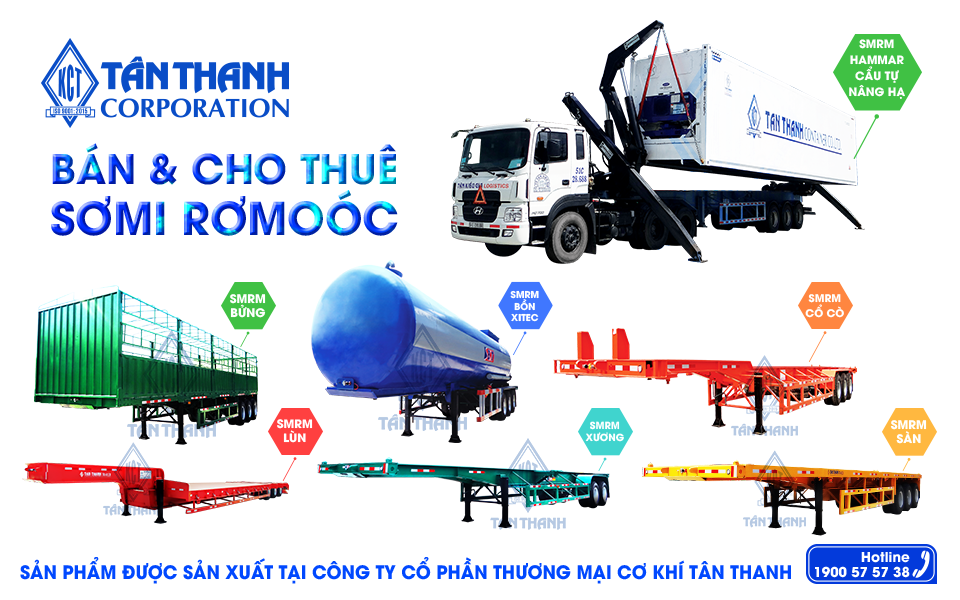 Being trusted and recognized by the market and customers as a leading reputable company in producing Semi trailers. All Semi trailers of Tan Thanh, before being shipped, must pass strict tests of size, dynamics, loads, brakes, electricity, operation,,, by the international method of IICL and machine imported machinery such as Hunter shaft alignment machine (USA).
Tan Thanh's business philosophy is "Always leading in quality", always improving production, sales and service systems to best meet customers' requirements. Bold investment and thorough access to the world's advanced technologies is far away from Tan Thanh, further on the path of integration into the global economy and reaching the international level.
Head Office in Ho Chi Minh City
Address: Quarter 4,Truong Son Street, Linh Trung Ward, Thu Duc District, HCMC
Tell: (84 28) 3722 2545
Email: info@tanthanhcontainer.com
Fax: (84 28) 3722 2535
Hanoi Branch
Address:
Address: Office: House No. 6 N6 Area TT5 Bac Linh Dam, Hoang Mai, Hanoi.
Warehouse: Yen Vien Nam Railway Station, Yen Vien, Gia Lam, Hanoi.
Tell: 0932 003 387 – Hotline: 1900 5757 38
Email: hanoi@tanthanhcontainer.com
Danang Branch
Address: No. 35 Truong Chi Cuong, Hoa Cuong Nam Ward, Hai Chau District, Danang City
Tell: (84 236) 3632 688
Email: danang@tanthanhcontainer.com
Fax: (84 511) 363 2988
Hai Phong Branch
Address: Lot CN2.9, MP Dinh Vu Industrial Park, Dinh Vu Industrial Zone, Dong Hai 2, Hai An, Hai Phong
Tell: (84 225) 8832 139
Email: haiphong@tanthanhcontainer.com
Vung Tau Branch
Address: Group 8, Tan Loc Hamlet, Phuoc Hoa Commune, Tan Thanh District., Ba Ria - Vung Tau
Tell: (84 254) 3890 379
Email: vungtau@tanthanhcontainer.com
Fax: (84 254) 3890 378
Can Tho Branch
Address: No. 2 Phu Thang area, Tan Phu ward, Cai Rang district, Can Tho City
Tell: (84 292) 3512 305
Email: cantho@tanthanhcontainer.com
Phu Quoc Branch
Address: Vinh Dam Port, Group 11 Suoi Lon Hamlet, Duong To Commune, Phu Quoc District, Kien Giang Province
Tell: (84 297) 3703 028
Email: phuquoc@tanthanhcontainer.com
Fax: (84 28) 3722 2535