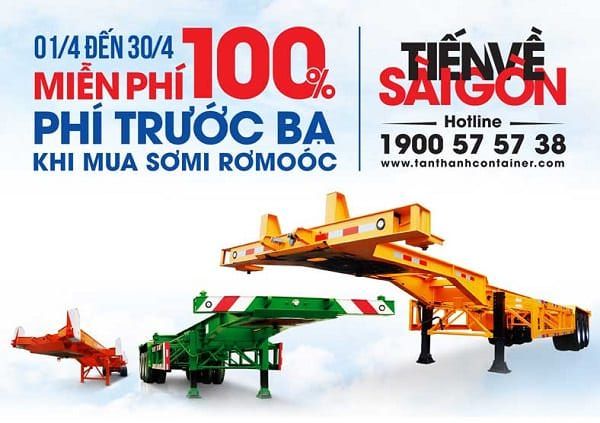 Announcement of the Program "100% Registration Fee Support - Moving to Saigon 2016"
Respectfully to: Customers & partners!
To celebrate 41 years of the complete liberation of the South for the reunification of the country April 30, 1975 - April 30, 2016 and International Labor on May 1, and to thank customers for trusting and supporting products Service of Tan Thanh Container. We would like to send you the promotion "100% Registration Fee Support - Moving to Saigon 2016". The detailed program are as follows:
Name of the program: "100% Registration Fee Support - Moving to Saigon 2016"
Application period:

from April 1, 2016 to April 30, 2016

Applicable:

to all Clients that sign a contract to purchase Semi trailers.

Conditions:
Signing a contract to buy Semi trailers during the above promotion period;
Minimum deposit of 30% on total contract value;
Delivery time: no more than 30 days from the date of signing the contract;
The promotion is applied to new products purchased & sold at the price regulated by the Company.
Applicable products:

all Semi trailers products manufactured and imported by Tan Thanh Company (in the case of imported Semi trailers products, complete units are required to apply this promotion).

Form: "100% Registration Fee Support

when you buy Semi trailers assembled and imported by Tan Thanh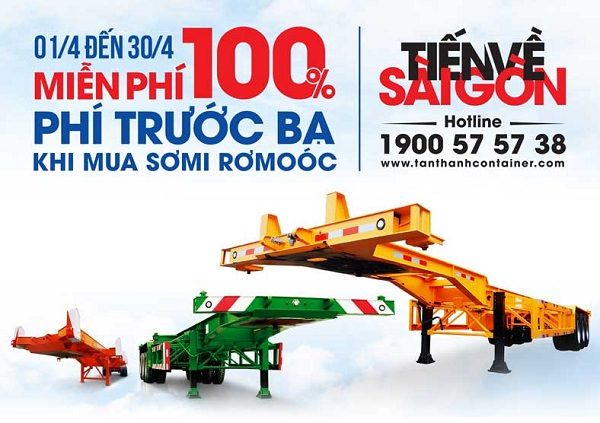 Support:

During the implementation, if there are any difficulties or problems, please contact Ms. Kieu Phuong - Email: knp@tanthanhcontainer.com, Phone: 0907 707 424 for timely support.
With all its sincerity, once again, Tan Thanh Container would like to thank and hope to stand side by side with our customers on every successful step.
Tan Thanh Trading and Mechanic Corporation
Best regards,