Container
Office Container
10 feet office containers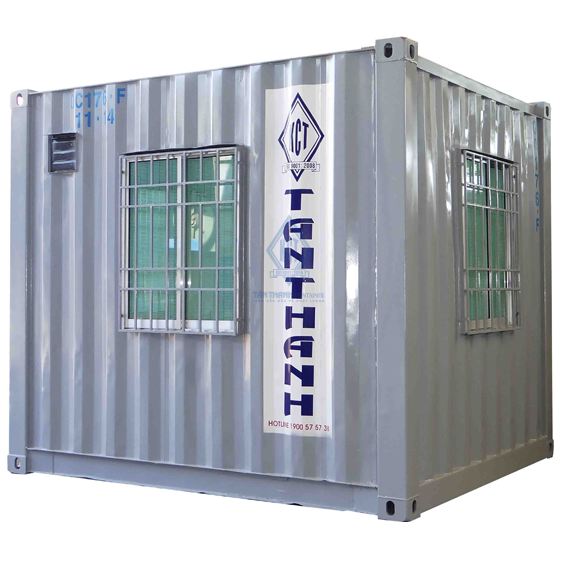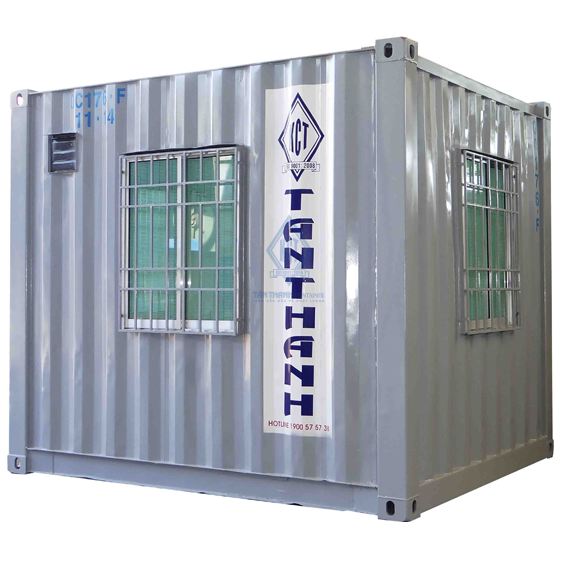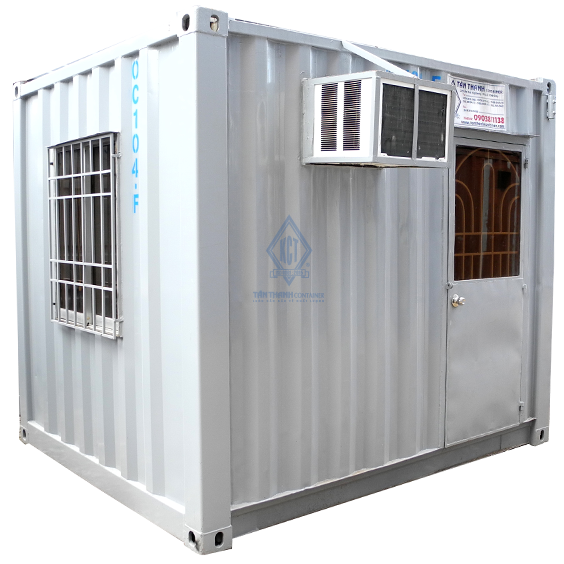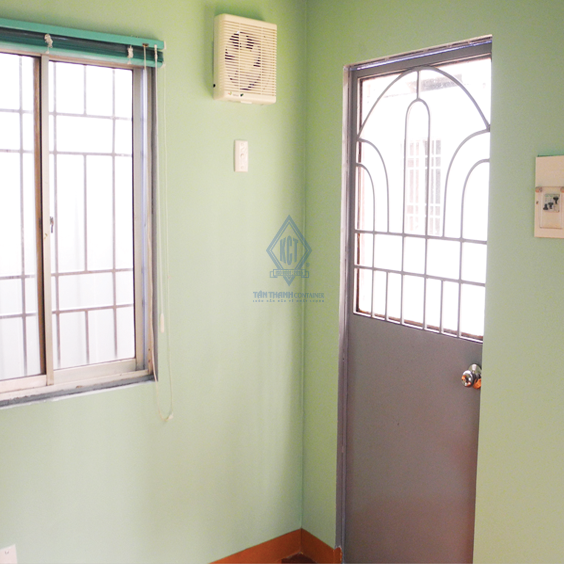 10 feet office containers
59.000.000đ
This is only a reference price. For details, please get in touch with Tan Thanh Container!
General information
| | |
| --- | --- |
| Overall Length | 2,991 m |
| Overall Width | 2,438 m |
| Overall Height | 2,591 m |
| Door | 01 steel panel door (0,8 x 1,9m) |
Details Products
10 feet office containers are the biggest size of containers which are built from 10 feet fry containers. 20 feet office containers are commonly used for constructors, mobile offices… Each 10 feet office container is sufficiently equipped with a refrigerator, ventilation fan, double light set, clothes hanger, table and chair for work,… wall clock, highly aesthetic concealed electrical wiring system.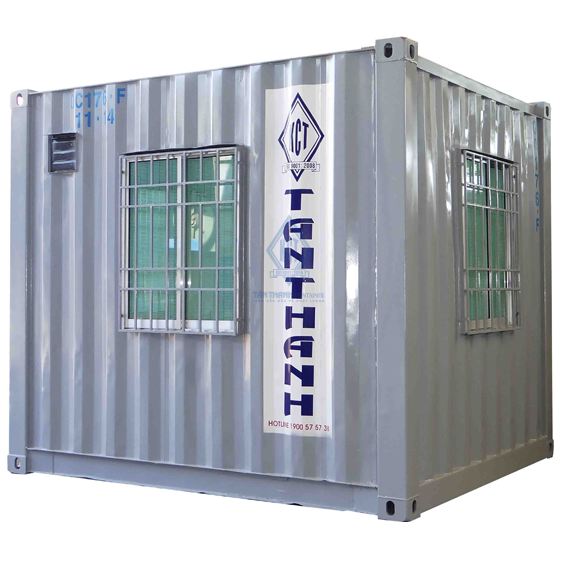 Advantages
Small sized, flexible and convenient

The structure is very sturdy, has a very high durability, and a long service life

Clean, modern, luxurious, comfortable

Easily move to the desired location

Highly reusable, liquidation at good price to recover capital

Fast construction time

Good insulation, soundproof, safe while using and ensuring the health of workers.

The price is cheaper than price for normal construction
Application
As a guard station,

As a weighing station, concrete mixing plant/coal mining station ...

As a working office (but it is rarely used for this purpose due to its small size)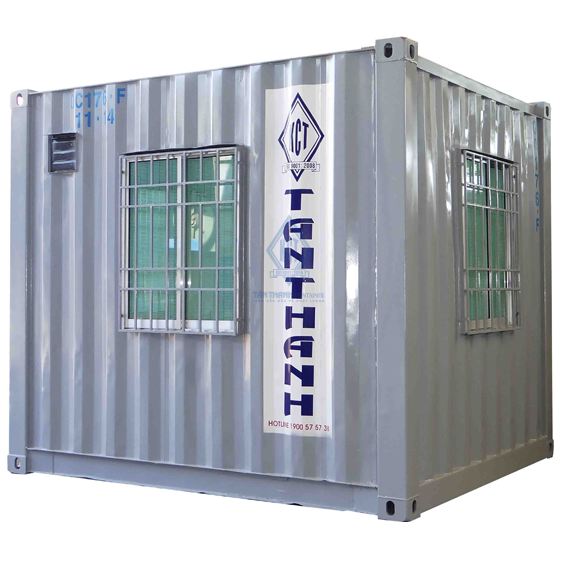 Specifications
OFFICE CONTAINER 10 FEET
TYPE
OFFICE CONTAINER 10 FEET
MODEL
KCT
CONTAINER
Second hand container – ISO Standard – quality >80%
DIMENSION
Overall Length
2.991 mm
Overall Width
2.438 mm
Overall Height
2.591 mm
MATERIAL
Steel frame, Foam, Fibre-Cement, Electrical System
OFFICE CONTAINER 10 FEET- INTERIOR BASIC DESIGN
INTERIOR BASIC DESIGN
INTERIOR BASIC DESIGN(3 x 5 cm)
Heatproof foam rubber mattress – thickness 3 cm
Wall for insulation PU – Thickness 3cm
Artificial plank pressed container wall (cement fibre), soundproof, waterproof, fireproof
FLOOR CONTAINER
Original wooden floor – Thickness 2.8 cm
Installation vinyl, ceramic or mastic painted floor as customer request
DOOR
01 steel panel door (0,8 x 1,9m) with white glass upper with glass decal affixed upper with lock.
WINDOW
03 Korean aluminium sliding windows (0, 9 x 1,10m) with 3 sets aluminium curtain or 03 aluminium sliding windows powder coated (0, 9 x 1,10m) with glass decal affixed
Steel frame bar for protection and roof cover
ELECTRONIC
Retaining wall clamps the whole system
1 Air conditione CB
1 contact of exhaust fan
3 socket
telephone socket
1 CB source 32 A
PAINTING
3 coats of painting outside by the paint againts the sea environment
Special dress with anti-corrosion hat
EQUIPMENT
1 Air conditioner (1,0 HP)
1 exhaust fans
1 lights flourescent double (1,2 m)
MARKING
All Marking, logo & paiting as customer requirement.
Contact Now
Tan Thanh
24/7
support!