History
Base value
Tan Thanh Quality
Outstanding Achievement
Stable Development
History Of Formation And Development
Not only a supplier of container products and trailers, Tan Thanh is also a persistent companion of customers throughout the journey of innovation and development in the construction and transportation industry. We are committed to bringing about sustainable values through our products and services, thereby contributing to improving the quality of social life. Since 1994, established with many difficulties in capital and human resources, Tan Thanh has gained certa achievements after nearly 30 years of efforts to build and improve. One of the things that make us the most confide is that we have improved the product quality, expanded the market, created jobs for hundreds, thousands of worke and many other values ​​for society. We are also always proud of winning the trust of customers and will constant strive and develop more to be a reputable friend and to bring stable quality to customers in the future.
Core Value
UNITY – COOPERATION – PROSPER
QUALITY FIRST
Providing the most cost consuming and time consuming option with high quality products and services.
---
TALENT-FOCUSED
Building a fair working environment, creating conditions for employees to express and develop themselves.
---
CUSTOMER CENTRIC
Tan Thanh's goals and solutions are all around satisfying customers, building sustainable relationships and developing together.
---
ENDLESS IMPROVEMENT
Always pursuing the perfection, ready to innovate to fully meet the demand of customers.
---
COMMUNITY RESPONSIBILITY
Contribute to build an equal, civilized society.
---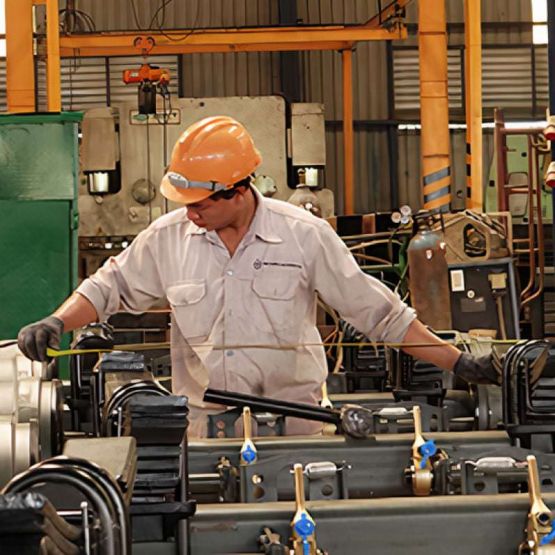 MISSION
Joining hands on the mission of industrialization and modernization of the country with high-quality industrial products serving the construction and transportation industries.
VISION
From now to 2020, become a supplier of transportation equipment in Asean countries.
17 SUSTAINABLE DEVELOPMENT GOALS BY UNDP (17 SDGs)
Sustainable development with the United Nations' 17 millennium goals is the lofty mission and core value that drives every decision in Tan Thanh company.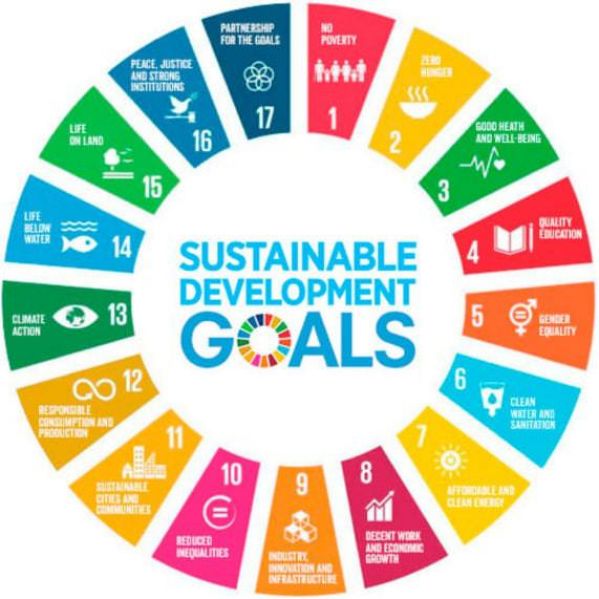 Quality is the most vital factor for Tan Thanh; because the quality is associated with customer satisfaction, brand reputation, and sustainable development. At Tan Thanh, we challenge ourselves and improve quality every day. Tan Thanh commits to constantly learning, increasing processes, and investing in advanced machinery and equipment to improve productivity, competitive force, and simultaneously providing customers with pioneering quality products and services.
"Anyone can bake a Pizza, but the quality of Pizza that we aim for is 5-star quality with excellent ingredients, professional chefs, high-end ovens, dedicated attentive service staff, and friendly space. Most importantly, the price is less than 4 stars. " - Kieu Ngoc Phuong
QUALITY TEAM
Workers are trained according to the internal and international standards such as IICL and AWS.
We have in-house Design engineers selected from the Ho Chi Minh City University of Technology and cooperate with foreign engineers and specialized partners.
A team of talent and virtue staff always strives to bring the best products and services to customers.
STRICLY CONTROLLED PROCESS
Tan Thanh has applied ISO 9001 - an international quality management system since 2000 which has helped us identify and synthesize risks of a wrong process, then better and monitor it.
Tan Thanh's Factory and Products are monitored and assessed quality by the registry according to technical and environmental assurance regulations.
CONTEMPORARY MACHINERY
Tan Thanh has imported production machinery from developed countries such as the US, Japan, Germany, the Netherlands. Our partners are namely ABB, AMADA, BYSTRONIC, YASKAWA, HUNTER, etc.
To enhance the value of modern machines and people for high-quality products, Tan Thanh performs cross-checking human testing machines, machines testing human, human testing human, and machines testing machines.
TOP MATERIALS
Prioritize using original and verified materials from leading suppliers in the world.
Actively manage materials by ERP/MRP system according to the Just-in-Time (JIT) and First in First out (FIFO) principles: goods go along with production needs, first in - out before, no inventory perishes, degrades, or runs out of date which affects the quality of the finished product.
OPTIMAL DESIGN
Tan Thanh desires to bring the best quality products and long-term prosperity and competitive advantage for our customers. Therefore, we have simulated our products on many software and physically tested the prototype with a higher safety factor than other production units on the market before producing abundantly.
DYNAMIC AND POSITIVE WORKING ENVIRONMENT
We believe that the dynamic working environment and actions and positive capacities will bring positive results for investors, customers, partners, and the community. Tan Thanh strictly abides by the provisions of the Law and the world's common standards on the working environment and labor safety. Besides, we actively invest in renewable energy (solar power) and use powder coating instead of water paint to minimize environmental pollution.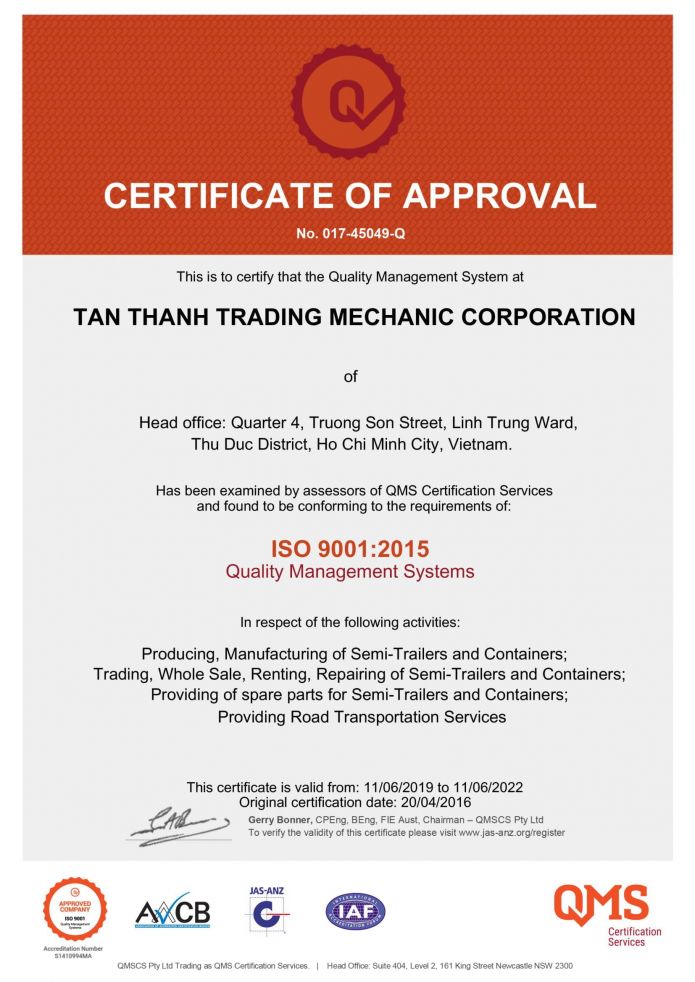 Always proud of being the leading brand in Vietnam and a reliable supplier, accompanying many large and small companies nationwide, Tan Thanh has successfully applied TCVN ISO 9001: 2015 to standardize and ensure quality of the whole system.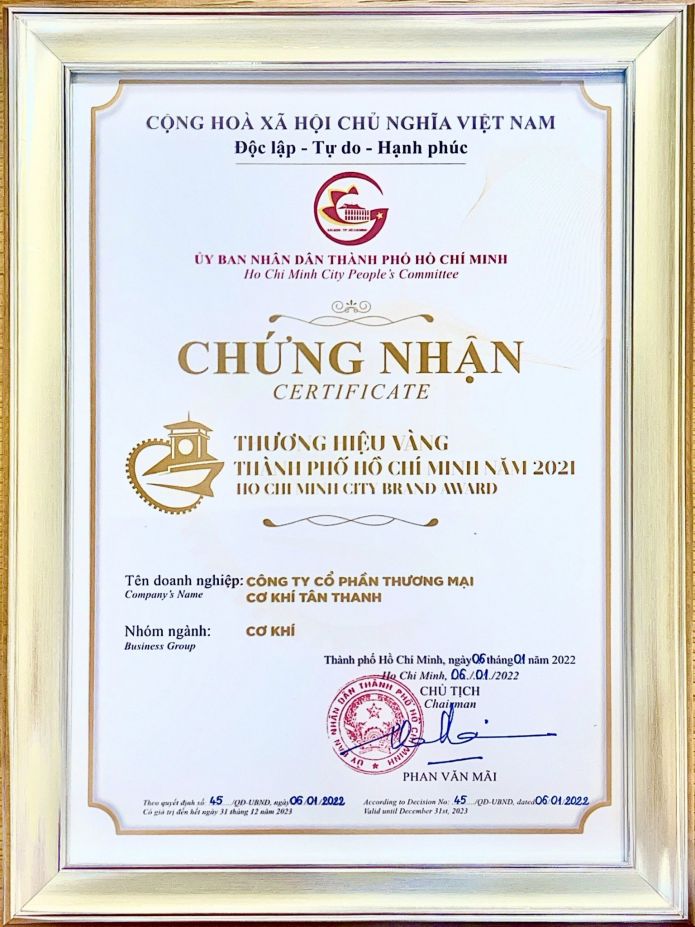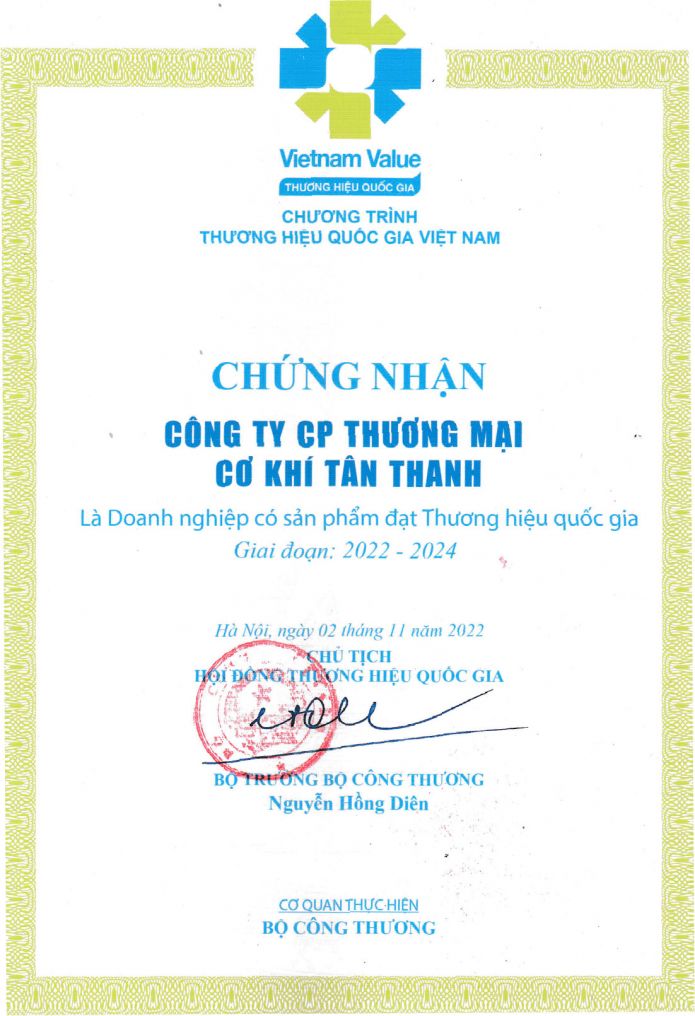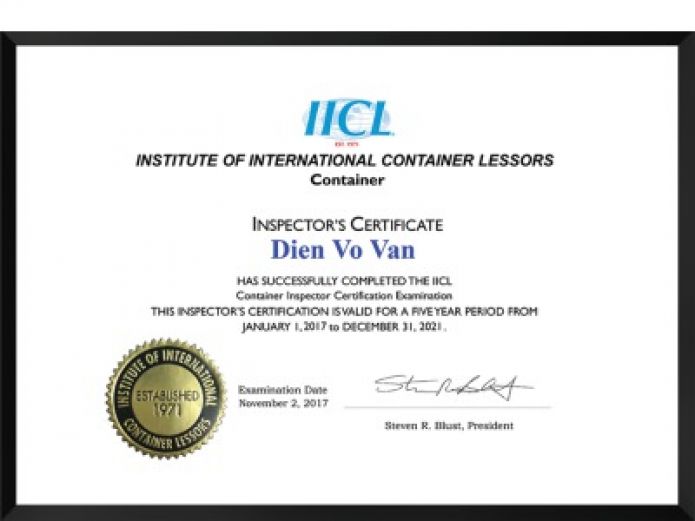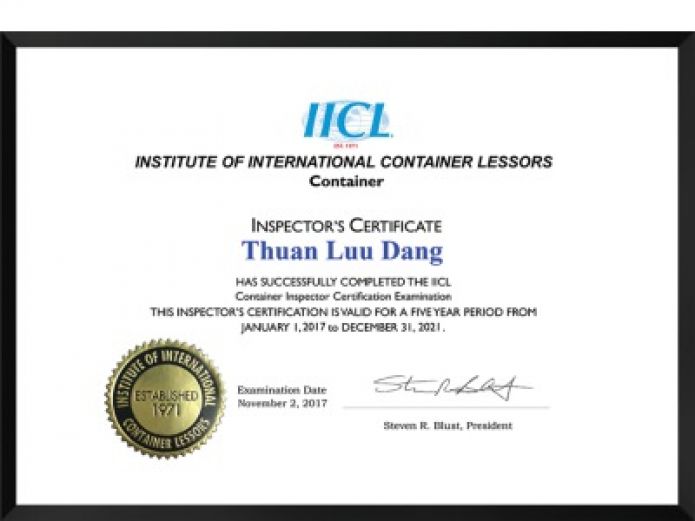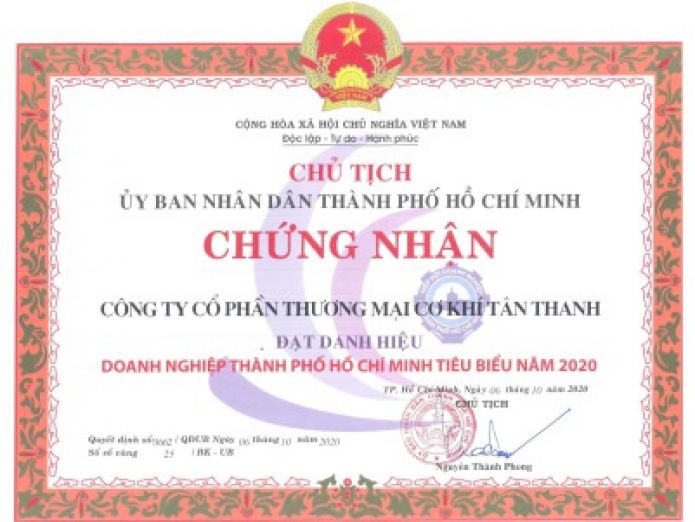 Outstanding HCMC enterprise is a title recognized and certified by the People's Committee of Ho Chi Minh City every 2 years. Tan Thanh is honored to receive this award in many consecutive times from 2016 to now, surpassing the criteria for outstanding performance in production and business, well observing the law, contributing to the development of the country, building a lot of values for society and constantly improving competitiveness, successfully integrating into the international economy.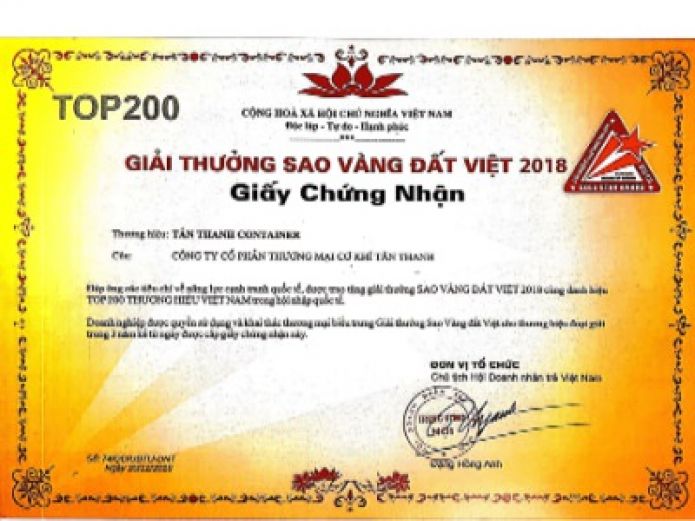 During the journey of value creation, Tan Thanh received the prestigious Vietnam Gold Star Award for typical brands and products of Vietnam integrating internationally, awarded by the Central Vietnam Youth Union and Central Vietnam Association of Young Entrepreneurs. To achieve that proud achievement, Tan Thanh has constantly made efforts to improve the quality of raw materials, production capacity and team's experiences to bring the community the best values.
2022
Nhận giải "Doanh nghiệp có sản phẩm đạt Thương hiệu Quốc Gia 2022-2024"
2021
Nhận giải "Sao Vàng Đất Việt Năm 2021"
Nhận giải "Thương Hiệu Vàng TPHCM 2021"
Nhận giải "Doanh nghiệp tiêu biểu TPHCM 2021"
Nhận giải "Sản phẩm công nghiệp và công nghiệp hỗ trợ tiêu biểu TPHCM 2021"
2020
Received "Vietnamese Outstanding Enterprises 2020".
2019
Recieved "Outstanding Products - Services in 2019".
2018
Received "Outstanding Enterprises 2018".
Received Top 100 "Outstanding Entrepreneur in 2018"
Received "Outstanding Industrial Products and Industrial Supporting Products of the City 2018", voted by the Department of Industry and Trade of Ho Chi Minh City.
Achieved TOP 200 "Vietnam Gold Star Award".
Ms. Tran Dieu Canh, General Director of Tan Thanh Company, received the award "Outstanding Entrepreneur of Ho Chi Minh City 2018", certified by the People's Committee of Ho Chi Minh City and Ho Chi Minh City Business Association.
Received the award "Outstanding Ho Chi Minh City Enterprises 2018", certified by the People's Committee of Ho Chi Minh City and Ho Chi Minh City Business Association.
Selected as "Vietnam Leading Brands 2018".
2017
Received "Certificate of customer satisfaction index" from Global Trade Alliance.
Recieved "Outstanding Products - Services in 2017".
2016
Received ISO 9001: 2015 certification from QMS organization.
Received Top 15 "Vietnamese Outstanding Enterprises 2016".
2015
Received "Vietnam Gold Star Award" – Top 100 Vietnamese Leading Enterprises.
2013
Received "Vietnam Gold Star Award" – Top 100 Vietnamese Leading Enterprises.
Received "Typical HCMC Enterprise" award from the People's Committee of HCMC.
2011
Received Gold medal for Office Container at VietBuild International Exhibition.
2008
Received ISO 9001:2008 certificate from TUV World Organization.
2002
Received ISO 9001:2002 certificate from BVQI World Organization.
2000
Received ISO 9001:2000 quality management certificate from Quacert.