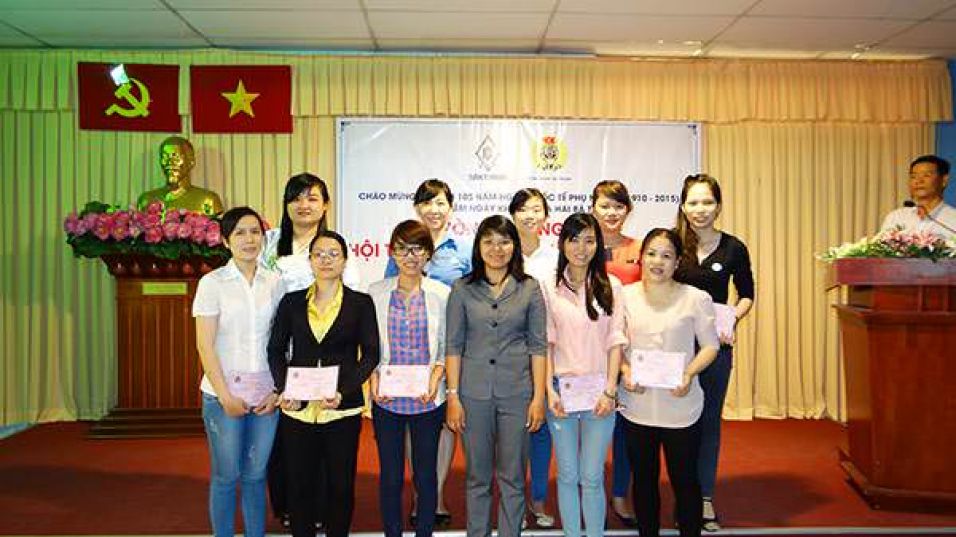 On the occasion of the 106th anniversary of International Women's Day, March 8, in the joyful and exciting atmosphere of women all over the world, with the consent of the Board of Directors, the Executive Committee of the Trade Union, in the morning March 6, 2016, Tan Thanh solemnly held a meeting to celebrate the 106th anniversary of the International Women's Day (March 8, 1910 - March 8, 2016). At the ceremony, Tan Thanh company's members reviewed memorable milestones in the company's formation and development, in which the great merits of women in production labor was of utmost importance.
The overview of the meeting celebrating the international woman on 08 March
Also in the morning of March 6, in order to commend and encourage the achieved results, the Board of Directors of the Company awarded the title "Good in two" to 70 individuals with excellent achievements in working and taking care of family.
Officers and employees received the title "Good in two" of Tan Thanh company
Also on this occasion, the Committee of the Trade Union organized many meaningful extracurricular activities with the enthusiastic response of the employees. 
The contest "Democracy flower" with questions around social insurance law, employee regulations, etc. so as to help insurance officers and employees understand better about their policies and benefits when participating in insurance social as well as the company's remuneration policies.
The contest "Democracy flower"
Chess competition with athletes from Tan Thanh company's branches in Ho Chi Minh city. With the motto of ensuring both the mind and strength for production and business activities, competitions held on March 6 created a healthy and useful playground for employees, thereby once again affirming and defining the company's core values.
The Chess Competition attracted a large number of employees  
Awarding chess competition