Internal activities
27/11/2020
Karaoke Competition to celebrate 105 years of International Women's Day March 8, 2015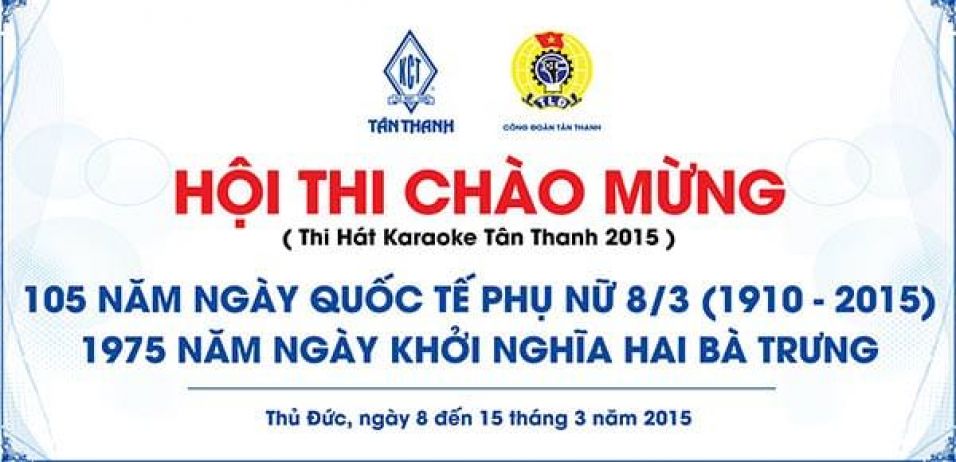 On the occasion of International Women's Day 8.3, the Executive Committee of the Trade Union at Tan Thanh Company holds a Karaoke contest to celebrate 105 years of international women's day 08/03/2015 (1910-2015).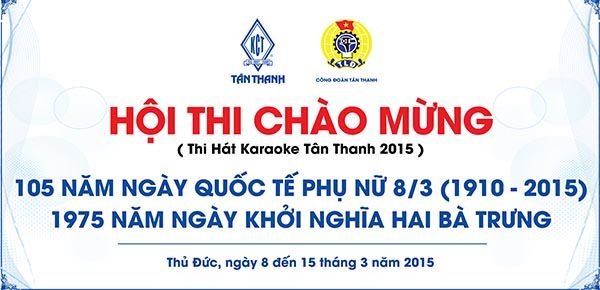 Karaoke Contest celebrates 105 years of International Women's Day 2015 of Tan Thanh Company
About the organization of Tan Thanh Karaoke Contest 2015, the organizer announces to all contestants participating in the contest as follows:
Schedule and venue:
– Elimination round: at 9am on March 08, 2015. Venue: Yards 2
– The finale: at 8am on March 15, 2015. Venue: Hall of the Labor Federation of Thu Duc District. No. 17 Le Quy Don, Binh Tho Ward, Thu Duc District.
Rewards:
– The first prize: VND 2,500,000
– The runner up: 01 prize: VND 1,600,000
– The third prize: 01 prizei: VND 1,000,000
– Consolation prizes: 3 prizes : VND 500,000
III. Scoring system:
– The points for the items total 10 points with an odd of 0.5 point - including 2 parts: expertise and form of performance.
– Elimination round: professional points: 9/10 points; Performance points: 1/10 point
– Final round: Professional score: 8/10; Performance scores: 2/10
Criteria of professional scores:
Singing with the right tone, correct lyrics and showing song content, in case there are differences between the original lyrics and lyrics on screen, singing with the correct lyrics in 1 of 2 cases will get all points.
Criteria of form of performance:
– Polite and decent attire (elimination round)
– The dress is polite, neat, suitable for the competition (final round)
– Illustrative (if any)
Judges:
– Representative of Tan Thanh's Trade Union Executive Committee.
– Representative of Thu Duc district trade union executive committee.
– The judges do not score through the system of scores of the machine
Anyone who has registered for the Karaoke competition is present at 8:30 to pick hẻ ỏ his numbers to prepare for the contest.
We hope all employees and workers cheer for the great success of the Karaoke Contest.
Best regards!