Skeletal Trailer/Container Chassis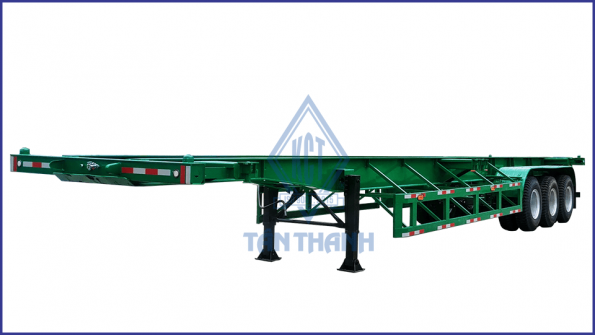 Trang chủ
Special Vehicles
Skeletal Trailer/Container Chassis
---
What is a skeleton semi-trailer?
Skeletal semi-trailer (also known as skeletal trailer) is a type of semi-trailer with interlocking skeleton design, specialized for carrying containers. Skeletal semi-trailers usually carry two 20 ft containers or 1 40 ft container.
Dimensions of the skeletal semi-trailer
The skeletal semi-trailer has popular sizes: 20 feet, 40feet, 45 feet bone trailer. The skeletal semi-trailer can carry one 40 feet container or two 20 feet containers.
Structure of the skeletal semi-trailer
Skeletal semi-trailers will typically have four to twelve container twist locks so that the driver can load a range of different Containers (e.g. 2x 20 feet or 1x 40 feet).
Semi-axles can be specified with two, three and four axles using single or dual wheels and disc or drum brakes. A self-grooving rear axle will be mounted on the quad trailer (four axles) to reduce tire wear.
The skeletal trailer is also available with axle sets at the front and rear and a dolly to drive. For specialized applications, they may have a sliding platform to help with weight distribution, may have hydraulic suspension with vehicle height adjustment, and may even be in a stepped or cantilever configuration. wide.
Benefits of skeletal semi Trailers
The main use of the skeletal semi-trailer is to transport 20- and 40-foot dry containers.
In addition to the dry container transport, the skeletal semi-trailer can be used to transport timber with suitable wooden boots (side rails), off-road suspension and floor protection for the hydraulic system.
Latest price list of skeletal semi-trailers
Skeletal semi-trailers in a variety of sizes and payloads from 20 feet to 48 feet. For the latest price of skeletal semi-trailer, please Contact Tan Thanh consulting team or call +84 968 039 939 for the best support!
Advantages of Tan Thanh skeletal semi-trailer
Tan Thanh skeletal semi-trailer has 3 axles, 4 humps, flexible in transportation in the port
Superior design: Tan Thanh skeletal semi-trailer owns 2 main beams cast of steel SM490YA / Q345B with solid structure, helping to have very high load capacity.
Genuine FUWA suspension and kickstand have 2-speed manual control mode, helping the skeletal semi-trailer run stably, grip the road and increase the durability of the vehicle over time.
The brake system is equipped with 2 Sealco toads: making the semi-trailer brake faster, much more durable than Wabco - China toads on the market today. Sealco is rated as the leading prestige in the market in Vietnam and the world today.
Genuine Casumina tires: help the skeletal semi-trailer have a high load, less wear.
North - Central - South warranty system: Tan Thanh skeletal semi-trailer is warranted for 3 years on the North - Central - South branch system, convenient for moving the vehicle to the warranty station.
Ultra-durable electrostatic coating: The chassis uses electrostatic painting technology through the process of spraying, primer, coating, and steaming to increase the life of the vehicle.
Tan Thanh is one of the pioneer enterprises in the field of designing and manufacturing semi-trailers. "Quality products - Professional service" is the core factor that helps us gain the trust and cooperation of customers.
Where to buy, sell, rent a reputable skeletal semi-trailer?
With 25 years of experience in the field of sale and rental of semi-trailers, Tan Thanh is proud to be a supplier and rental of semi-trailers in Vietnam today with the following advantages:
Strong production capacity
Along with a large scale and a team of highly qualified engineers, every year, Tan Thanh builds and supplies the market with thousands of semi-trailers ready for sale and lease, in order to meet the demand and scale. industry expansion.
High quality products confirmed over the years
Tan Thanh bone semi-trailer product line has high quality, confirmed in the market for many years, is manufactured on advanced technology lines according to international standards, and undergoes rigorous testing before when shipped.
Best service - competitive price
With a diverse source of semi-trailers, Tan Thanh provides most of the needs of buying, selling and renting different types of bone semi-trailers depending on the unique requirements of customers. Especially, flexible rental period long-term, short-term, rental by trip with competitive price.
Other attractive accompanying services
Besides selling and renting semi-trailers, Tan Thanh also repairs, inspects and supplies semi-trailers according to IICL standards, consulting, designing...
Featured skeletal semi-trailer products
Tan Thanh specializes in buying, selling, renting all kinds of high quality skeletal semi-trailers with reasonable prices:
40 feet skeletal semi-trailer (container) G42-XC-01
45 feet skeletal semi-trailer (container) K53-XA-01-1
Tan Thanh Container is proud to be a supplier of Prestige and quality semi-trailers
Tan Thanh Container has many years of experience in buying, selling, renting Semi-trailers with a series of large and small projects confidently will meet all your needs. We are a pioneer in the field of providing product services Semi-trailers, along with a team of experienced, professional and enthusiastic staff, Tan Thanh is always looking for diverse solutions. to ensure quality products at the best cost.
When buying, selling and renting semi-trailers at Tan Thanh Container, customers can rest assured with the quality of products and perfect services:
The most competitive price with 100% commitment of good quality products.
Delivery according to the contract.
Used professional services nationwide (transportation and installation).
Support from consultation, purchase, service use and after-sale.
Contact information
TAN THANH MECHANICAL TRADING CORPORATION
Address: No. 14, Street No. 15, KP 4, Linh Trung Ward, City. Thu Duc, City. Ho Chi Minh City
Phone number: 0968 039 939
Email: info@tanthanhcontainer.com
Contact Now
Tan Thanh
24/7
support!