Semi Trailers
Drop Deck Semi Trailers
3 Axles 45 feet Drop Deck Semi Trailers L53-LE-02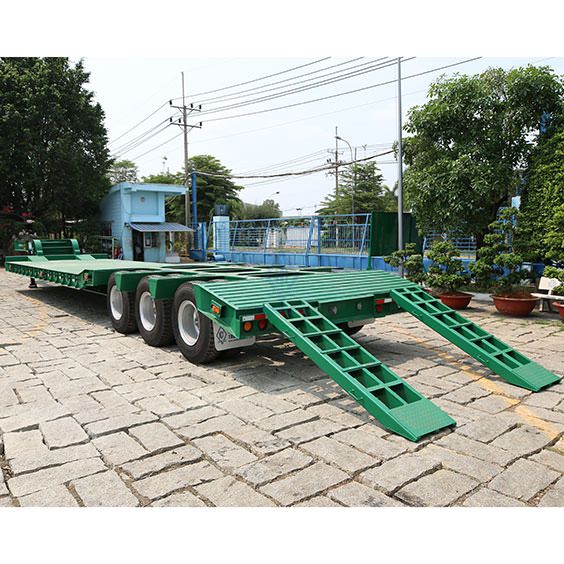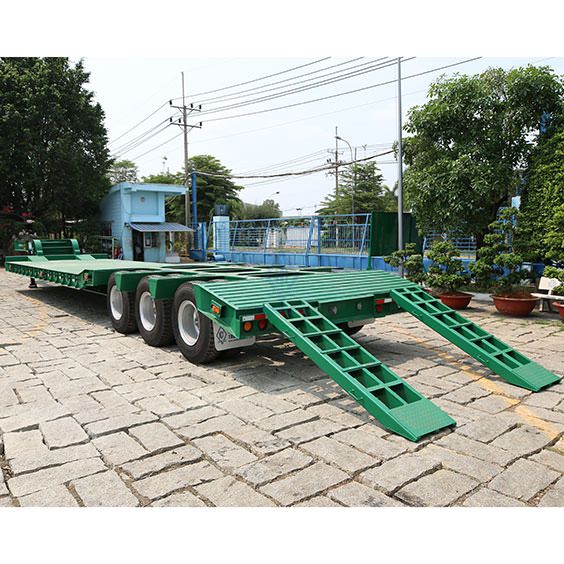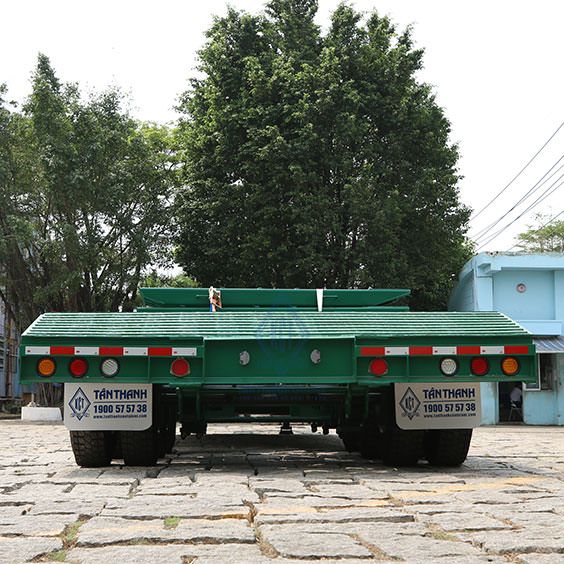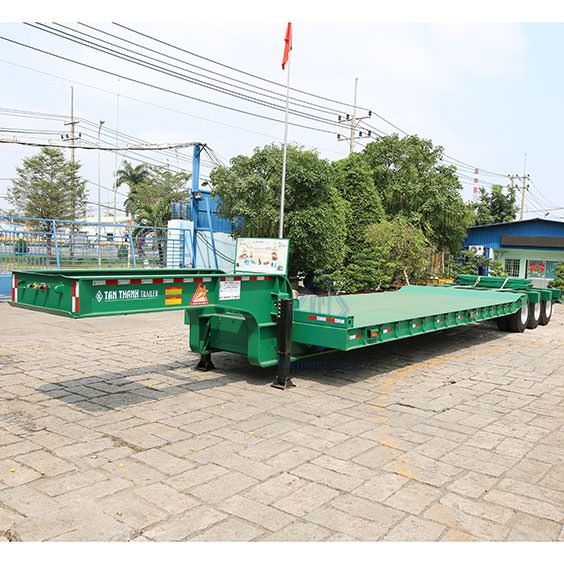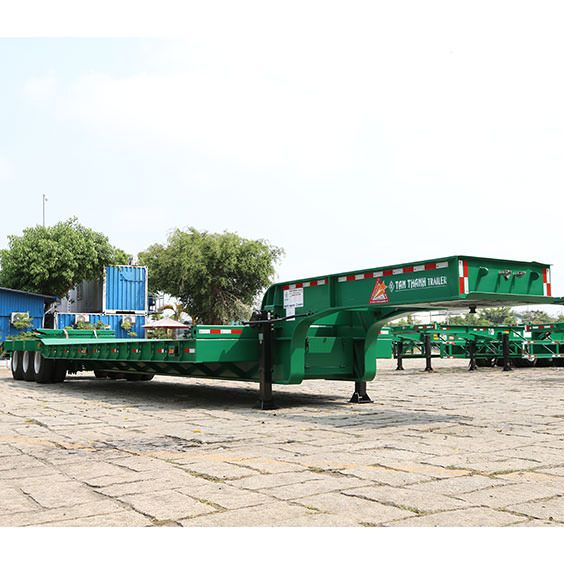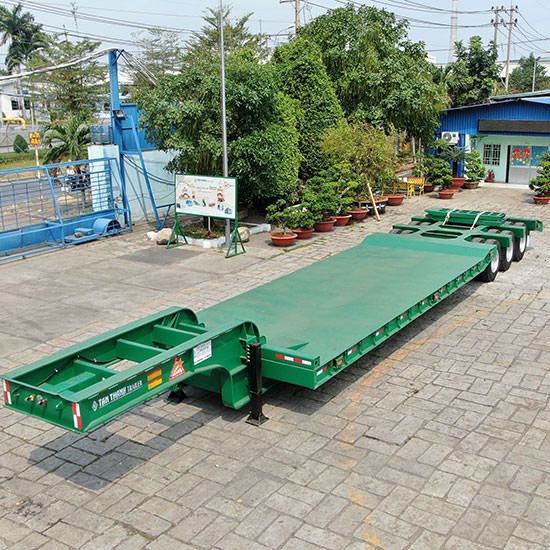 3 Axles 45 feet Drop Deck Semi Trailers L53-LE-02
700.000.000đ
This is only a reference price. For details, please get in touch with Tan Thanh Container!
General information
| | |
| --- | --- |
| Length x width x height | 16.990 - 3.300 - 1.620 mm |
| Payload | 65.770 kg |
| Warranty | 3 years |
Details Products
Tân Thanh semi-trailer L53-LE-02 is manufactured by a high-tech line specialized in transporting motor vehicles, machinery, and oversized goods with very large weight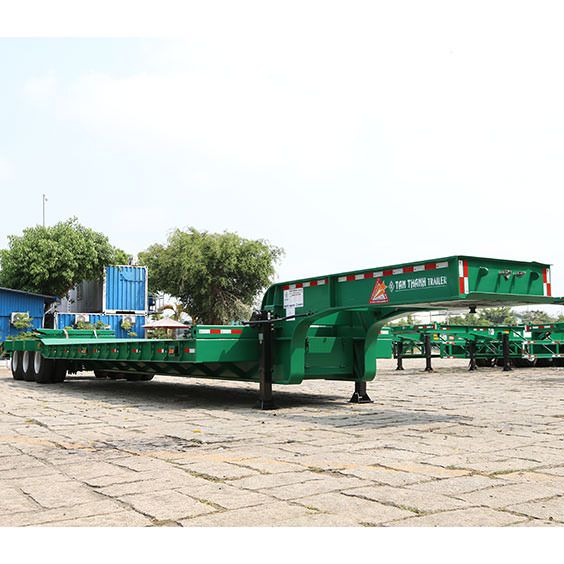 Advantages
Thiết kế ưu việt: Sơmi rơmoóc lùn L53-LE-02 sở hữu dầm chính tổ hợp bằng thép Q345B kết cấu chắc chắn, giúp khả năng chịu tải cao.
Trục treo và chân chống FUWA chính hãng: điều khiển bằng tay 2 tốc độ, giúp cho xe chạy ổn định, bám đường và tăng độ bền của xe theo thời gian.
Hệ thống phanh trang bị 2 cóc Sealco: có tác dụng làm xe phanh nhanh hơn, độ bền cao hơn. Sealco được đánh giá uy tín hàng đầu trên thị trường Việt Nam và thế giới hiện nay.
Vỏ xe chính hãng: giúp xe có tải trọng cao, ít mòn.
Hệ thống bảo hành Bắc – Trung – Nam: sản phẩm được bảo hành 3 năm trên hệ thống chi nhánh Bắc – Trung – Nam, thuận tiện cho việc di chuyển xe đến trạm bảo hành.
Màng sơn bền: Áp dụng phun bi, sơn lót, sơn phủ, hấp bền màu làm tăng tuổi thọ của xe.
Application
Sơmi rơmooc L53-LE-02 45 feet, 3 trục Tân Thanh được thiết kế chuyên dụng chở những xe cơ giới, máy móc, hàng quá khổ có kích thước lớn và trọng lượng rất lớn.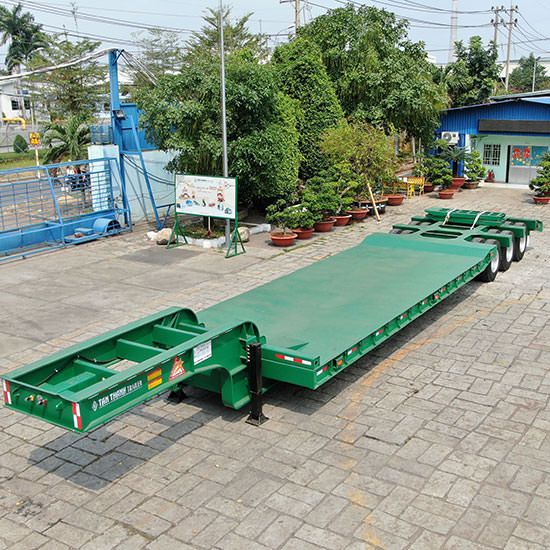 Specifications
3 Axles 45 feet Drop Deck Semi Trailers L53-LE-02

Trademark

KCT L53-LE-02

Manufacture

Tân Thanh Mechanic Trading Corporation

Dimensions

Length

16.990 mm

Width

3.300 mm

Height

1.620 mm

Load Distribution

Tare weight

14.875 kg

Playload

50.900 kg

Total Load

65.770 kg

Structure

Main Beam

Complex I Beam, Atos Q345B

Kingpin

FUWA, 3.5", Bolt on

Landing gear

FUWA, 2-speed manual control

Axle

FUWA, 16 tons.

Suspensions

FUWA, 9 leaf-spring

Fleetrite Brake Chamber

02 layer

Braking system

Braking system 2 steam lines, Sealco relay vaves, USA

Shell

11.00R20

Tray

8.00-20

Pain

Shot blasting, primer, coating, color fastness

Warranty

3 years
Contact Now
Tan Thanh
24/7
support!